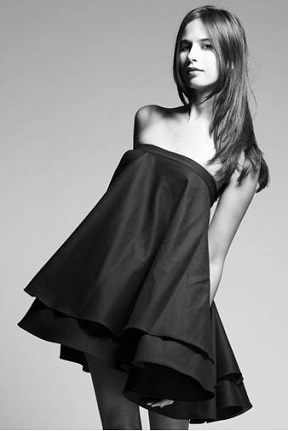 Zineb Oukach, a Moroccan born beauty, is set to stand out amongst a male driven cast which includes Leonardo DiCaprio, Jonah Hill, Jean Dujardin, Rob Reiner, Kyle Chandler and Matthew McConaughey in the highly anticipated Martin Scorsese film "The Wolf of Wall Street" in theaters Christmas Day. Visit Zineb's website.
Zineb is a goal-driven actress who is currently producing and starring in a film being shot in Morocco called "I Am Morocco". Zineb is most intrigued by complicated and deep roles that have a sincere or comedic tonality. In the future, she hopes to collaborate with Steven Spielberg, JJ Abrams, Woody Allen and Quentin Tarantino.
It was a pleasure to have the opportunity to do this interview with Zineb. She's very business oriented and also, at the same time, has the most delicious personality and a great smile!
You were raised in Morocco and in 2005 moved to France. Why did you move?
I moved to Paris to pursue my dream of being an actress and model. Paris is the "City of Lights," the city where dreams are made a reality, so it was a wonderful place to start my career.
Tell us about your audition for Martin Scorsese's "The Wolf of Wall Street".
The day I first auditioned, I had about five other auditions lined up for different roles. My manager and I made the conscious decision to solely focus on my audition for "The Wolf of Wall Street" because having the chance to audition for a Martin Scorsese film is an opportunity of a lifetime. I did my research and preparation, but also wanted to make sure I looked the part as well, so I went out and found a great outfit that truly embodied the character that I was going out for. I auditioned first with the casting director, and then a couple of days later got a call back saying that Marty (Martin Scorsese) really loved my audition but wanted to see my improvisational skills. I went back in for a second audition and within a couple of days got a call back saying I booked the role of the Hostess of the Naomi.
"The Wolf of Wall Street" was shot in NYC. How long were you in NYC doing the shoot and where did you stay?
I actually live in NYC so it was great being part of a film where my city is the backdrop. I shot half of my scenes in NYC and the other half in Palm Beach, Florida (which in the film is Italy).
Growing up in Morocco, have you noticed any cultural differences between you and other parts of the world?
Yes, there are definitely culture differences, but that's a positive thing. I embrace those difference and think it's important that everyone has their own story and background.
You play the mysterious character Stella in Nicktoons show "Alien Dawn." What's it like working on a show geared toward younger people vs. a production such as the film "Rendition"?
Working on "Alien Dawn" is so much fun and completely different than say doing "Rendition" which was a very serious role. I really like working on "Alien Dawn" because there's more freedom for creativity on set, which I love. Also, when I play Stella, it's like going back to childhood and playing with my friends.
You're current project is producing and starring in the film "I Am Morocco." What made you want to get into producing films?
It was actually a very natural process. I have been attached to the film and its creative process from the start. I was asked if it was something I'd ever consider since I was already so hands on with the film and I said yes. Someone recently said to me, "You know this is exactly what Sandra Bullock was doing when she was your age." with regards to taking an active role in the projects she attached herself to. After hearing that, I thought, "I'm on the right path."
What are your workout, eating routines and beauty secrets? What products do you use?
I do enjoy working out and think it's very important for everyone to be active in one way or another. For me, I do a number of different things including ballet, bar method, spinning class and I have a trainer who kicks my butt. I like to mix it up and not stick with the same workout regime every day. I make sure to workout at least four days a week for an hour long.
In general though, I try to maintain happiness, go to sleep early, stay active, and for the beauty part, I love putting Moroccan Oil all over my body for a nice glow.
Are there any days when you do NOT feel sexy? What makes you feel good, physically, emotionally and spiritually?
There are definitely days that I do not feel sexy. To change that though, I love getting massages, talking to my friends, walking the streets of New York, having a bath; doing the little things that make me feel good.
When you're not working, what is your favorite thing to do?
Cooking and traveling are two of my biggest passions. I love to eat!!
Anything else you'd like to say?
My best advice to anyone would be to follow your instinct and pursue your dreams.