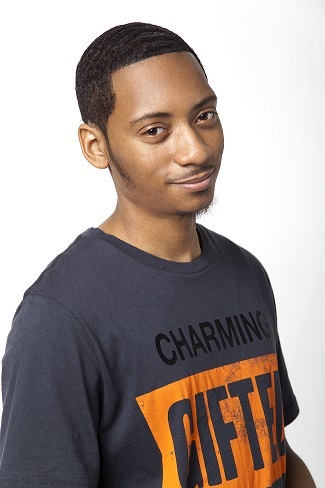 Follow Barry Floyd on Instagram/Twitter: @Barry_Floyd, Facebook: Barry Floyd
Barry Floyd, who plays Terrence "Tee Tee" on BET's The Game, has made a transition. Last season, he was highlighted more as a businessman (owner of the Cluck Truck) and less as the sidekick. When the show returned for its seventh season on March 4, fans saw Tee Tee in an even more dramatic light, when things take a turn for the worse, and he loses his Cluck Truck business.
Barry's an interesting guy with an interesting story!
In this year's 7th season of The Game, fans will see you continue to transform from the comedic relief to a more dramatic character. Sometimes, when characters change, the audience falls out of love with them. What are your thoughts/fears about how the audience is going to react?
This season Tee Tee gets into some financial trouble with the Cluck Truck and we will get to see him at his lowest point. It's a great opportunity for me because I get to show that I have the ability to flex my dramatic acting muscle. So far, the industry has only seen me as a comedic actor and it's nice to have the chance to show that I can do both. I don't think this will be a problem for Tee Tee fans because, while I get those dramatic moments to play with, the comedy is still there and Tee Tee doesn't stray far from his comic relief roots.
When you booked the character of Terrence "Tee Tee," what were your immediate thoughts? Did you start taking acting lessons?
My immediate thought after booking the role was that I couldn't wait to see the reaction from everybody at home when they saw me on TV. The character was originally only supposed to be in one episode, and I just assumed that I would go back to my regular life after that. But once they kept calling me back for more episodes, and I realized that I could do this for a living, I made the decision to become a full time actor, and that's when I started to take acting classes.
Which comic books do you read, and who are your favorite comic book characters? Why?
I don't read as many comics as I used to but I still read Batman and The Walking Dead. Batman is my favorite comic book character because he doesn't have any super powers, but he doesn't let his limitations stop him from doing what the other heroes can do anyway. I admired that and used it as inspiration throughout my childhood, and it's something that has stuck with me as an adult.
Tell us about your online sketch comedy series, Purple Stuff TV, that you write and direct.
Purple Stuff TV is a sketch comedy show I did online with a few friends of mine. The episodes are still up on YouTube. We put Purple Stuff on the shelf over the last couple of years to work on some new projects. Right now we are writing a pilot called The Life and Times of Jamie Jones. It's an honest look at what it's like to be a single guy in the 21st century. We were inspired by the HBO show Girls and wanted to do something along those lines that caters to men. Guys don't get a lot of opportunities on TV to be honest about sex and dating the way girls do with shows like Girls and Sex in the City. The closest thing we had to something like that was Entourage, and that was more about the fantasy of being a movie star than the reality of being a regular guy.
Do you have a significant other? What do you look for in a mate?
I do have a significant other, but she doesn't like to be in the public eye so I won't say her name. As far as what I look for in a mate: I don't like stress, I don't like drama and I don't like arguing and fighting. If I am attracted to you and you are a cool person that I can hang out with, that's pretty much all I'm looking for. It's cliche, but having a relationship with a person that you can talk and laugh with, and who is your best friend, is definitely the best way to go.
How'd you get your job as production assistant on the series Girlfriends and Cuts?
My first P.A. job was on the UPN show Cuts. I basically got the job through being a tour guide on the Paramount studio lot in Hollywood. Every day, after my shift ended, I would walk around the lot, talking to people, basically trying to make connections and get people to remember my face. Eventually I met my friend Kellie Griffin, who is also from Philly. She told me that there was a job opening for a Writer's P.A. at Cuts. I always carried my resume around with me back then, so I went to the production office and dropped it off. The next day they called me in for an interview and I got the job. When Cuts ended, I was able to keep landing P.A. gigs on various projects around town. Eventually I ended up temping as a writer's P.A. on Chris Rock's show Everybody Hates Chris. When the person I was filling in for ended up not coming back, I was able to interview to fill her position full time. The interview went really well, and I was basically told that the job was mine, but they still had to interview a few more people as a formality. Assuming I was about to have a full time gig, I went to the grocery store and bought a whole bunch of food for my apartment. On my way home from the grocery store, I got a call from the lady who interviewed me saying that a nephew of one of the producers came in to interview for the position and they had to take him. I almost lost control of my car. Why did I have to buy that extra bottle of paprika? But it all worked out because the woman who interviewed me really liked me and got me an interview at Girlfriends where they needed a set P.A. I went in for the Girlfriends interview and got the job, which eventually led to the start of my acting career.
What's the difference between growing up in Philadelphia vs. living and working in Los Angeles? When you first moved out to L.A., where did you stay?
The biggest difference between growing up in Philly and living in L.A. is definitely the weather. The weather in L.A. is nicer, but I really miss the seasons changing. Last Christmas was the first year I didn't go home for the holidays to see my family and you didn't even need a jacket to go outside. It didn't feel right. When I first moved to L.A. I was with an intern program as a post grad through Temple University where I got my film degree. They housed us at the Oakwood Apartments in Burbank. It was a really nice luxury apartment complex. There were interns from other schools, actors and music acts staying there also. I was hanging out at the hot tub every night and having a ball. Then the internship ended and I had to get my own place. At the time, I was living off of money I saved from working in Philly and didn't have a paying job yet, so it was hard for me to find a place because I had no income. Eventually, I found a studio apartment in Inglewood, where the building manager told me to: "Come up with some pay stubs," and he wouldn't ask any questions. So I went to the office I was interning at, made some fake pay stubs on Excel, and that's how I got my first L.A. apartment. It was small and not in the best neighborhood, but it was a roof over my head and I was very thankful to have it.
Where do you get your awesome T-shirts from?
I don't want to tell all my secrets. I'm a big kid at heart so I like to buy a lot of vintage tees of things I was into as a kid (cartoons, comics, video games, etc.). When I see a cool one, I pick it up.
You went to Temple University for film and media. Who paid for your education and what is the most valuable lesson you learned during college?
I mostly paid for my education at Temple through student loans that I'm still paying back. I also worked through college and was fortunate enough to have my parents help me out a little bit. I wanted to go to USC. I got in, but couldn't afford to go, so I went to Temple for the in state tuition. The most important thing I learned in college is that you should expose yourself to as many new experiences as possible because you never know where they are going to lead you. If I hadn't taken part in the L.A. internship back then, I wouldn't be here doing this interview today.
PlayStation or X-Box? Favorite video game?
Playstation. Ironically though, my favorite video game of all time is a game called Jade Empire that was on the original X-Box. It's a game by BioWare that's inspired by old Kung-Fu movies.
Anything else you'd like to say?
My advice to anyone just starting out in this business, and to people who haven't gotten their start yet, is not to give up and not to be discouraged by disappointment. It's a long journey and a lot of hard work, and you never know what opportunities will present themselves along the way.