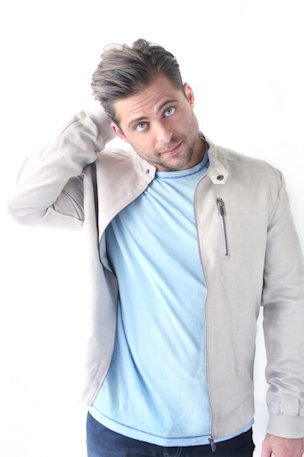 Joseph Russo plays Joe Pesci in the newly released film Jersey Boys. Joseph is from New Jersey so working on the film felt like home. Twitter: @JoeyRussoJr . Photo by Ricky Dorn.
Joseph Russo is an actor portraying an actor. He has a big presence on screen in Jersey Boys. Even when he's just standing in the background, he's in character, fiddling with his jaw or doing something that makes you take notice.
It was great fun to interview Joseph, especially since I'm also from Jersey. Joseph's definitely a thinking man. His answers have a completeness to them and let me tell you, that's very refreshing!
You play the iconic role of Joe Pesci in the film Jersey Boys. Describe your audition. Was there a two-way mirror?
The audition was interesting. First and foremost, I wanted to not do a caricature of Joe Pesci, but rather have this man come to life. For me personally, with any role, it starts with the clothes. I went all over town trying different outfits on that not only fit the time period but also fit the character. The scene that I had to read was when Joe was running a scam with Tommy DeVito at the bowling alley, where Joe was setting pins. So I wanted to fully get the outfit; once I had that I could start to jump in. I believe I had a 1950's two toned bowling shirt with a pair of slacks. My audition was put on tape. Clint [Eastwood] was not there, just the casting director Jefferey Miclat. I don't believe there was a two-way mirror, however, you never know working with Clint. LOL.
What type of research did you do and how did you prepare for the role? Did you ever hear any songs by Frankie Valli and the Four Seasons prior to this?
Once I started getting updates on where I was in the running for the part, I began to dig in deeper into the character and the history. I took the opportunity to grab everything that I could that would help me understand Joe Pesci during that time. Joe was born 1943 and his first major film that really put him on the map was Raging Bull, 1981, so he was almost forty when he was introduced to the world as an actor. In the film, I play Joe around the ages of 16 to about 25 so, there was a lot to do. Aside from watching every film, trying to find out different mannerisms, I really wanted to understand the time period. What was going on in the world during that time. Was there economic struggle? How important is it that he brought Bob Gaudio into the band? Would he/was he compensated for doing so? I really didn't want to leave any stone untouched.I worked really diligently with my acting coach/mentor Jocelyn Jones. As far as knowing Frankie Valli songs: YES my family listened to their music, I grew up around it. However, knowing the songs and knowing the character's back story are two different worlds.
What's your favorite board game? Why?
Board game, POKENO. Not sure how many people remember this game, but it is something I used to play with my grandmother all the time. Sort of like a BINGO game.
You're currently from Staten Island, NY but you're from NJ. What part of NJ are you from? Why'd you choose to move to Staten Island? Ever go to the Jersey Shore as a kid?
Well I have been living in Los Angeles for the last seven years but my mother resides in Staten Island. I grew up in NJ and when I was in college, Hofstra University, we moved to Staten Island. My father lives in Cliffside Park, NJ. (the town right on the water across from NYC). The jersey shore was a huge part of my upbringing. My family owned a home there for about 18 years in Long Beach Island. That shore is a major part of any kid's life that is raised in NY or NJ, it's beautiful!! There are so many stories that I can tell, but I know my mother would appreciate this one. When I was in High School, Seton Hall Prep in West Orange, I played on the baseball team. In the summer, after our games, I would call my mother and ask her if a friend could come to the house. Well, two hours later, she would see an entourage of about 25 guys driving up the block. I would invite the whole team! God, even writing about it, my poor mother. It was really great memories though.
How did you lose 25 lbs. for your role in Jersey Boys? Did you put any weight back on after filming ended?
Well it was always a plan to lose weight, being a college athlete lifting weights was kind of a mandatory thing. However, once cast in this film it became serious. It was essential that I slim down to play someone that was as young as 16. All I did was run, run, and run. Did I mention I HATE RUNNING!!!? It was brutal, but once you see the results it becomes addictive. I was never over weight, just a bulky stocky guy, but now I like it better like this. I get more parts looking this way.
Ever hear of the phrase "Work smarter, not harder?" Do you work smarter or harder? Why?
I believe you need to work smarter, but at no point should one not work hard as well. It's like, one can spend all their time working on 50 things at once just to say they are working hard. Yes, they are working hard, but for me I'd rather put all my time into working on one or two things and really understanding what it is I am doing, rather than allocating my attention to so many other things.
Anyone ever make fun of you growing up?
I mean I was 4'11 in 8th grade, so yeah, I definitely got my share, but I never backed down from anyone. I had a good friend that was as small as me, and he was being picked on by this kid that was, well you know, the kid that at 13 was 6'2 and 200lbs. Anyway, I saw he was picking on my friend and I stepped in and told him to pick on someone his size. Yeah, he looked at me and.... POW PING BOOM (that's for you Mr. Pesci) I went to the principal's office and I said "How am I in trouble! I'm 4'11 hes 6'2 and shaves!" I got off!!
What's your workout and food routine?
I do not lift anymore, I just run and try and do a circuit workout. Keep the heart rate up and sweat a lot. Along with eating healthy it's a good combination.
What's your dream vehicle, make and model?
No question, 1992 used Hyundai Accent, Hatchback. Grey. (silver Bullet)
What type of job(s) did you do before you became an actor?
Oh man, I have done everything from, construction, to telemarketing, to actually bouncing at a bar in Venice Beach. Yeah, bouncing, I'm 5'6"!! I remember when I was bouncing in Venice, there was a fight and we had to throw these guys out the back door. Well, I got a little cocky and said some things I probably shouldn't have, we threw them out the back door, I hear the door shut behind me, which locks, and no one was there except the guys we just removed from the bar. Yeah, I ran away and never went back.
Anything else you'd like to say?
I would like to give a shout out to THE ACTORS FUND. They are a fund that is designed to help artists financially while pursuing their career. Not only just actors, but artists of all kind. Visit them at www.actorsfund.org . I would also like to send a shout out to sandynjrelieffund.org .