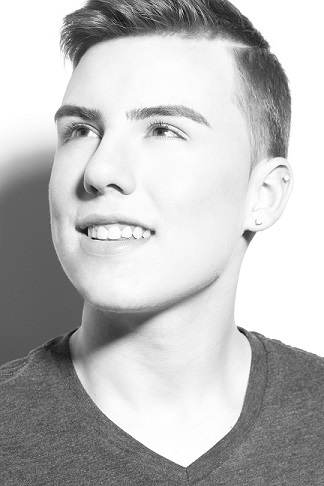 Kevin Smart, an 18 year-old drummer from the East Coast, has become one of the most sought out, in demand musicians today. He's currently touring with all the big names.
Kevin Smart knows that your dreams really can come true! All it takes is passion, dedication and sometimes a streak of luck. This kid has so much excitement built into him that I thought my chest was going to explode from the pounding of my heart! Or was that from the pounding of Kevin's drums? Yeah, yeah, that was a lame joke, but hey, I still got a smirk out if it.
Kevin is a role model for the youth generation. He's a clean cut guy with a great attitude and has strong school and work ethics. Even though he has a crazy schedule, he keeps his feet solidly planted on the ground.
You realized your love for drums in high school and switched over to the School of Rock. How'd you hear about this school?
My mom actually found out about the School of Rock from an ad in the local newspaper. At first, I didn't want to join because I was shy. My mom signed me up anyway so I started attending the next week. The School of Rock was an extracurricular activity, so I've been attending the same high school for the past four years.
What was your very first drum set?
I started drumming at eight years old when I received my very first Pearl drum kit.
Do you have any siblings?
I do not have any siblings. If I were to have a sibling, I doubt they would want to put up with the noise I make all day on the drum kit haha.
What did it entail to be accepted into the Pearl Drum family?
Being accepted into the Pearl Drum Family was truly a blessing. My manager sent an email over to Pearl one day in October of 2013. I didn't know that he did at the time. He then forwarded over the acceptance email as a surprise. I remember I was in biology class and I was really excited. Being part of the family entails special artist pricing, invitations to conventions, and much more!
Which drummers are your greatest influence? Why?
The most influential drummers to me are Travis Barker and Tony Royster Jr. They both have extreme energy and great playing abilities which I really look up to.
Why did you choose Jake Miller's single "A Million Lives" as a drum cover to post? How did it catch Jake Miller's attention?
I choose to cover it as an informal "audition." I really enjoyed Jake's positive music. My friend, Scott Nebb, who is Jake's tour manager showed the video to Jake immediately after I uploaded it. Jake tweeted me back minutes later expressing that he really enjoyed the cover.
There have been times when you were on tour and missed months of school at a time. How does that work? Do you have a favorite school subject not music related?
My guidance counselor, teachers and the school administration have worked with me to put a plan in place when I'm on tour so that I can complete all the work and submit it via email during my absence from school. My favorite subject in school is definitely history. I always enjoyed learning about the past. I graduate in June of 2014!
What are your favorite tech toys?
I am literally addicted to Apple products. I'm always on my iPhone and Macbook.
Who would you like to give a shout out to?
I would like to shout out Andrew Amendola (Guidance Counselor) and Sally Fazio (Vice Principal) for assisting in making school and touring work out together!
What bad habits do you have?
I like to take naps after school and then I usually end up staying up all night which messes with my sleeping schedule haha.
What are your pet peeves?
One of my biggest pet peeves is when someone drives less than the speed limit. Drives me crazy haha. Get it?
How do you stay grounded or do you have a big ego?
I stay grounded because I feel as if I'm just doing something I love just like anyone else. When someone has a big ego, I don't want to deal with him or her at all.
What was your favorite song as a child?
That's hard. Ocean Avenue by Yellowcard has always been a sing along anthem since I was seven years old.
How many pairs of sticks do you take on stage with you? Ever break a stick during a performance?
I usually bring three pairs of sticks on stage. I used to break sticks all the time. I learned over time how to not break sticks every show to save money haha.
Check out Kevin Smart's Upcoming Tour Dates w/ Jake Miller:
May 3rd - Big Guava Festival in Tampa, FL
May 17th - Skate & Surf in Asbury Park, NJ
July 2nd - Summerfest in Milwaukee, WI
Check out Kevin's Website and Twitter & Instagram: @PopPunkBro. Photo by River Clark.