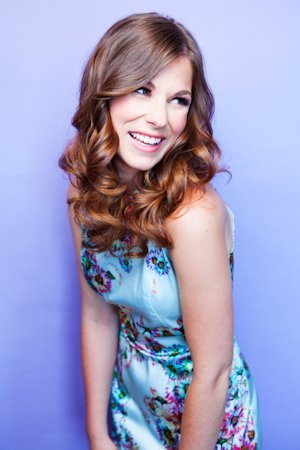 Meghan Heffern is the female lead on The CW's new hit show Backpackers which premiered July 14. Also, Meghan will be appearing alongside Daniel Radcliffe and Adam Driver in the romantic-drama, What If debuting this August. Website: http://www.meghanheffern.net , Twitter: @MeghanHeffern
Photo credit: Angela Besharah
Meghan Heffern has one of those faces that you see everywhere. That's because you have seen her everywhere! With over 30 film and TV credits, you'll recognize her from Degrassi: The Next Generation, Lost Girl, Saving Hope and a multitude of other well known projects.
The cool thing about Meghan is that she doesn't get typecast, so every time you see her, you're getting a refreshing taste of the character she's playing. Even cooler -- Meghan can whip your butt at laser tag. Yeah, she can.
You're the female lead in the CW's new show Backpackers which was picked up by the CW's online web-series platform, CW Seed. What's the difference between shooting for television vs. an online web-series?
I actually couldn't tell the difference with Backpackers. I really felt as if we were shooting for television. I think that made the transition over to TV an easy one.
You will be appearing alongside Daniel Radcliffe and Adam Driver in the August release film called What If. Give us a behind the scenes story.
I had the best time shooting What If. Anytime I was on set with Dan there would be Harry Potter fans waiting for a chance to meet him. He was very gracious and lovely to them. It was nice to see.
Who taught you how to pose at press events?
I still feel incredibly awkward posing on red carpets. I think it's something that will always be somewhat uncomfortable. I can only hope that it will get easier with time.
What clothing and shoes do you feel most comfortable in?
My personal style is a little all over the place. I love girly dresses as much as I love my yoga jeans and Converse. I think it's really important to make sustainable fashion choices. The majority of my wardrobe consists of Canadian and American brands that have been made in North America. Danier, Second Denim, Teeki, Podolls and Stuart and Brown are some favorites.
Tell us the story about your rescue dog, Lola, and the children's book you're writing about her journey.
I met Lola in a little town called Gigante, Nicaragua. She lived at a taco stand/hostel on the beach. It was incredibly easy to fall in love with her. She was sweet and loving and followed me around for about two weeks. I didn't think it would be possible to bring her back, but with the help of a fellow Canadian dog lover she was on a plane to Canada a few weeks later. It definitely wasn't easy on either of us, but it was worth it. She is such a special dog, with a funny face and an amazing story. It seemed natural to write about it.
Aren't you bored of Disneyland by now?
I don't think I could ever be bored of Disneyland. It's such a magical place with so much history. I love bringing friends and family who have never been. Seeing people's inner child is something amazing. Also Mickey Mouse is everything.
Favorite place to get nachos.
My kitchen. I love to create my own nacho masterpieces. It's all in the salsa and cheese distribution.
Why did you choose the vegetarian lifestyle?
I've been vegetarian for about three years now. I lived close to a slaughter house in Toronto, so that pretty much sealed the deal.
Tell us about your audition for Lost Girl.
I was actually sick during my Lost Girl audition, but lucky for me Ron Murphy (the director) was familiar with my work and booked me. It was a very sickly audition, so thank you Ron.
What are you infatuated with?
At this moment I'm infatuated with the band We are Twin. They only have five songs, and I love every single one. Also coffee. Coffee is a new infatuation.
What's the best part about being a Libra?
Being born in October! Fall is my favorite time of year.
Anything else you'd like to say?
I would love to give a shout out to my Nanna who always tells me " I'm gooood". Love you Nan.