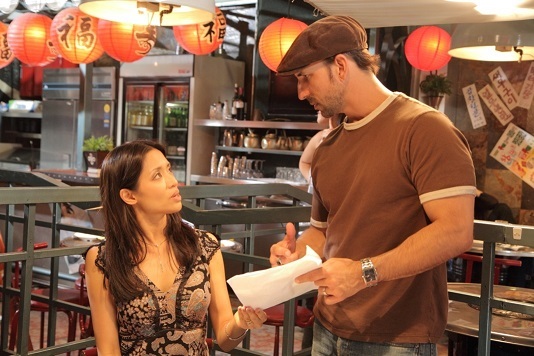 Oscar Torre directs Chuti Tiu in "Pretty Rosebud." Oscar has been chosen to speak about his directorial debut recently at a one hour event Reel Speak. Oscar and writer wife, Chuti Tiu, love that the film is racially diverse both in front and behind the camera."Pretty Rosebud" Website Twitter: @ChutiTiu @OscarTorreActor @ProsebudMovie
Frustrated by the stereotypical portrayal of Asians in mainstream media, actress Chuti Tiu was motivated to write a film that reflected a more accurate and layered depiction of Asian-American culture. Her husband, actor Oscar Torre, decided to wear the Director's hat and the outcome: an award-winning film that's moving, controversial and taking the film circuit by storm.
Chuti, How did you come up with the name "Pretty Rosebud?" What's the title mean?
"Pretty Rosebud" is an old nursery rhyme my Mom taught me when I was little; we actually sing the song in the movie (but we altered it and changed the tune/music.) The lyrics are symbolic of the journey Cissy (the main character) goes through - which is personal growth.
As writer AND actor in the film, did you find you criticized yourself more, or worked differently as an actor, than in your other roles such as in "Weeds" and "2 Broke Girls?"
By doing both, I found that I was able to delve deeper into the character as an actor, because I knew the entire backstory that I had developed as a writer. Oftentimes, we as actors create the entire circumstances around a character that may not be explicitly stated in the text. A process of extrapolation. But it was so much more fun, having more to work with, and knowing the whole universe that the story takes place in.
How do you keep in such great shape?
I'm a Jack (or a Jane?) of all trades when it comes to health and exercise. I swear by my Lifepak Nano (anti-aging multivitamins) and I also take Chinese herbs from my accupuncturist. I try to work out at least three times a week but I have to admit, I've been slacking off with my crazy schedule lately! There's what I call "Pilates on crack" - it's Sebastien Lagree's SPX workout, an ultra intense form of Pilates that makes you want to keel over after 15 minutes. I also like the elliptical machine, taking walks, and doing light weights. Dancing around the house like a madwoman whenever I'm inspired. And meditation, prayer - the spiritual/psychological side is just as if not more important than the physical.
You're married to Oscar Torre. How did you meet?
Oscar and I met in acting class. I remember seeing him come in his first night, and I was thinking, "Oooh! Who's that cutie? He looks a little dangerous. I like dangerous."
You played "Mae" in a few episodes on the TV series "24" with Kiefer Sutherland in 2003. Describe your audition and what it was like working on such an action packed show.
My whole "24" experience was ideal - one that I'd like to happen more often. I didn't have to audition! The casting directors knew my work from other projects, so they referred me to the producers at "24." I met with Joel Surnow, chatted about the character, and that sealed the deal. Love it when that happens.
During filming of "Pretty Rosebud," did you do any re-writers?
The rewrites we did stemmed mostly from time and location constraints - and yep, I did all of them. I learned that sometimes, as a writer, you have to learn to throw in the towel - for example, we lost one location on the day of the shoot, so we had to improvise like crazy. Eliminating lines, adding others. There were other times when we had to move out of a location, so we completely axed out parts of
scenes or even entire scenes which interestingly enough, made the film work even better.
Anything else you'd like to say?
Tugg, the service that we're using to do our screenings, has a great mechanism where we can also raise money for a cause that we're close to. So we're able to raise money, completely separate from the film screening proceeds, to give back and spread the "love" in various communities, so to speak. There are two charities that I've been involved with - one is WriteGirls, which is a creative writing and mentoring organization that promotes creativity, critical thinking and leadership skills to empower teen girls. The other is Nourish the Children, which aims to obliterate child starvation all over the world. We've also been able to help a dear friend who is bravely fighting a protracted battle with cancer.
Oscar, without any knowledge in film production, what gave you the confidence to take on the role of Director in your new film "Pretty Rosebud?"
Well, being an actor for a long time, having the opportunity to have worked with many talented directors and paying attention to what they were doing, was my first step towards directing. I think what gave me the confidence that I might be able to pull it off was preparation. I watched as many films with similar subject matter or even scenes that were similar to "Pretty Rosebud" and observed how the directors would shoot the scenes, camera angles, etc. I also read voraciously and embarked on a lot of self-study. My goal was to tell this story as simply and honestly as I could.
For "Pretty Rosebud," what were your daily duties as Director?
I was involved with the casting of all the roles in the film. Many of the leads were actors that both Chuti and I had worked with in the past or were friends with. We were blessed that they wanted to be part of our journey. I was also involved with hiring most of the above the line along with Rebecca Hu (producer) and Chuti. One thing that I tried to do was to hire as many women as possible. It's a woman's story, told through her point of view and I wanted to have that energy on the set for this particular story.
Seriously, how did you land such a beautiful wife, Chuti Tiu?
I guess I got lucky, but don't tell her that. We met in an acting class and were paired off to do a scene from the play Modigliani, based on the painter and his relationship with his muse. So I guess I need to thank Modigliani for my marriage.
Now that you've had a taste behind the camera, which do you prefer -- behind or in front of the camera? Why?
I prefer both. In a perfect world I would direct a film every couple of years and act in projects that I'm passionate about. I believe that being an actor made me a better director and definitely having directed made me a more well-rounded actor. I really enjoy the process of putting a film together as a director and seeing your vision coming to life while collaborating with others. As an actor, I love the whole discovery process of getting under the character's skin and learning things about myself as well.
What's with the beard and mustache, dude?
I've done both, but truth be told, I'm lazy and many times I've gone in to audition for a role with a beard and they's asked me to keep it. For me it all depends on the character - I guess I've just happened to have done more things that are higher profile while having facial hair.
You did a comedic role as an actor recruited to be a con-man in the Lionsgate heist film, Ladron Que Roba Ladron. How is doing comedy different than a dramatic role? Do you have to prepare differently? Did you do any research on how to do a light-hearted role?
I never saw it as a light-hearted role. I go about it the same way I do a drama and trust that the comedy is in the situation and writing. Comedy is serious business, it really is and the higher you make the stakes for your character the better the comedy plays without having to force it.
How are you involved in the film festival and private screenings for "Pretty Rosebud?"
My wife (and producer of "Pretty Rosebud") and I discuss which festivals might be a better fit for our film, but she's the one that does all the work when it comes to submitting the materials, keeping track of the festivals, corresponding with the contacts, etc. That in itself is a full-time job, and Chuti does a fantastic job of juggling it all. The part that I play in getting the film accepted into festivals is praying, because once you submit, it's totally out of your hands and you really don't know how they decide which movie they end up choosing. So far, we've both attended all the festivals and screenings and have participated in the Q & A's after the film shows. We are in the process of getting distribution, and the attention the film has received at the festivals and screenings have only helped in creating interest for our film.