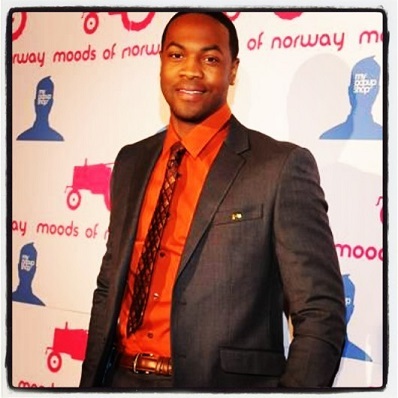 Ser'Darius Blain will be attending Sundance for his new movie Camp X-Ray which also stars Kristen Stewart. Ser'Darius is best known for his roles in the 2011 remake of Footloose and J.J. Abrams' Star Trek Into Darkness. Visit Ser'Darius' website and Twitter: @SerDariusBlain
It was very refreshing to interview Ser'Darius Blain, a guy who has no intention of slowing down. He motivates himself!
Originally, Ser'Darius planned to attend university with his sports background, but an injury squashed those plans. Instead, he earned a scholarship to the New York Conservatory for Dramatic Arts and never looked back!
Tell us the history of your first and last name.
"First of all, I'm an avid Huffington Post reader so I'm excited to be doing this interview!
My mother actually was inspired to name me after a conversation with a drunk friend of a friend. Once she began researching, she found out it was Biblical, originating from Persia. 'Ser' in Latin means 'to be' and 'Darius' means prosperity and plenty. So it literally means "to be prosperity and plenty." And yes there are about a million ways to butcher my name. I've heard it all.
As for Blain, my father's side of the family were Haitian immigrants. The Blains were some of the first land and business owners in Haiti. After my grandfather's death, my grandmother longed for better quality of life for her children so they set their sights on the U.S. and migrated here in the early 80s."
This will be your first appearance at Sundance for your film Camp X-Ray also starring Kristen Stewart. Give us the breakdown of how this all happened.
"I'm super excited to be attending Sundance for the first time, especially with so many great films making their debuts there in the past few years. I had just returned to L.A. from filming When the Game Stands Tall when I got the audition for Camp X-Ray. When I saw the breakdown for my character, Jackson, I saw an opportunity to bring a little lightness to a somewhat heavy script. When I went in to audition for Richard Hicks, I felt an immediate connection to the character Peter Sattler had written. Jackson's a big, kind-hearted jokester but he's also tough and responsible at the same time. I literally just went in the audition room and had fun. I didn't think much about it afterward since this business is such a numbers game so I was pleasantly surprised when I got the call from my agent that I had booked it. Camp X-Ray was one of the most rewarding professional experiences I've had so far. We had a top-notch cast, a passionate, collaborative director and a story that's going to really provoke some thought when it comes to terrorism and humanity overall. I think it will be well-received."

You have three movies coming out soon: When the Game Stands Tall, Camp X-Ray and Maybe Someday. Which audition was the easiest and which audition was the hardest?
"I don't know that I'd say any audition is ever 'easy' necessarily, but the one in which I had the least amount of stress was Camp X-Ray. When the Game Stands Tall was probably the toughest series of auditions I've had since Footloose. The pressure of auditioning for someone like Vickie Thomas who has given so many stars their first shot was daunting. Thomas Carter and David Zelon were also in the room and I have a tremendous amount of respect for their work so it added a little extra pressure. My audition scenes were heavily emotional, so having to reproduce those emotions over and over again in chemistry reads was challenging, but in the end it was very rewarding. Maybe Someday was an interesting audition. I got the sides (piece of script) last minute and didn't think I was going to be able to make it since I was filming Camp X-Ray at the same time. There was heavy dialogue for my character so I was a little nervous about being able to deliver it after so little prep. When I left the audition, I was sure I had bombed it and decided to tape it so the producers (Christy Dooley/Cindy Popp) and writer/lead Michael McKiddy could see that I didn't completely suck. Little did I know, I had already booked it. They never saw my tape. It taught me that sometimes you have to just trust your work and your process."
What was your reaction when you found out you landed your first professional television or film role?
"When I moved to L.A. in the spring of 2010, I almost immediately began auditioning for Footloose. I was fresh out of film school and was just excited to be here. I had no huge expectations off the bat so every time I got a callback, I was like, 'This is cool.' I auditioned for Footloose a total of six times before I found out I booked it. At the time I was dead broke, working two jobs and helping take care of my sick mother, so that news came at a perfect time. When my agent and manager called to tell me I booked it, I almost crashed my car -- well, my friend's car since mine was repossessed the week before. To this day, it is the happiest moment of my life. I began shooting in Atlanta about a month later."
Tell us the story of how you got your agent and manager.
"I participated in an semi-annual acting/talent show called AMTC in January of 2007 and met my manager, Debra Lynn Findon at Discover Management. I also received my scholarship to the New York Conservatory for Dramatic Arts as a result. She advised me to attend school in New York, then come to L.A. if I was serious about having longevity in this business. Needless to say, I took her advice and she kept her word. She introduced me to my agent. She has been so nurturing and a genuine friend. She took a chance on me when I was ready to make the jump to L.A. and we haven't looked back."
What's the difference between shooting commercials and doing film/TV?
"Commercial auditions have a lot quicker process. The shoots are also really short and you get good pay for less work. You're usually not treated super special or anything, which is nice in my opinion because there's no favoritism. In film/TV the process is a lot longer, the days are also longer -- which I enjoy since I'm such a workaholic. You also get the opportunity to develop lasting relationships with the people you're working with. I still miss my Jane By Design and When the Game Stands Tall family so it's always good running into people you've worked with."
Which sports are you interested in?
"I'm a diehard basketball and football fan since I played growing up. In college, I love my Florida Gators. Professionally, I'm an Orlando Magic fan, despite our rough years and I support the Miami Heat. Hometown teams! I love the Indianapolis Colts and Peyton Manning. He'll always be a Colt to me!"

What tech do you use? What games do you play?
"I have a Samsung Galaxy S4 which I'm unfortunately addicted to. People have been trying to convince me to go team iPhone. I'd consider it. No tablets but I do play PS3. I hadn't played video games in six years before I started playing NBA 2K14 recently. I have a love/hate relationship with that game; it's so unrealistic but I can't stop."
Did you have any nicknames while growing up?
"People have always had difficulty saying my name or were resistant to calling me 'Sir' even though my name starts with 'Ser.' Growing up, my family always called me Darius. They're the only ones that are allowed to. All my close friends call me 'Ser' or 'D' and on sets most people call me 'Ser'D.' I'm cool with that. My mom however, insists on calling me 'Mookie Boo' -- don't ask. You will be shot if you ever dare call me that!"
Do you have any regrets and if yes, what are they?
"I think we all have regrets but I try to just learn from them instead of giving them too much attention and validity in my life. I used to regret not going to a major four-year university and missing out on dorm life but if I had done that, who knows if I would be doing what I do now. What I do regret is working too hard sometimes instead of really enjoying my youth. I'm trying to make an effort to stop and smell the roses now."
Any advice you have for actors trying to break in to the business?
"The only advice I can really give to anyone in life is to persevere. Do what you love at all costs and maintain your faith in God. Nothing we have is of our own strength so as long as we remember where we came from, it will inform us where we are going."