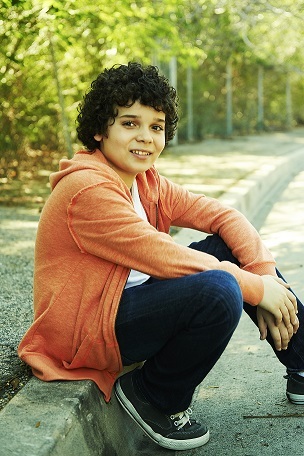 Cameron Ocasio steals the scene on Nickelodeon's Sam & Cat! He currently stars as Dice in the series alongside starring Ariana Grande and Jennette McCurdy. Photo credit Sierra Prescott.
Cameron Ocasio is no stranger to show business. Starting at just age 9 years old, Cameron has been working nonstop for the past five years. Cameron is the most down-to-earth guy you'll ever meet. He's very professional, while at the same time, enjoys being a kid. Interviewing him was very relaxing and enjoyable!
On Sam & Cat, do you have the same hair/makeup/wardrobe person or does it change from episode to episode? How long is the hair/makeup wardrobe process?
Yes, I have several people who work with my hair/makeup/wardrobe during all episodes. Hair/makeup is approximately 15 minutes and wardrobe is usually once a week for about a half hour.
Do you get your script on paper or on a tablet?
I get my script on paper and during our run-through, I will mark it up or highlight before I go on set.
What's it like working with mostly girls in Sam & Cat?
I love working with the girls; we are like best friends, and at times, we hang out when we are not on set. As far as hanging out with the boys, I get to hang with Goomer and other actors depending on the episode, so it all balances out.
Tell us about your audition and your experience on your Broadway debut, playing Lyncoya in Bloody Bloody Andrew Jackson at the Bernard B. Jacobs Theatre. Who stayed backstage with you? How is an audition for Broadway different than an audition for TV?
At 11 years old, I was so surprised and happy when I was chosen for the part of Lyncoya. I competed with many others including the person who played Lyncoya in the Off-Broadway version. When I was on set, I was assigned a wrangler who stayed with me at all times which was six days out of the week and played for approximately one year in 2010. As for the audition process, they both were very challenging but for the TV audition, they want to see how you can play different roles when requested.
What are your dogs' names? How do you get your dogs from the New York area to California?
I have three male Shih Tzu dogs named Peanuts (7 years old), Cashew (5 years old) and Almond (2 years old). They are all trained service dogs and they fly with us when going back and forth so they are able to stay with us on the plane alongside of us.
What frustrates you the most?
Not seeing my dad and family as often as I would like to. My dad visits me as often as he can, but it still can be frustrating not seeing him all the time because he works in New York.
How old are you? What valuable lessons have you learned because of show business?
I am 14 years old and very blessed for being so fortunate to be where I am in this business. I get very good advice from my parents and my manager.
What mistakes have you made that you will make sure will never happen again?
I have to say that my parents are very supportive and have taught me very valuable lessons to avoid any major mistakes. Sure, I have made mistakes, but nothing major that I regret. I do observe and learn from other people's mistakes and hopefully whatever mistakes I make in the future, will be minor.
Do you prefer "real" board games or video games? What are your favorites games that you cannot live without?
I prefer video games, hands down. My favorite games are Minecraft and League of Legends.
Anything else you'd like to say?
Thank you for allowing me to share my experiences and feelings with you and all my fans.