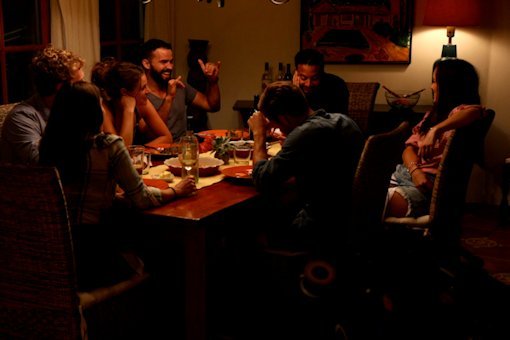 The Milwaukee Collective, a group of award-winning writers, directors, producers and actors in Los Angeles, CA, have created their first indie feature called Milwaukee. The collective consists of top talent Brandon Jay McLaren (Graceland), Martha MacIsaac ("Superbad), Jodi Balfour ("Bomb Girls"), Jordan Hayes ("Helix"), Max Topplin ("Suits") and Alex Ashbaugh ("Super Fast!"). Torre Catalano of festival favorite SEA SICK SAILOR will be making his feature directorial debut.
When the talent listed above decided to embark on this project, it was like heaven came down to earth. Things progressed in such an orderly and timely fashion. The indie was shot over a period of 14 days in Palm Springs and LA, bringing a very unique opportunity and feel.
I spoke with actors Jordan Hayes, from SyFy's Helix, Alex Ashbaugh who stars in this coming Fall's Super Fast and Max Topplin who currently stars in USA's Suits.
Jordan Hayes
As a writer and director yourself, how were you with taking direction from award-winning Torre Catalano? Tell us what your early conversations with Torre were about, ie character, plot, etc.
Working with Torre was great. I have the utmost respect for him as a director, as well as a friend. One of the benefits of being directed by Torre is that he knows me so well. He knew when to let me play and when I needed to be pushed. Our early conversations stemmed mostly from talking about key themes in Milwaukee; monogamy and its sustainability in our generation, cheating and how that betrayal affects both parties, friendship and how important it is as we get older. The conversations we had in regards to these topics as friends laid the ground work that was needed to make this film possible.
In Milwaukee, describe your most uncomfortable scene.
I guess the most uncomfortable scene was when we were all in our underwear in the kitchen. I think all the actors were a little nervous. But Torre was great, he directed the scene in his underwear as well. That's just one example of the support and infectious energy that we had on set.
How is it different working on a film for two weeks in Palm Springs and LA vs. filming the entire SyFy series Helix?
Working on Milwaukee for 10 days was completely different from working on Helix for five months. The length of the productions aside, the two projects could not be anymore different. We shot the majority of Milwaukee in a house in Palm Springs... A house where the cast was also living for the duration of the shoot. I got to work with a cast that was entirely comprised of my friends. Jodi, Martha and I were talking one day on set, and we had a realization... The three of us would never get cast in a movie together. We all have shoulder length brown hair and brown eyes. Milwaukee was conceived outside of the confines of conventional film making. We also shot the majority of the film in order, which was hugely beneficial for the cast. From conception to wrap on principal photography in 33 days. This film is a prime example of what can be accomplished with the right people driven by an enduring passion and an unwavering work ethic. It's been a dream project and could not be more grateful to be a part of it.
Alex Ashbaugh
What did you do for a living before you seriously went into acting? Why did you choose to act?
Before I started acting I was actually a consultant with one of the "Big Four" firms in Chicago. To make a long story short, I grew up somewhat exposed to the entertainment world because my Grandfather, Bob Keeshan, created and starred in the children's show Captain Kangaroo. I earned my SAG card doing a commercial with him when I was five, but at the time it was only a fun little experience and not something I thought about pursuing further. Life continued, high school was dominated by sports and college at Indiana University was dominated by Business School, so acting never really presented itself. It wasn't until I sat down in my cubicle for my first day of work that I thought, "I don't belong here. I need to fix this, and I need to fix it now or I'll never get out." The low of that experience allowed me to get really honest with myself and realize that a career studying what it means to be human sounded right up my alley. So I enrolled in every acting class I could find, quit my job, and haven't looked back since. It was the smartest thing I've ever done, and hopefully that quarter-life crisis will stave off a mid-life crisis. Hopefully.
How did you come to be in Milwaukee?
I was lucky enough to meet most of the members of our Milwaukee Collective, the group who spearheaded the film, about a year ago. I've been in Los Angeles for three and a half years, and I really look at my time here in terms of what came before them and what's come after them. They're all individually "successful" in the commercial sense of the word, but I think we all felt like we weren't being given a platform through the type of work around town to really say the things we wanted to say in the ways we wanted to say them. A casual Friday afternoon meeting to talk about that morphed into a full-fledged production company literally overnight.
If you could pilot any aircraft to any one destination, what make / model would the aircraft be and where would you go?
This is one of those scenarios I think I've fantasized about every day since I started flying when I was 17. Because we collectively wrote the film, we couldn't help infusing a little of myself into my character "Sam," and making him a pilot. I would love to fly a P-51 Mustang, a classic US fighter plane from the 40's, with my Dad to the Pacific Island of Tinian. He taught me how to fly, and Tinian is where his father, my grandfather, flew B-29 Superfortresses from in WWII. It would bring us full circle.
You filmed Milwaukee for 14 days in Palm Springs and LA. What was the difference between the two locations?
One of the most amazing aspects of this film, was that not only were we able to write and produce it as friends, but the cast was able to live with each other in the actual house we shot it in, for the entire shoot. I've never experienced anything quite like that, and fingers crossed, our audience will be able to see that on screen. Our time in LA was great, but I'll never forget what a unique experience we were able to throw together in Palm Springs.
Max Topplin
What's the most attractive and most unattractive things about your character, Jay, in Milwaukee?
I really like Jay. He's a fun loving guy who finds himself in some pretty intense relationship webs. He binds the group in many ways. He is the safe man; everyone can talk to him, which is an attractive side of the character. In regards to an unattractive aspect about Jay, he has broken dreams. He's a go-getter that hasn't figured out how exactly to go and get. Also, he doesn't have much of a filter; too much of Jay may be hard to handle.
You're best known for your role as Harold in Suits. That's work. What are you best known for in your non-work, personal life?
Everyone that knows me knows about my love for Haiti, for which I'm head over heels. I've been going since I was 18 and I feel at home there. Some of my best friends and people I admire reside there. I'm lucky enough to be the Director of External Affairs and Media at LifePaths Telemedicine Initiative in rural Haiti. We bring doctors to rural Haitian villages via broadband, giving medical treatment to those in need that would not receive any care otherwise (check us out at www.lifepathsglobal.org). I'm also a photographer and cinematographer. Another reason I keep running back to Haiti is that it has some of the most beautiful people and surroundings in the world - such joy and love for life. I'm addicted. Check out my work at www.maxtopplinphotography.com.
What acting techniques did you use during the filming of Milwaukee?
The 'acting' aspect of this film came relatively easy. We wrote the characters together and we all understood who we were and what we wanted out of each interaction. In the end, we are friends all drawing on our own lives (to an extent). It also may have helped that we were all confined in our rental property the entire time we were in Palm Springs. We got to know each other very well by the end of it. One fantastic aspect of our schedule was that we shot chronologically (for the most part). That really helped with character development as we (both as friends and actors) started to get more close and comfortable with each other. An amazing experience to say the least.