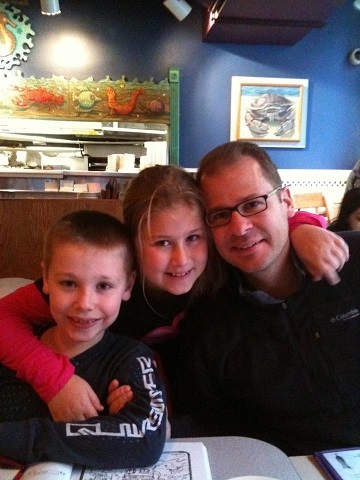 Willie Wilkov is the Chief Marketing Officer for TOMY International, a company that makes toys your kids love. Follow Willie on Twitter: @Whizzlee . Photo: Willie Wilkov and his children spending time together.
If there's one person on the planet to speak to about toys, it's TOMY's Chief Marketing Officer, Willie Wilkov. It would be too easy for me to say that Willie is like a kid himself. So instead, I'll fill you in on something deeper... readers, you do realize you'll have to read the interview to find out the 'something deeper'.
I always wanted to know how the toy world worked, especially since I still play with toys myself (and let me tell you, I do NOT let my own kids play with MY toys! My kids have their own toys but I'm allowed to play with them because...well, just because.)
Oh, woops, let's get back to Willie.
I had the opportunity to have an in-depth conversation about Willie's life, how the toy marketing world works and how TOMY fits into this crazy world of fun.
This is a three-parter, so be sure to check for the Parts II & III to learn how the toy marketing world works!
LET'S TALK A LITTLE BIT ABOUT YOU, WILLIE WILKOV...
At what point in your life did you decide to go into marketing? Why?
When I was graduating college I was debating between becoming a rabbi and working for a consulting company. In my final interview for the consulting job, I didn't connect with the interviewer and I didn't get the job. Instead of feeling sorry for myself, I went into the career services center and signed up for more interviews. The next day I met with Leo Burnett, an amazing advertising agency, and I fell in love. It was the perfect combination of business and art, strategy and creativity, and most importantly it was about building brands. When I got the job, I withdrew my application to rabbinical school and never looked back. That was 20 years ago - before the internet, before social media, before smart phones. While the toolbox has changed, the fundamentals remain the same - it's all about people, ideas, and insights.
What are your greatest personal achievements outside of work?
I have two kids who are 10 and almost 13. They have always been huge readers. Three summers ago we set a goal to collect 10,000 books for at-risk children around Chicagoland. That summer, we exceeded our goal in only three weeks. We have since collected over 275,000 new or gently used books and have set a new goal to collect one million books before my youngest goes off the college. It's not a personal achievement, rather a family achievement, but together we're making a difference in the lives of children and it keeps me busy when I'm not working.
Do you ever get to go on vacation where you literally shut work off? As in not take a call or check-in EVER during vacation?
When I go away, I try to shut work off, but I still make myself available. I don't want to hold things up or leave my team hanging. I also want to be available in the event of an emergency. I ask my team to call me if they need something versus me checking email all the time.
Last year I didn't take much vacation - mostly at the end of December to relax with my family and recharge for the New Year. This year, I'm making a concerted effort to get away more often. I'd like to visit the eight remaining US states that have eluded me so far. Scandinavia would be cool. I also wouldn't mind getting back into scuba diving.

What were your hobbies as a kid? What are your hobbies now? What would you like to do now but have no time?
I was really into sports as a kid. I played outside a ton. Now, I coach my son's soccer team and I play fantasy football. If I had more time, I'd teach. I'd love to build a leadership academy for at-risk kids.

What was your favorite toy as a kid?
I was last of three boys in my family so I received a lot of hand me-down toys. My favorite toy growing up was the Dukes of Hazzard Barnbusters Play Set by Knickerbocker Toys. It was fast, it drove on two wheels, and it crashed through stuff. I played with that toy for hours. I'll never forget how happy I was when I first got it. It really made me smile.
Check for Parts II & III with Willie Wilkov, CMO of TOMY!