Once upon a time in the winter of this year, I looked at everything my husband and I were dealing with -- work, family tensions, and stress from living in one of the craziest cities in the world -- and said, "We need to get away."
As it happened, I had a plan. On our honeymoon, we were in Siena for only a day, but the stunning views from the tower in the city square made clear what we were missing. There was obviously much to explore in Tuscany, and it needed more than a few days in Florence and one in Siena.
So we prudently decided to go in autumn when prices are lower, and we selected one place to stay for the week that would be our base of exploration. A place that also happens to be a thousand year-old castle, located deep in a forest in the lands of Chianti.
Giovanni and Diana Coda-Nunziante have been welcoming guests to Castello di Montalto since the 1970's, converting various parts of the castle and its outbuildings into vacation homes. A professor of agricultural economics from Naples, Giovanni is committed to organic farming, eschewing the use of all pesticides. Montalto itself was once involved in the constant warring between Siena and Florence, until it was defeated by Florence in medieval times.
I researched hundreds of agriturismo establishments, and decided on this one because of the glowing reviews, its beauty, and because it suited our budget. There are places in Tuscany that offer every luxury wrapped in a silk bow, from Jacuzzis to champagne, with a price tag to match. Montalto's charms are more rustic: It was as if we became part of this Tuscan household for a week. We had our own kitchenette, and access to the castle's supply of firewood, extra-virgin olive oil, fresh eggs and organic vegetables. There's a bakery delivery twice a week that we could take advantage of if we chose, and a family winery that supplies the castle with Chianti wine.
From Montalto we had easy access to Chianti as well as Siena, Florence, and some of the most scenic hill towns in Tuscany. Given another week, we could have seen even more.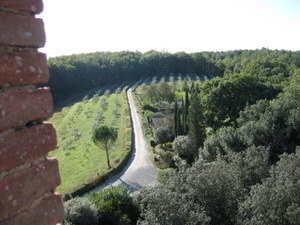 Until September 11, 2001, most of Montalto's guests were American. Since then, the flow of American tourism has decreased, and many of the guests are European or from Italy itself. (While we were there, a young man from Milan was staying for the weekend with his mother.)
Giovanni and Diana host guests in the castle's Great Hall -- now their living room -- for an evening of tea, sherry and biscuits to talk about the castle's history and their lives there. The vast room features medieval frescoes (exquisitely restored) and a huge collection of swords and other weapons that covers all the walls. (In a recent anti-terrorism move, the Italian government asked them to catalog every single weapon in their possession. They opted to take photos since the collection is so big.)
Arriving in low season, we had a choice of apartments to stay in. We decided on the San Martino tower, which overlooks the road leading to the castle. Every detail of the tower's furnishings seems carefully chosen to evoke a graceful timelessness, with hardwood floors and high wooden ceilings. It is adorned on its outer wall with a fresco of St. Martin.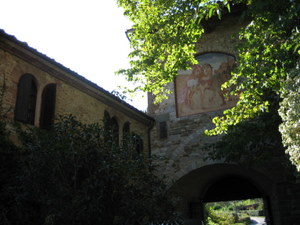 Jack built a fire every evening that roared in the grate during thunderstorms. The place is absolutely quiet, so removed is it from public roads; on our way down the dirt road one night, we encountered a deer running out of the forest. At night, we could see the Milky Way and constellations against a black sky. In the morning, one of our windows faced the sunrise. The sun gradually stained the sky with red, the new moon fading from view.
If I sound dazzled by this -- well yes, I'm a city girl, and the trees outside our window in Jerusalem cannot decrease the hum of traffic or the glare of streetlights at night. In truth, being a city girl, I don't even mind those things. But perhaps it will become most obvious where I am from when I say that one of my favorite experiences was listening to the rain at night, curled up with a book by the fire. The drumming of the rain on the tower roof was like music that lulled us to sleep. I only wished that I could bring some of it home.
I was struck by how common castles are in this gifted part of the world -- nearly as common as the endless vineyards and olive groves. How people must be jaded to them. As a child growing up in the urban sprawl of Queens, New York, I dreamed of castles; so I wonder, what do children in Tuscany dream about? I'm guessing it isn't Queens, New York.