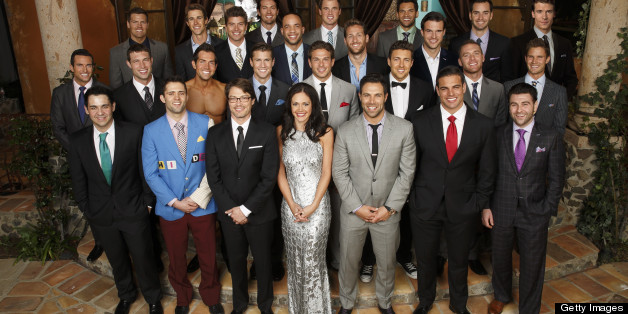 After three long months, The Bachelorette has finally returned! Desiree Hartsock, (the lovely wedding dress designer from Sean Lowe's season), pulls up to the Bachelor mansion and is greeted by none other than Chris Harrison. After giving her the grand tour, Chris hands over the keys to a pretty sweet ride. Des goes for a spin, checks out her new city, and then chats with Chris about what she's looking for this season.
Des is looking for love -- so let's find it!
We're personally introduced to a handful of men, including Bryden, the military man; Will, the high-fiving, hot yoga-loving banker; Nick, the tailor/magician; Zak, the drilling fluid engineer who stands on his balcony naked; and a few others.
But time is running out, and Des needs to meet these men. She changes into a long silver gown and takes her place outside the mansion as the man-toting limos arrive.
I really wish I knew how the producers encourage the men to meet our bachelorette -- do they tell them to admit how nervous they are or persuade them to come up with the corniest and/or most memorable introduction?
Among the most memorable:
• Kasey, the social media fanatic who speaks in hashtags and admits he cyber-stalked Des (another Kasey with a K? #iknewyouweretroublewhenyouwalkedin)
• Jonathan, who hands Des a fantasy suite card upon shaking her hand (which she immediately declines)
• Zak, who exits the limo shirtless and asks, "Will you accept these abs?"
• Larry, who tries to teach Des to dance but ends up ripping her dress instead (and cursing himself as he walks into the mansion)
• Diogo, who steps out of the limo in a head-to-toe knight-in-shining-armor costume
• Juan Pablo, the Venezuelan soccer star who has Des tongue-tied (she actually is unable to pronounce his name)
• Micah, who tries to impress the fashion designer with a homemade suit, complete with a "designed by this guy" logo on the back
• Brody, Ben's adorable son who pops out of the limo and hands Des a rose before being handed over to Grandma, and Ben, Brody's (adorable) father.
Once all the men are inside, Des makes her "thanks for being here and good luck" toast and sets out to meet her husband.
Nick the magician announces to the group that he's going to make the lovely Des disappear... by stealing her for some one on one time. Corny yet clever.
During Ben's one on one, Des finds out that Brody (his son) was the product of two friends just... having a kid. Somehow, they connect, and Des gives Ben the first rose.
Shirtless Zak, standing alone in the kitchen and whining about how he hasn't gotten any alone time with Des, decides to strip down (even more) and cannonball into the pool for some attention. This stunt earns him a (pity) rose from Des, pinned to his pants. Whatever works, right?
Jonathan, still on his fantasy suite kick, steals Des away for a second time to chat and invites her to his lair homemade suite. She politely turns him down again, and he escorts her back to the other men. Clearly not getting the hint, he then steals her away for a third time, leading her by the hand to the suite. Des, feeling highly uncomfortable, firmly puts her foot down and says no. She sends him home, on the spot, and he is whisked away in a windowless white van. No comment needed.
Several of the men have been awarded roses already, and Des hands out the final few.
Among the unselected: Larry the dress ripper, Nick the Magician, and Diogo the Knight in Shining Armor. I have to say, I'm not surprised at her selection.
Previews of the coming weeks show beaches, boats, and brawls... and a whole lot of tears (from the guys, too!). As Kasey might say: #it'sgoodtobeback!