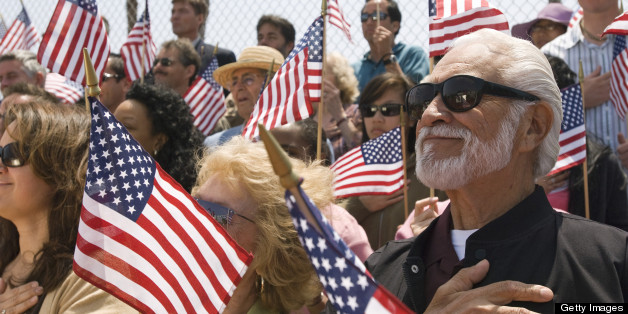 Like so many, I have been profoundly impacted by the Boston bombing. I'm haunted by the fact that anyone would commit such horrible acts -- all the more so as it appears that at least one of the alleged perpetrators was a naturalized citizen and the other was on his way to becoming naturalized. But I am also disturbed by some of the negative reactions against immigrants as a result of the bombings. Neither the bombing, nor those reactions, is worthy of America.

My family came to America in 1968 as political refugees when I was two years old. As Albanians in the former Yugoslavia, we were second-class citizens. We were fortunate -- we got out. We immigrated to America with a profound admiration for this nation, where everyone has the opportunity to excel and be accepted as a full citizen. I became a naturalized citizen, and I have an "immigrant's love" for America, a love that is deep, unconditional, and abiding.

The strengths of America are our ideals and our people -- homegrown and foreign-born. In my case, we were able to come here because a nonprofit paid our way. I went from growing up poor in the South Bronx, to attending Cornell University, to leading the National Conference on Citizenship (NCoC) because of the assistance of my teachers, mentors, and government programs. The opportunities I have had demonstrate to me that I have been accepted -- even celebrated -- as an American.

My story is a uniquely American story -- but it's not unique. Like me, millions of naturalized citizens arrived here with little more than hope. But, with the help of neighbors and community leaders, they have fulfilling lives and are contributing to their communities. We understand that the United States is not perfect, yet we love this nation because we know how exceptional it is.

Most of the responses to the bombing in Boston have reinforced my faith in America. Runners in the marathon rushed to give blood, spectators helped the injured, and many have donated their time and resources to help. These responses are also not unique. They happen after every tragedy, as evidenced after Hurricane Sandy and September 11. Empathy is a powerful human response and shared experience.

Every year, NCoC issues the "Volunteering and Civic Life in America" report with the Corporation for National and Community Service. It shows high levels of trust among neighbors, billions of hours of service, billions of dollars donated, and groups of Americans who are actively engaged with their government. We know from these data reports that, when civic health is high, communities are stronger. Unemployment is lower when neighbors are connected to each other. And people receive critical services when others care enough to donate their time, talent, and treasure.

Unfortunately, some reactions to the bombing tell another side of the "American story" -- one that does not reflect American values at all. People have used the attacks as a pretext for opposing immigration reform. Some have physically attacked Muslims, like Mohamed Salim (who is an Army Reservist and proud American). Such acts are disgraceful. We are a nation of immigrants. Our greatest strength is that we actively invite new people to join us. New Americans, in turn, bring their culture, their excitement, and their ideas to this country. We are much better for it.

At the same time, we must recognize that not all Americans feel connected to their communities. NCoC recently issued a report with CIRCLE, and Mobilize.org that shows millennials as a whole are less involved in civic life. We know from preliminary reviews that that is true for some minority groups, as well. During this difficult time, let's remember that the best way to protect our country is to love and help our neighbors. Let's continue to strengthen the fabric that binds our communities together. To do that, we need to take a close look at how civically involved our new immigrants are and what changes we can institute to increase that involvement.

This is also a good time for us to redouble our civic education efforts. Let's teach our children in schools and through our examples the values that make the United States special -- equality, opportunity, and shared sacrifice.