We've heard a lot lately from the corporate and governmental sides of the net-neutrality debate. Today a new survey shows the consumer side -- and what all the jockeying is really about. The key finding: Many visitors will abandon websites that load slowly, and some will go to competitive sites as a result.
It's clear that millions of dollars are at stake -- for some companies, billions, if new regulations allow some sites to have a speed advantage. This survey, conducted for Gomez by Equation Research, shows that consumers are getting increasingly impatient with slow websites -- a cautionary tale for all web businesses.
The survey shows that nearly a third of visitors will start abandoning slow sites anywhere between one and five seconds. That's quite a difference from the "eight-second rule" of a decade ago and the half-minute many of us were willing to wait in the early, dial-up days of the web.
There's simply so much competition, most consumers know they can find what they want on another site if their original destination is too slow or unavailable. That means every second counts. The survey reveals that 37 percent of consumers say a slow site makes them less likely to return, and 27 percent say they'd be more likely to visit a competitor's site.
Two-thirds of all consumers say they encounter slow-loading sites on a weekly or more frequent basis, and 70 percent agree that slow-loading sites are "frustrating."
If you think this is just an unfounded opinion, think again. We recently monitored 500 million individual web-user interactions, which showed that with an extra two seconds of wait time, user abandonment rates rise by eight percent. For an extra eight seconds of wait time, abandonment rises by 38 percent. Those are big numbers in today's highly competitive business environment.

And what about the mobile web? Certainly wireless device customers are more forgiving of slower sites on a smartphone? Well, only to a point. More than half expect websites to load as fast on their mobile device as on their home computer.
It makes sense that mobile expectations are rising given the many exciting new mobile devices now available to consumers. But the reality is that wireless performance is still lagging behind.
Gomez real-user data shows that mobile users have significantly different experiences, depending on whether their network provider is a wireless carrier or traditional wired (or WiFi) ISP. There were also large performance variances among U.S. mobile network carriers compared to the more consistent wired networks.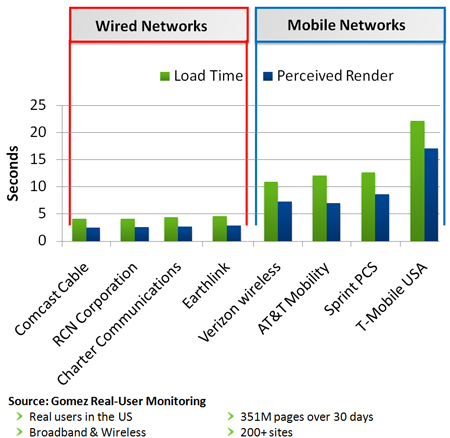 However, not all mobile performance problems can be blamed on limitations inherent in today's wireless networks. The best websites are structured or architected to minimize the impact of performance problems on the end-user experience. As consumers get increasingly savvy, more of them understand that some sites simply do better than others.
The bottom line for mobile: Regardless of who's to blame for slow websites, the customer is likely to have a negative impression of the website itself.
This means slow websites risk a long-term, damaging effect on their corporate brands. Can you name a few websites you visit that consistently perform more slowly than others? Most active web visitors can.
In your mind, poor performance is now part of that website's image. This can be just as damaging as a physical store, restaurant or other business that is known for its poor service. Now think of a few sites you visit that always load quickly. How positive is their brand image to you as a result?
That's why the smartest web businesses do all they can to ensure a speedy web experience, regardless of the network being used. And why services that either monitor or speed up website performance are doing well. It's also why major players are jockeying right now to influence net neutrality regulations to their advantage.

Imad Mouline is the Chief Technology Officer of Gomez, the web performance division of Compuware Corporation (NASDAQ: CPWR). He is a veteran of software architecture, research and development and is a recognized expert in web and mobile application development, testing and performance management. His breadth of expertise spans web 2.0, cloud computing, web browsers, web application architecture and infrastructure, and SaaS.