Imam Khalid Latif is blogging his reflections during the month of Ramadan for the fourth year in a row, featured daily on HuffPost Religion. For a complete record of his previous posts, visit his author page, and to follow along with the rest of his reflections, sign up for an author email alert above, visit his Facebook page or follow him on Twitter.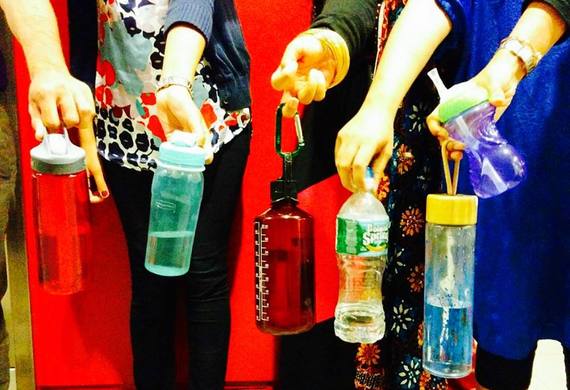 Having hosted dinners almost every night for the last 15 years during Ramadan, I get to benefit from a lot of different experiences. Meeting different people every night, seeing people go through all kinds of transformations over the course of the month, watching new bonds and friendships forge and develop amongst the least likely of individuals -- it's an amazing time to witness our individual and collective potential for growth. I've seen people overcome obstacles they thought they never could, our community grow in ways that one never expected. The one thing each Ramadan that I haven't been able to figure out is how to get people to be more mindful of amount of garbage and waste. I can't even at times get people to throw away their own trash let alone stop making so much of it.
Throughout the world over a billion people are fasting this Ramadan and each one of us is arguably on average producing more waste than during the rest of the year. Iftars are held at homes, in mosques, in the park, in tents on lawns, and pretty much anywhere you can think of. The hosts more often than not are using paper plates, sytrofoam cups, plastic forks and spoons in abundance to help serve the large number of guests coming each night and make easier the daily setup and cleanup. For the individual eating at these gatherings, there is no concern with their one plate or cup. The ease of just throwing something in a trash can, or leaving it conveniently on the floor because obviously it's someone else's job to pick up after you and God made you so special that you should probably even have someone feed you the food directly instead of exerting the energy to use your own hand, is not taking into consideration the overall cost at play. All of that garbage is going somewhere and a lot of it is ruining the world that we live in and setting it up to be a worse place for generations to come.
Rather than focusing on problems and providing stats that will go one ear and out the other, I'd like to discuss solutions that are easily attainable during Ramadan and can be implemented as mosques and other places hosting dinners throughout the month. At our Islamic Center at New York University, we've launched an initiative called "30 Days to Zero Waste! #ICNYUGreenRamadan." This is how we are describing it:
It's Ramadan! :) With that comes an opportunity to reduce our wastefulness and green our lifestyles.

We use thousands of paper plates, cups, and utensils at the IC each Ramadan. If just 10 people commit to our challenge this month, that saves 300 paper plates, 300 cups, and 300 utensils! Imagine the impact we could have if 100 people accept our 30 Days to 0 Waste challenge!

Weeks 1 and 2 of iftar (6/30 - 7/11): Bring your own water bottles to iftar.
Week 3 of iftar (7/14 - 7/18): Bring your own water bottles AND forks/utensils to iftar.
Week 4 of iftar (7/21 - 7/25): Bring your own water bottles, forks/utensils, AND tupperware to iftar.

Anyone who participates in ANY of these three phases will be invited to a special ZERO Waste Iftar! At this iftar, we will use ZERO paper products and will ask that you bring your own water bottles, forks, and tupperware. This iftar will be on Saturday, July 26th at NYU's Gramercy Green Residence Hall (310 3rd Avenue, 2nd floor lounge).

How will we know you participated? Take a picture of yourself using your own water bottles, forks, and tupperware. Post the picture to Facebook, Twitter, or Instagram with the hashtag #ICNYUGreenRamadan. Also post your picture on this event page!
Even though we're well into the month, I'd recommend you try to employ a similar program if possible. If it's not possible, at the very least try to bring your own water bottles, utensils, etc., to iftar. If you don't know where to put everything, just throw it all into your water bottle during the day. You can't drink anything from it so you might as well use it to carry stuff. A quick google search on "Eco Collapsible Meal Kit" will also yield amazing contraptions that you can use for this.
If you feel like doing it alone will be difficult, feel free to join in with our community. You can even post pictures on our Facebook event page or use our twitter/FB/Instagram hashtag #ICNYUGreenRamadan so that we're keeping a track of everything. It's interesting to note that thus far it's been mostly women who have participated. For those of you who are single men looking for a way to get noticed, here is a great way to take advantage of before the rest of the guys catch on.
Mindfulness in a much bigger arena then we sometimes realize. As we learn about ourselves and our relationship with God and His creation this Ramadan, let's remember that His creation also includes the earth that we walk on every day. We have a responsibility to take care of it.