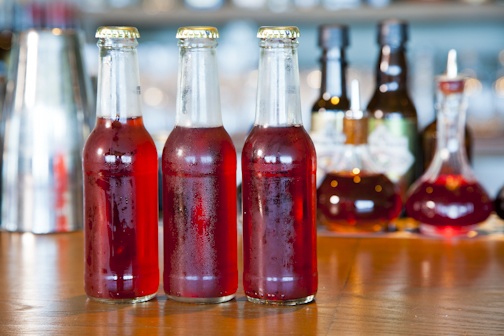 Carbonated cocktails couldn't be more popular (they're listed at #22 on our May/June 2012 list of the 50 Most Notable Drinks of the Moment), and taking the trend to yet another level of ingenuity, a number of bartenders across the country have recently begun bottling their bubbly concoctions, making the flirty effervescence of each drink just the pop of the cap away. And while you might think it's a tad too complicated for a DIY drinker to undertake at home, with a few simple bar and homebrew gadgets, it's surprisingly easy to bottle your own batch for summertime entertaining. We recently chatted with Soho House bar director Chris Ojeda who offered tips for bottling carbonated cocktails, as well as his fail-safe formula for capping fizzy, single-serving Americanos.
Tips:
Stay Strong. When choosing cocktails to carbonate and bottle, stick with high-proof, spirit-forward drinks (think Manhattan, Negroni and the Americano), and avoid bottling ones with citrus juices since those flavors can change over time and are less shelf-stable.

Keep Cool. Bubbles are more lively when the drink you're carbonating is super-cold, so combine all ingredients ahead and refrigerate for at least two hours before charging with CO2.
Don't Overfill. Make sure you leave room in the neck of the bottle just in case it tries to fizz over when you open it. And store capped, carbonated bottles in the fridge since the cold air helps hold the bubbles.
Bottled Americano
6 oz. Campari
4 oz. sweet vermouth (Ojeda uses Martini & Rossi)
6 oz. filtered water
Tools
Large glass pitcher or Mason jar
Perlini cocktail shaker, or some other carbonation tool
Small funnel
Individual bottles (Ojeda's recipe is batched for three 6-ounce bottles, like these)
Crown capper
Bottle caps
Instructions
Combine all ingredients in a large glass pitcher or jar and refrigerate for at least two hours.
Pour contents into your preferred vessel for carbonation and charge with the CO2.
Quickly funnel the carbonated cocktail into individual bottles.
Using a crown capper and bottle caps, bottle and cap the cocktails. Keep refrigerated for up to two months.