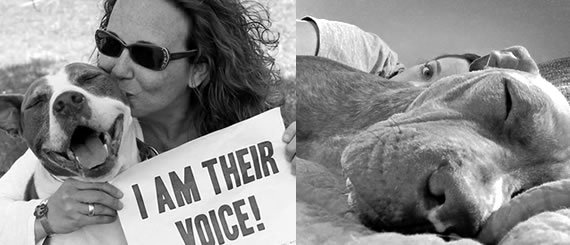 Frankie, I'm a lover not a fighter (left) went from being rescued in a dog-fighting bust in FL to a certified therapy dog and breed ambassador. Photo credit: Dirty Paw Photography. Saved from a high kill shelter in NC, Millie (right) is terminally ill but she taught her family to never give up on a four-legged friend. She is currently getting ready for her revolutionary heart surgery.
It is scientifically proven that pets make us happier and healthier. Maybe it's the comforting nuzzle under our arms, or the joyous welcome when we walk in the door (even if we only left for 10 minutes), or the fact that they want to be with us regardless of our flaws.
Or maybe because they turn us into superheroes.
Our pet came to us by accident. He was a skinny, ten-month old pit bull who was punched, kicked and dragged by his previous owner in the industrial part of Brooklyn, NY. As soon as the owner walked into the bodega, he was ours. That was our first rescue. We were accidental rescuers and we felt like rockstars.
We weren't pit bull people. Rosco was just a pup who needed help. That skinny little puppy grew to be a big strong dog who loves to play with other dogs in the dog park, knows the different names of his stuffed animals and asks us to tuck him in when it's bed time.
He's also the dog that changed our lives. We knew that people are intimidated by him because he's a pit bull but we didn't know how deep the fear was rooted. We didn't know pit bulls are the most vilified dogs in this country (and beyond). We knew nothing about Breed-Specific Legislation until we were planning road trips and finding out about prejudicial bans that tear families apart and kill innocent dogs.
We knew little about the amount of hate, abuse, neglect and exploitation these dogs endure, day in and day out. We knew little about their massive numbers in shelters--and most not making it out alive.
We also knew very little about the amazing courage and resilience these dogs have.
So when we started I'm Not a Monster (out of frustration towards unjustified sneers from strangers), we were just going to find other people who happen to have dogs in the "monster" category, from pit bulls (or mistakenly identified as pit bulls) to Rottweilers to Akitas and anything in between, including mutts. We wanted them to share their stories, to show how great their dogs are and how they enriched their families' lives.
What we did not expect is to find so many people who are as passionate as us in loving their dogs. And how amazing their stories are.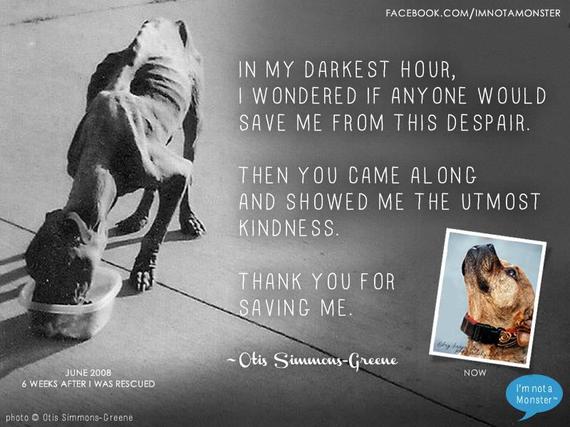 Otis Simmons-Greene showing what love can do to a little abandon dog who was broken in so many ways.
Many came from horrific pasts: starved, abandoned, hurt, abused, tortured. Then they were saved by their awesome humans and their stories become the best of love-meets-superhero stories.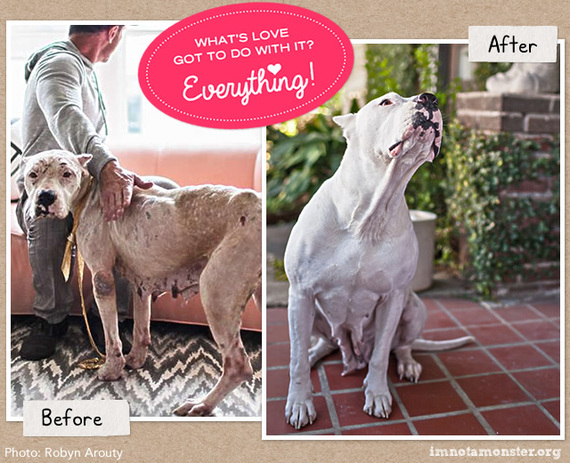 Kellan was left to fend for herself in after she was no longer useful as a breeder dog. She was amongst the 1.2 million strays in Houston, TX. Photo credit: Robyn Arouty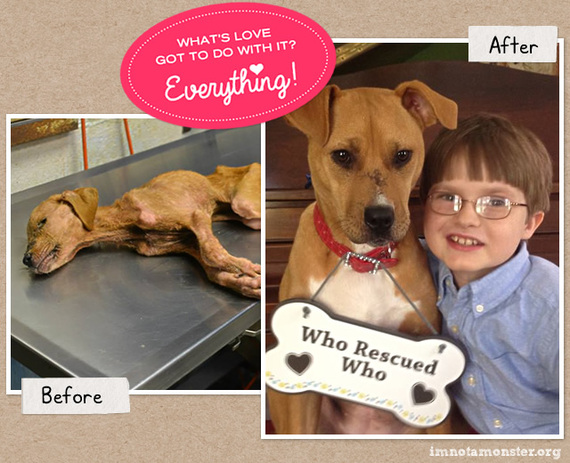 Xena the Warrior Puppy was barely alive when she was found. Nine months later she met her brother Jonny, who has autism, and it was a match made in heaven.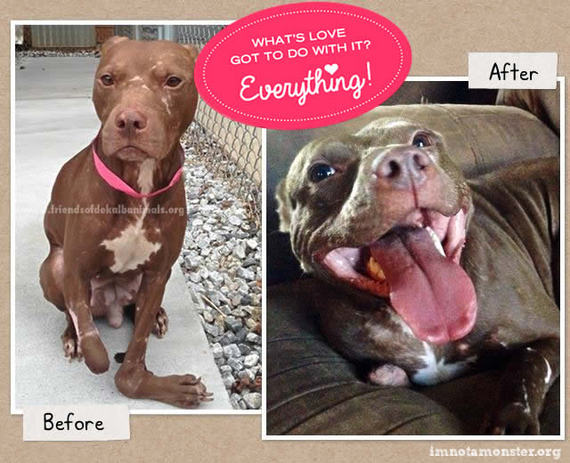 Seized as part of the second largest multi-state dog fighting ring in the US history, Roo the Resilient is currently healing physically and emotionally at her foster home thanks to Friends of DeKalb Animals.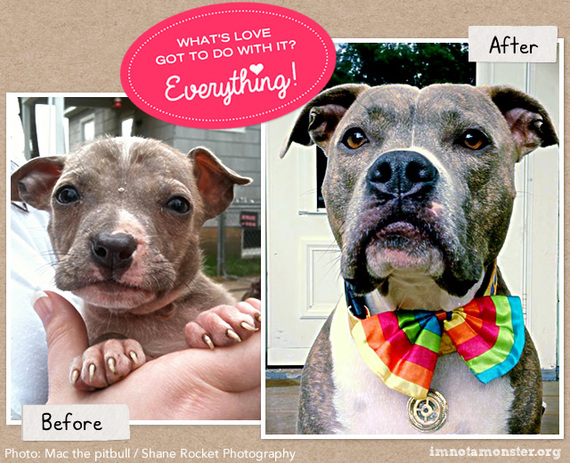 Mac the pitbull was a sickly puppy rescued off a street corner who became Mr. Pitbull Strong and raised thousands to help other dogs in need.
These awesome humans are their superheroes, and they pay it back in utter devotion, unconditional love and thousands of kisses.
These stories are the reasons we continue advocating for the misunderstood dogs. And we can share many more awesome before-and-after stories like these all day long. Because we are surrounded by rockstars and superheroes.
p.s. We are not a pitbull-only advocacy because breed discrimination does not discriminate. We are a good dog advocacy because we believe all dogs, especially those who are unfortunately clumped in the "dangerous dog" group, deserve to be judged by their individual character, not by their breed or appearance.