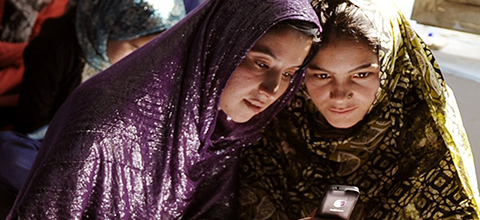 Photo courtesy of Girl Effect
This post was originally published on January 3rd, 2013 at girleffect.org.
"In our community, you couldn't find a flat belly anywhere because everyone was always pregnant," says Lorna, one of the organisers of the Roots of Health programme in the Philippines. "Now, I see more flat bellies, because women have become empowered to control when and how many children they want to have."
Through its reproductive health classes, Roots of Health has significantly increased the number of flat bellies in the Filipino village of Aplaya. The programme is just one of 16 girl-centred programmes being supported by Catapult.org, a new crowdfunding website that helps girl-centred projects raise money.
Through Catapult, Roots of Health raised the $1,800 it needed for contraceptives, nurses' salaries, transport and medical supplies.
Maz Kessler, who founded the website, has followed Roots of Health's funding journey from the start. "They've used the platform and social media brilliantly," she says. "They're tiny but they have a really big voice. We're very excited about a project that allows women and girls to plan their families and pursue their education because they're not pregnant or [already] have children."
Catapult has gone from strength to strength since it launched last October. This week, the site announced a new partnership with the female empowerment campaign Chime for Change - a community of people including Beyoncéand Salma Hayek, who are working to promote education, health and justice for girls and women.
It's easy to see why Catapult has struck a chord. The site has a simple, easy-to-use layout, with projects divided into specific areas of concern for girls - such as gender-based violence, female genital mutilation, education and reproductive rights. It's also possible to search for projects based on location. Each scheme has its own page, with a short explanation of the context, the solution and a list of the people who have donated.
Another early success story is the Afghan Institute of Learning literacy programme. "In Afghanistan, literacy rates are spectacularly low. Only around 12 per cent of females can read, so this is a project that teaches them to read through text messaging on their phones," explains Maz. Now fully funded, the initiative had a target budget of $7,962 to buy materials and equipment.
"Catapult connects the people who want to help with the people who can take that help and turn it into action on the ground," says Maz. "We're filling a gap that we saw when we looked at the gender justice landscape. There just seemed a very clear need."
By connecting organisations and communities from all over the world, Catapult is helping to generate the ideas, innovation and funding that is needed to make the girl effect a reality.
Do you know a great project that has helped girls reach their potential? Tell us on Facebook or Twitter.
You can make a good programme great with girl-centred design - download the toolkit.
Find out more about Catapult.org
Watch the Chime for Change video starring Beyoncé, Salma Hayek and Hillary Clinton
This post was written by the Girl Effect team. Created by the Nike Foundation in collaboration with the NoVo Foundation, United Nations Foundation and Coalition for Adolescent Girls, the Girl Effect is fueled by hundreds of thousands of girl champions who recognize the untapped potential of adolescent girls living in poverty. Follow @girlleffect
 
Like this post? To read more posts like this one, please visit Impatient Optimists. And click here to sign up for the Impatient Optimists Newsletter.