Maybe it's just my desire to re-decorate; but recently my blogrolls have been filled with home tours and DIY projects. The best part? The before and after pictures; it is always inspiring how you can transform a room or bookshelf -- if you have the talent! (Note: I do not).
Because of said lack of talent, I've always been a fan of upcycling. Seriously, how much more eco-chic can you get than by taking an object deemed useless and converting it into something new and improved?! So, when we finally decided to take on the ever-popular bar cart project, one word came to mind: upcycling.
Fortunately for me, the King of Casual Luxury and a pro at upcycling, Mar Jennings, was willing to help (so nice to have a genius on speed-dial)! Never one to back down from a good decorating challenge, Mar lent his myriad talents and nimble fingers to the project. Here's what we did:
The Challenge: Find an object to be upcycled into a bar cart.
The Rules: The object had to be made of natural materials, currently be considered trash, no more than $60 from start to finish to refurbish, and able to be converted using his at least two of the six design principles from Mar's upcoming book Life On Mars: Creating Casual Luxury. Oh, and I had to love it.
His reply? "Honey, I am on it!"
Within thirty minutes, Mar had purchased this shabby (soon to be shabby-chic) cart at a tag sale, while at the same time crossing off the two design principles: 1) reuse and recycle, 2) use Mother Natures colors and textures. Total cost so far: $15.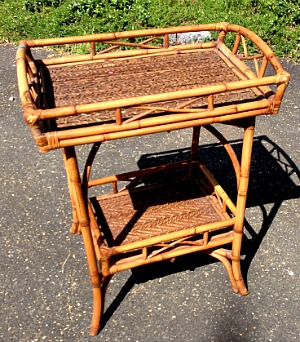 Then Mar outfitted the two removable trays (who knew!) with mirrors at the local hardware store. Total cost so far: $45.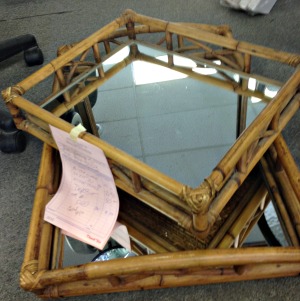 The current cart was in desperate need of a color change, so Mar used Rust-Oleum's Navajo White. 2 cans at $5.50 = $11.00. Total cost so far: $56.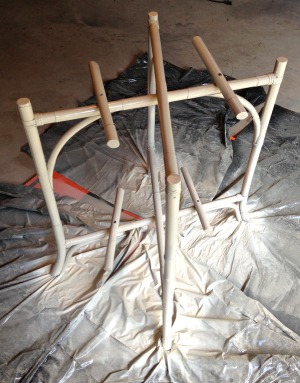 We then added the missing elements; vintage and modern decanters, glasses and, of course, all the best quality liquor we could find! Vóila! The total cost to upcycle was $56 but the value of my new bar cart? Priceless!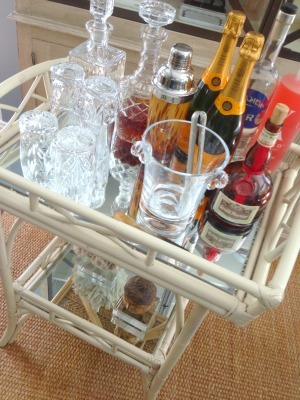 Have you ever refurbished your own piece? Tell us your upcycling stories and ideas on Facebook and Twitter!