If you're thinking of giving money to a charitable cause this holiday season, it's important to consider that you're supporting an organization that will make sound use of what you donate. But also consider something else: that what you donate today can touch someone's heart in a way that can stay with them for decades. I know this because someone I never met sent me a gift that has stayed with me for more than 65 years.
I was born in a small town called Krotoszyn, Poland. In 1941, the year of my birth, the town had a slightly different name, Krotoschin, and was part of a very different country, Nazi Germany.
My family moved there shortly before my birth. Hitler and Stalin made a deal handing our ancestral homeland, Riga, Latvia, to the Soviet Union. As ethnic Germans, my parents moved for their safety. The moving continued even after I was born. In January of 1945, my family fled the advancing Red Army to avoid being caught in the crossfire of the deadliest war in the history of the world.
During the war we became separated from my father, who was drafted into the German army. Nearly one year after the war ended we learned he had survived the fighting and had been released from a British prisoner of war camp to Sylt, a small German island in the North Sea where he could help on a cousin's farm. My mother got permission under a family reunification program to leave the Soviet occupation zone so we could join him.
Despite the great fortune of our survival and arrival in Sylt, life after the war was hard. My father had trouble finding work. There was hardly any food to buy and no coal, only peat and a little wood, to heat the two-room former ammunition depot that had become our home in Sylt.
We didn't starve, but we got by with what he could find. We ate herring from the sea and had black bread. Once my father brought home a barrel oranges he found floating in the sea. They were salty from the sea water, but we ate them anyway. During the especially harsh winter of 1947, my father was briefly jailed after he and several other men from our area were caught stealing firewood from a British airfield on Sylt. They knew the risks of what they did, but they were desperate to keep their families from freezing to death.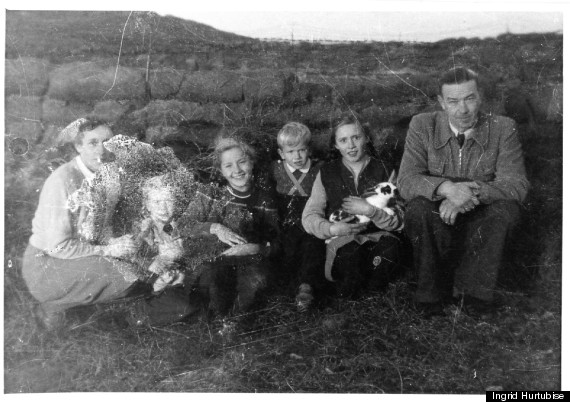 Ingrid Hurtubise (third from left) and her family at their home on Germany's Sylt island,
where they received CARE Packages of food in 1946.
It was around this time that a parcel arrived at our home. It was a CARE Package -- one of 100 million similar packages of food and other vital supplies donated by Americans to people in need around the world, starting with Europeans devastated by the World War II. I was young, maybe five years old, but I remember there was butter in this magical package from an organization called CARE and a green translucent toothbrush for my sister, which she cherished for years. We loved it. There was also cornbread, which my sister and I had never had before and didn't like the taste of. Even hungry kids can be unreasonably picky when they encounter unfamiliar foods.
I was only a small child. I didn't understand the war or its causes, but my mother explained to us just how special it was that strangers from a country against which our country had just fought a war were making such a kind gesture to us. And I didn't need my mother to explain to me how nice it felt to receive something when you have almost nothing. My life is very different today. I live comfortably in Atlanta (which, as fate would have it, is now the headquarters for CARE). I'm a business owner, a mother and a grandmother. And thanks to a recipe I got from a Georgia-born friend, I even love cornbread. But part of me is still that little girl whose heart was touched by the generosity and kindness of a far-away stranger; someone who saw beyond nationality and global politics to extend a hand to a family in need.
I know that today there are girls much like me who, because of circumstances beyond their control, live in squalor around the world. Some have fled fighting in places such as Syria or the Democratic Republic of the Congo, finding temporary homes wherever they can. Perhaps those girls, decades from now, also will be able to look back fondly at people in a far-away place called America who reached as deeply into their pockets as they could to help them in their time of need.
This post is part of a series produced by The Huffington Post in celebration of #GivingTuesday, which will take place this year (2013) on December 3. The idea behind #GivingTuesday is to kickoff the holiday-giving season, in the same way that Black Friday and Cyber Monday kickoff the holiday-shopping season. We'll feature at least one post from a #GivingTuesday partner every weekday in November. To see all the posts in the series, click here; follow the conversation via #GivingTuesday and learn more here.
And if you'd like to share your own #GivingTuesday story, please send us your 500-850-word post to impactblogs@huffingtonpost.com.