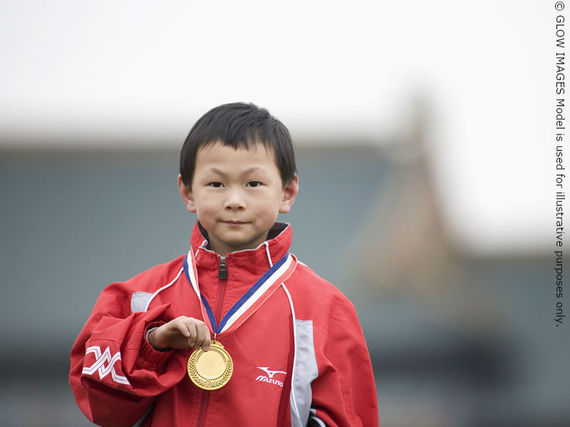 Over the years, the Olympics has provided many movie-worthy moments and Rio 2016 has been no exception.
Stories of mental and physical endurance, of the world's top athletes beating overwhelming odds even before they ever line up against the competition has drawn millions of us to tune in and watch the games.
The gold in their characters shines even brighter than the medals that hang around their necks.
Who could fail to feel inspired by Usain Bolt's unbeatable smile before he crossed the finish line of the 100-meter men's sprint? It lit up the stands, and images of it raced across the world via social media sites, as he once again brought home gold for Jamaica.
And when Topsfield, Mass. runner Abbey D'Agostino collided with New Zealander Nikki Hamblin, it could have just been a story of thwarted 5,000-meter race ambitions. Instead it became another golden moment in Olympic history as the two stopped to help each other cross the finish line, willing to sacrifice a chance at a medal for basic human kindness.
There are countless stories like these that show viewers how the impossible becomes possible, barriers are broken, and the strength of character surpasses physical strength when it comes to performing your best.
Particularly moving this year has been the story of the fall and rise of Michael Phelps, the most decorated Olympian of all time.
Phelps faced an identity crisis outside the pool and succumbed to alcohol addiction before once more rising to stardom and winning the final Olympic golds of his swimming career in Rio. Yet it was his single silver medal win in his final individual race that stood out, as he made room for Singapore's Joseph Schooling, a young man he'd inspired years before, to stand on that highest medal platform which Phelps had dominated for years.
For Phelps, it was a copy of The Purpose Driven Life, a gift from his Christian friend, NFL star Ray Lewis, that contributed to his addiction recovery and athletic comeback. "This is when we fight," Lewis told Phelps at the time. "This is when real character shows up. Don't shut down. If you shut down we all lose."
Instead, we have all won, by seeing him win the hardest victory of all, the victory over himself.
In the end it is about so much more than winning fame and glory. The gold in character is built from experiences that test our honesty, integrity, joy, sincerity, humility. No amount of doping, cheating, or sheer will-power can ever earn that kind of gold. This is the wisdom that has been sought throughout time, expressed in many moving Biblical accounts.
Take Job, for instance, who faced unimaginable trials, sorely testing his faith before he eventually emerged triumphant.
Job was one of the richest men in the land until those trials began and he lost everything. But tragedy turned to invaluable lessons learned -- about faith and spiritual substance.
"Where shall wisdom be found? And where is the place of understanding?" he asks. "It cannot be gotten for gold, neither shall silver be weighed for the price thereof. It cannot be valued with the gold of Ophir, with the precious onyx, or the sapphire." (Job 28).
The wisdom and instruction he received from turning to God for answers to life's dilemmas developed his moral strength, and it can do so for us. The qualities we express such as honesty and integrity, even when we're tested to our absolute limit, bring us life's greatest prize.
Take it from a 19th century woman who knew the meaning of working hard for a single purpose: to find a spiritual method for seeing the enduring goodness and health in others right when they were at their lowest point. Mary Baker Eddy rose from poverty and widowhood to break through glass ceilings and become the founder of a worldwide religion and the author of an international best-selling book on healing.
In her own words, "There is no excellence without labor; and the time to work, is now. Only by persistent, unremitting, straightforward toil; by turning neither to the right nor to the left, seeking no other pursuit or pleasure than that which cometh from God, can you win and wear the crown of the faithful."
Our current Olympians show us how we can all relate to such heartfelt advice.