Family life today is challenging. In the majority of households, both parents work long hours. Feeding your family nutritious meals and keeping them active can seem like a daunting task at times. It's becoming more and more rare to see families that eat together, play together, and laugh together. We are all inspired when we see how successful families keep it together through childbirth, mortgages, and life's ups and downs.
We spoke with the Duers, an all-American family of five living in New York, on how they stay connected, sane, and healthy while juggling family and work responsibilities. We love Betty Duer's suggestion for a "good, old-fashioned, super hearty belly laugh." She also shares her yummy Apple Cider Sangria recipe below: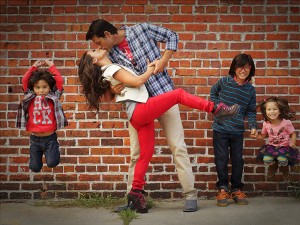 Joe, as a professional model and a family man, how do you maintain balance while juggling all your responsibilities?
My family is priority number one. I'm fortunate to be in a profession that provides the time and flexibility to be a provider, as well as help my wife with our children and their crazy schedules. I coach both of my sons' teams for baseball and basketball, and I enjoy having a hand in developing their skills while spending meaningful time with them.
I maintain balance by staying fit and healthy, not only for my job, but for the mental and physical benefits of taking that time for myself so I can be better focused as a father as well as a husband.
Who would you say is the most inspirational person you know and why?
Honestly? My wife. I am truly inspired by how well she wears so many hats with being a nurturing mother, a loving wife, and an awesome career woman. She's also a fantastic cook who loves to laugh. She takes such great care of all of us in every way and challenges me to keep up.
Betty, how do you manage as a busy mother of three and stay sane and healthy yourself? If you only had 30 minutes of downtime for yourself, how would you spend it?
With work, after-school activities, a preschooler at home and countless commitments on my calendar, I find balance in keeping things trimmed down to the bare minimum. I can't be everywhere all the time, so I must say "no" to anything and everything that is not essential or doesn't add value to my family's life. I am so much more happy and productive when I'm not overwhelmed, thus keeping my sanity intact. I find if I keep watch over my mental health, my physical health follows suit.
Finding time for myself is definitely a luxury -- but I think I would do absolutely nothing if I had only 30 minutes of downtime. I would just be thinking of more ways to spend my time with my family. I suppose that would be considered "meditating" -- but it really does make me happy to really connect with them, as they are the most significant people in my life. It is always a bonus if I get to spend quality time with my family and great friends. There's nothing better than having a good, old-fashioned, super hearty belly laugh.
What are your favorite ways to use ginger powder cosmetically?
As I am now in my 40s, and after three pregnancies, I noticed my hair was thinning. I love taking the WP organic ginger powder and mixing it with olive oil and honey and massaging it into my scalp. It smells divine and stimulates my hair follicles as I leave it on as a hair mask before shampooing. It is a wonder root!
What are your favorite ways to use ginger powder in your kitchen? Can you share a simple recipe with us that our readers can try at home?
Ginger is my favorite way to add "depth" to any of my dishes I make at home. I add it to my homemade wontons filling, my fast fried rice, and my roasted butternut squash soup, as well as into my cocktails.
For Thanksgiving, I made apple cider sangria:
Recipe: Apple Cider Sangria
Ingredients:
- White wine
- Apple cider
- Seltzer Water

- Diced fuji apples and fresh cranberries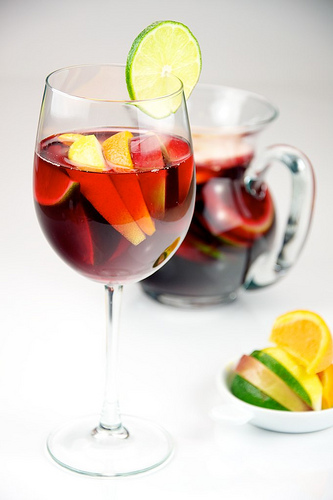 1. Mix equal parts white wine, apple cider, and seltzer water (or ginger ale).
2. Add WP organic ginger powder to taste.
3. Garnish with diced Fuji apples and fresh cranberries.
It was a huge hit. The ginger powder really gives it a holiday zing.
What are the kids' favorite sports? Who are their heroes?
Jake and Rock love baseball and karate. They both say their daddy is their hero. Jake even wrote a report when he was in second grade about how he "looks up to his favorite guy who is brave, handsome and smart."
How do the kids help you out when you're having a busy day?
Rocky likes to tell funny jokes he learned from his big brother, and GiGi likes to help Mommy in the kitchen by handing her the food to chop and cook. Jake pours Mommy a glass of wine. They are all Mommy's biggest helpers.
Photo credit: Betty Duer, TheCulinaryGeek
Related articles by Intent:
How Ginger Can Help You Get Fit
Ginger for Healthier Hair

A Morning Sickness Remedy for Kate Middleton: Ginger