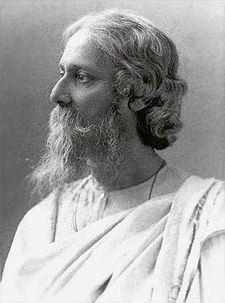 "I am like a remnant of a cloud of autumn, uselessly roaming in the sky. Oh, my sun, ever glorious."
The words of poet Rabindranath Tagore (1861-1941) fall with velvety warmth from Deepak Chopra's lips. They seem perfectly crafted for this purpose, settling gently around the stillness of a meditator.
If you have seen recent episodes of The Chopra Well's show The Meditator, then you know what we're talking about. The show, which features daily guided meditations by Deepak and daughter, Mallika, has recently found inspiration in the work of Tagore, a mystical poet from Bangladesh. A prolific writer, Tagore published over 50 volumes of poetry, in addition to short stories, novels, musical dramas and more. He also drew, painted, and composed music, which makes him the quintessential polymath.
Here are a few things we find particularly interesting about Tagore:
He was the youngest of 13 children.
He began writing poetry at the age of 8, and secretly published his first volume at 16 under a pseudonym.
Tagore was the first non-European to win a Nobel Prize in literature
The British government knighted him in 1915 -- a title he later resigned in protest against the country's policies in India.
Between 1878 and 1932, Tagore visited five continents and over 30 countries. He was 71 by the time those travels were over.
If you aren't familiar with his poetry, you're in for a treat. Some of our favorite excerpts:
From "Clouds and Waves":
I shall be the cloud and you the moon.
I shall cover you with both my hands, and our house-top will
be the blue sky.
From "Closed Path":
When old words die out on the tongue,
new melodies break forth from the heart;
and where the old tracks are lost,
new country is revealed with its wonders.
From "Unending Love":
I seem to have loved you in numberless forms, numberless times...
In life after life, in age after age, forever.
My spellbound heart has made and remade the necklace of songs,
That you take as a gift, wear round your neck in your many forms,
In life after life, in age after age, forever.
Now imagine: Deepak's voice, Tagore's lines, flowing around you with endless serenity as you meditate on the banks of a cool river. Or from the hills of a desert at sunset. Or from your office between meetings. We feel calm even just thinking about it.
Subscribe to The Chopra Well for daily meditation, with more lush poetry coming your way!
Related Articles:
Envy-Free: Start Trusting Your Inner Guru
Meditate To Boost Your Self-Esteem
For more by Intent, click here.
For more on meditation, click here.