This blog post was written by Intern Queen Campus Ambassador Sarah Dougherty from the University of Alabama.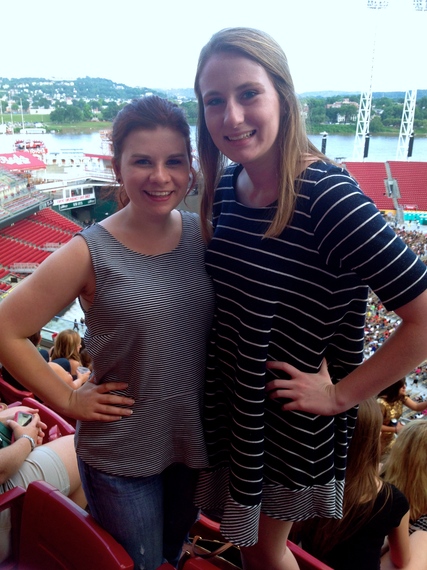 Each year, thousands of interns take the leap and relocate somewhere new for the term of their internship. I accepted an internship in Cincinnati, Ohio, where I only knew about 6 people before arriving. It can be intimidating at first -- new roommates, new routines to make, and a whole map of ground to cover before August comes around, in addition to full-time responsibilities in a new office. When I first arrived with all of my belongings and the "first day of school"-type nerves, I thought "how am I ever going to find a routine here?" It took a little bit of patience and a lot of effort to gain momentum, but now I find myself thinking, "how am I supposed to leave?!"
Being comfortable in your surroundings makes the dream internship experience that much more enjoyable -- there's something so nice about feeling settled in. These are the four things that have really made my summer, and can help you embrace your new city, too!
1. Don't be afraid to reach out. Find an alumni chapter from your University or a local chapter of your Greek life organization. People love connecting with other people within organizations, and they are great to form relationships with! They help grow your network in your new city, can provide awesome volunteer experiences, and can give you local experiences while you're in town. Some of the coolest professionals I have met were people I met through associations I had before coming here -- had I skipped that section in Lauren Berger's Welcome to the Real World, I never would have thought to reach out to my sorority and see who was in town!
2. Connect with other interns. Whether you find some close friends from within your office or with the people down living the hall in your apartment building, do your best to branch out and find other people that are new to town! Cities are offering more and more great ways to bring interns together to integrate them into the city's culture. Cincinnati has a great program called CINC -- Cincinnati Intern Network Connection -- which provides professional development events, social events, and some "get to know the city" events organized by local young professionals. Take advantage of Lauren Berger's Intern Queen Parties, and any Intern lunches within your company -- you never know who you are going to click with or what you can learn! We're all in the same intern boat and figuring out the current and next steps... why do that alone?
3. Take time to get lost. Don't do this on the way to work, per se, but set your alarm clock on Saturday morning to get up and get going. You're in New York/Chicago/LA (or another awesome city that you don't get to live in normally); take advantage of it! Grab a book and find a new park or explore until you reach a nice spot for brunch. Ask people at work for some ideas and see what all you can stumble upon; who knows who you'll meet, what you'll see, or how you'll end up spending your day! After a long week at work, it's easy to feel overwhelmed by new surroundings. If you know of a nice nook to read in on a Saturday morning or a place to hear local artists perform, you'll have peace of mind in feeling settled in. You might even find places that locals don't really know about!
4. Take notes. Whether you're in a meeting or chatting with people at a networking event, keep track of things you need to do, want to do, and would benefit from doing. I read Lauren Berger's Welcome to the Real World from one of the local coffee shops I discovered, and took her tips to heart -- I made a list of things to keep in mind in the office, ways to keep calm and get my work done well, and the contact information for people to have informational interviews with. My little notebook has been filled with project details, future internship ideas, restaurant suggestions, and so on. It's a mish-mosh of all things from my everyday life.
5. Look at community calendars. It sounds a little nerdy, but by looking at the city or neighborhood websites, you'll find a whole world of information you may have been oblivious to otherwise! Food truck festivals, local concerts, yoga in the park, and more -- stay tuned to what's happening around you! My cousin and I would've missed out on (free) Shakespeare in the Park had we neglected those newsletters. It's also a good way to see if your city is embracing its potential and using its resources -- grab some interns and get your calendars synced up!
In the beginning of the summer, thinking about finding my way through all of the different neighborhoods in town caused some major anxiety. I panicked at the idea of getting to Target on my own! Everywhere I went was through my GPS and always so stressful -- but then I took advantage of everything going on around me and am sad to leave! There are so many benefits and lessons learned that come with interning in a new location. I think it shows a lot about your personality and ability to adapt; not many college students are willing to spend time away from friends & family to take on a new city. Employers won't take your relocation lightly -- it's an awesome gesture of dedication to your position and company!