This blog post was written by Intern Queen Campus Ambassador Cheyenne Krieger from the University of Cincinnati.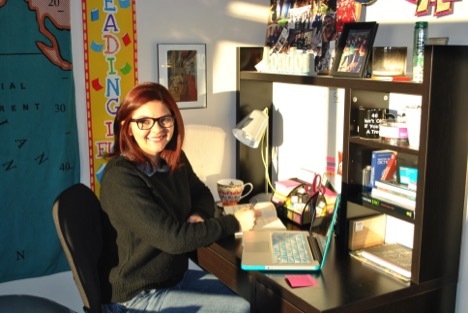 Internships can seem daunting and unattainable when you don't live in the heart of a huge city on the East or West Coast. However, with technology advancing at a rapid rate, in-office internships aren't the only ones available to ambitious student leaders. Virtual internships with countless major companies have emerged in the past few years, allowing you to learn everything you can about the industry you're interested in -- all from the comfort of your own home. The only coffee you'll be running to get is your own and you can skip out on all of the mindless tasks interns are known for completing around the office. To completely rock your virtual internship -- and to get the most out of the experience -- follow these Holy Grail tips.
1. Communicate daily.
This is the most important aspect of rocking a virtual internship. If you don't communicate with your boss or the rest of your team at least once a day, you will get nothing done. Internships are a huge learning experience, so make sure you're communicating as much as possible to ensure you're learning as much as possible. All of your training will be done online or over the phone, making it crucial that you're available for a phone call or a Google Hangout/Skype session, which should happen on a regular basis. The more you communicate with your team, the more comfortable you will be when asking for extra (or less) work, help on projects, advice on new topics and performance reviews.
2. Stay organized.
Just like an in-office internship, you will have deadlines to meet and meetings to attend -- the only difference is that you'll submit your work online and your meetings will be over the phone or webcam. Make sure you write down all of your deadlines in a planner. If you're the forgetful type, go one step further and put your deadlines not only in a planner, but also on sticky notes around your desk and set digital reminders in your phone. If you're still missing your deadlines and forgetting about Google Hangout training sessions, invest in a large desk calendar and write everything down with obnoxiously bright highlighters. We're all being pulled in a million directions, but it's up to you to hone in on your organizational skills to make sure you're always one step ahead of your virtual internship responsibilities.
3. Set goals.
When you secure a virtual internship, it's important that you address your goals with your supervisor. Be up front with your team about what you want to accomplish and what you hope to gain from the experience. If you're hoping to learn more about editorial skills, web design, photography, etc. -- tell your team. They will have an endless wealth of knowledge on the subject and they are more than willing to help you become a trained professional in what interests you. To go along with this, your supervisor and team will have goals in mind for you as well. You're going to learn a lot of brand new material and that will seem scary -- just remember you're working towards a larger goal. Put in the effort and you will reach -- and exceed -- your goals in no time, making you a trained professional.
4. Have passion.
If you really want to learn all that is available to you, you need to be in contact with your team at all times. Show them how passionate you are about the internship and you will be rewarded accordingly. The more excited you are to be on projects, the more your boss will trust you in your ability to complete them. Showing that you're hyped up about the company and that you can accomplish your tasks on time will allow you to move up in their eyes. Be bold and offer your ideas and insights -- your boss will love that you have a voice and will take your suggestions into consideration. Your success in rocking a virtual internship lies completely in your hands. Make sure you're passionate and willing to learn so that you come out of the internship with a ton of invaluable experience.
Interning can be one of the most beneficial aspects of a college student's life. Some of us, however, can't make it to a big city for those coveted internship positions -- which is why virtual internships are amazing. To make sure you rock your experience, it is vital that you communicate with your team every day, stay organized, set goals and have passion during the internship. Show up dedicated, eager to learn and ready to rock your internship by following these four tips!