By Steve Le Poidevin, InternationalLiving.com
This article comes to us courtesy of InternationalLiving.com, the world's leading authority on how to live, work, invest, travel, and retire better overseas.
"You must be really desperate to want to move to China!" said my 80-year-old mother as I broke the news of my new job. Actually, no; I wasn't.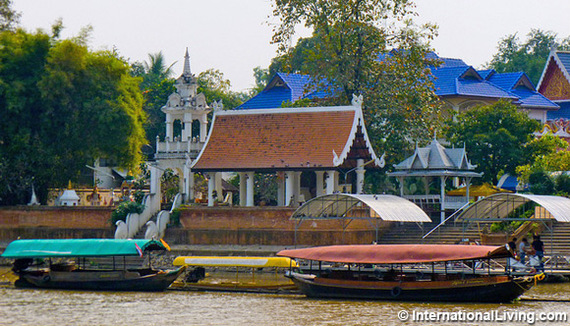 Riverfront, Chiang Mai, Thailand
At that time--almost 10 years ago--I had a great teaching position in rural British Columbia, with the end of my long career in sight. I was the kingpin in a small storefront school teaching all the local misfits, no boss looking over my shoulder, a decent salary, and enough regular holidays to keep me rejuvenated. So why did I decide to move?
Well, it's not always about the money. When I was called out of the blue on a cold, Canadian winter night and offered the opportunity to teach mathematics in a city of 10 million people in China, it didn't take me long to accept.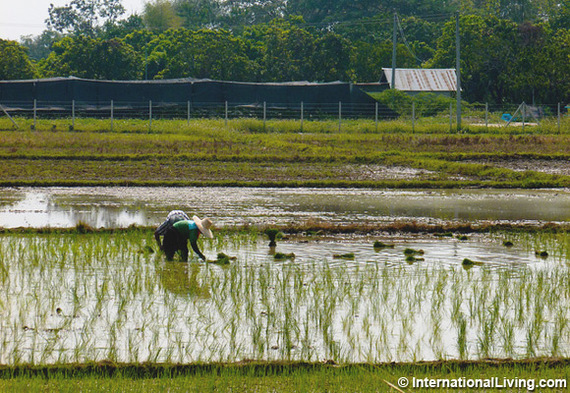 Paddy Field, Chiang Mai, Thailand
I would be giving up my monthly teacher pension contributions. That would mean a smaller income when I retired 10 years down the road. But my instincts (and my wife's) told me to forego the money and choose the new life in China. Somehow, living and working abroad seemed much more exciting than finishing my working years doing the same thing in our little town of 5,000 people.
The first time that I packed up and moved abroad on a whim had been over a decade earlier. I took part in a teaching exchange with a colorful guy on the coast of Fife, in Scotland. We traded jobs, houses, cars, and friends for one year. That time, I had two kids in tow as well as a spouse. My younger son, then nine, learned to play the bagpipes there and began his lifelong obsession with music. Four or five CDs, several tours, and hundreds of gigs later, he is likely to be found playing a guitar these days. But his year in Scotland was what started it all.
My older son, then 13, learned that you can fall off your bike and smash all your front teeth on a Sunday night in Scotland, and you'll still find a young, first-year dentist with an office over a bar who will temporarily fix you up. He also discovered that going through a couple of bottles of wine at a teenager's birthday party is acceptable in some cultures! He now lives in Changsha, China, where he owns a popular expat bar.
Sometimes it's difficult to make the break from the familiar to the unknown, but you will not regret following this path. The opportunity to travel, learn new languages, dine on food you have never heard of before, and constantly discover different ways of doing things...you learn as much about yourself as you do about the new culture. And there is no better way to learn about a country and its people than to live in the middle of it.
For me, the time in China was definitely the best six years of my long teaching career. I learned that you can survive without all the Western world's laws and regulations. And that you can fit a family of five on a 125cc scooter, along with a couple of suitcases.
But the most important thing I learned is that, wherever you live in the world, people basically want the same things in life. Everybody wants a rewarding job, enough money to be comfortable, a roof over their heads, food on the table, a better future for their kids, and at least a few good friends. Throwing in lots of happiness every day doesn't hurt, either.
Yes, we probably should have stored away our extra money for retirement those last few years, instead of spending it on traveling around Southeast Asia. But the good times we had, the fantastic adventures we enjoyed, and the dozens of international friendships we formed more than made up for the decrease in savings. And our years in China led to retirement in Thailand, which would not have crossed my mind 10 years earlier. After seeing how much further our money can go here, it was a no-brainer.
Would I do it all over again if I had the chance? Definitely, except for one thing. I'd move abroad 10 years earlier. It's too easy to get stuck in a rut and lose that sense of adventure. Like many others, I was too busy surviving and saving for the future to consider the other options available. But when opportunity knocked, it reminded me that there are other choices. The lessons my family and I have learned in our years abroad far outweigh any financial losses.
Our first taste of living overseas showed me just how easy it is to move abroad. It instilled a love of travel in all my family. A few years later, both children felt comfortable heading off to Scotland on their own, to stay with friends before they finished high school. We all continue to travel regularly and soak up the culture everywhere we go.
So much of my life has been affected by our move to Asia eight years ago. Without it, retiring to Chiang Mai probably would not have happened. I doubt I would be writing as much as I am these days. My wife and I certainly wouldn't have had the opportunity or money to travel so extensively throughout Southeast Asia.
Whether we stay in Chiang Mai remains to be seen. For now, it is a great fit for our budget and our lifestyle. At the same time, there is so much out there left to explore.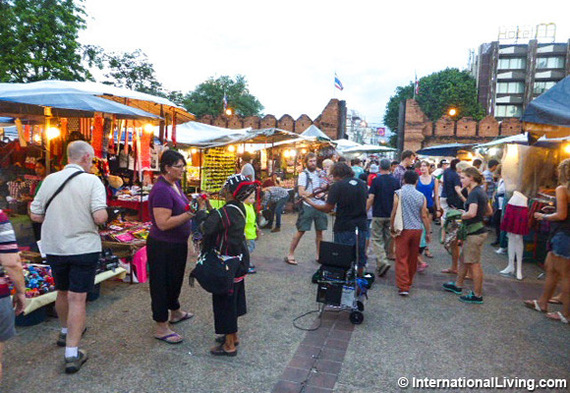 Sunday Walking Market, Chiang Mai, Thailand
Related Articles
10 Of the Most Beautiful Places in Asia
$266 A Month Rent in a City Where Splurging is Easy
The World's Best Places to Retire in 2016