By Ann Kuffner,InternationalLiving.com
This article comes to us courtesy of InternationalLiving.com, the world's leading authority on how to live, work, invest, travel, and retire better overseas.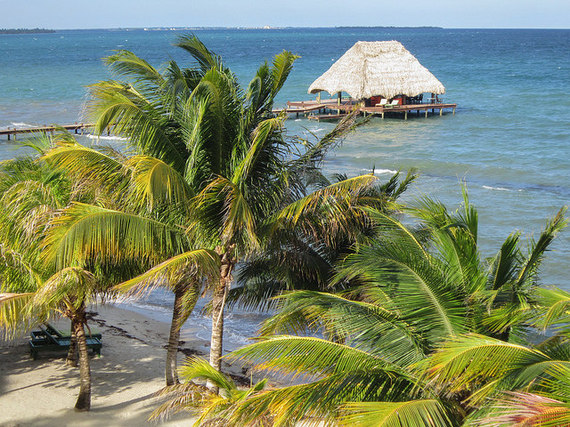 Courtesy Ann Kuffner, InternationalLiving.com
Lynn Ann Snellman and her husband Tony DiPiazza's lifestyle in Belize is very different to what they knew back in Okemos, Michigan. "Our main reason for leaving was the weather. We crave warmth and sunshine. The winters are intensely cold in Michigan, with lots of snow and ice, and there are lots of cloudy days year-round. Here in Belize we are thrilled to enjoy an active, outdoor lifestyle year-round," says Lynn.
"We live full-time on the beach in a development on the Placencia peninsula. We enjoy the warm climate, with sea breezes, the dramatic ocean view, and the natural beauty all around us. It's great to be able to bathe in the sea, snorkel, and kayak right off our own beach. I've even watched baby turtles emerge and helped them get to the sea. A couple of months ago that occurred right on our property."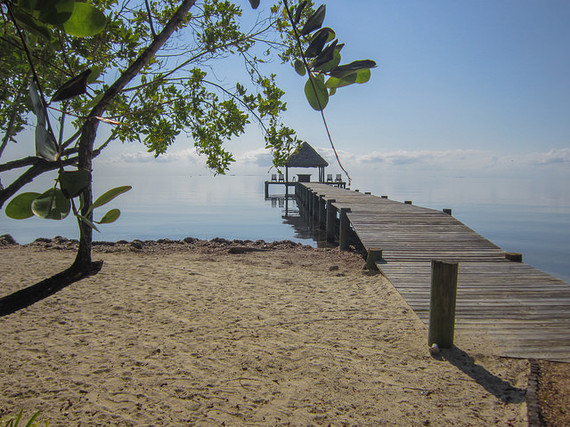 Courtesy Ann Kuffner, InternationalLiving.com
The couple also chose Belize for its official language -- English. "We didn't want to live somewhere where we couldn't communicate well with local residents," says Lynn.
"Before settling, we did our homework. We took many vacation trips to Belize, and in 2003 we decided to spend a couple of weeks exploring the villages on the coast. We rented a four-wheel-drive vehicle and drove from the northernmost town of Corozal to the southernmost town of Punta Gorda. We ultimately chose to buy property on the Placencia peninsula because it has the best beaches in Belize."
The couple bought 10 years ago and paid $90,000 for their beachfront property. (These days similar lots in Placencia are selling for $200,000.)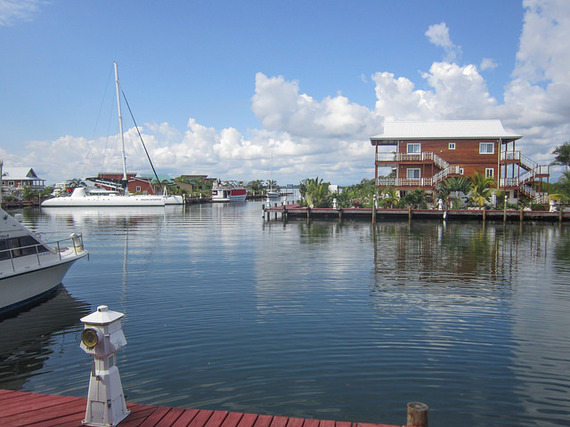 Courtesy Ann Kuffner, InternationalLiving.com
Both have residence permits and could work, but they prefer not to. "We are both completely and happily retired," they say. And they have no problem keeping busy. During the past four years, Tony has built two houses on their property. He first built a small wooden house, for "practice." It then became a convenient, rent-free place to live while they built their beach house.
Tony has taken a different approach for the beach house. First, he chose to build in concrete. And "we hired a more experienced crew. I acted as the general contractor. That saved us 10 percent to 15 percent on the cost of this house. I learned not to overbuild; we spend so much time outdoors that a large house is unnecessary here."
Two nights a week Tony also plays beach volleyball at Mangos, a nearby bar. And since the DiPiazzas are animal lovers, Lynn explains, "We have adopted (rescued) two dogs and three cats since we've been here. Nearly every day includes a long dog walk on the beach with some of our neighbors."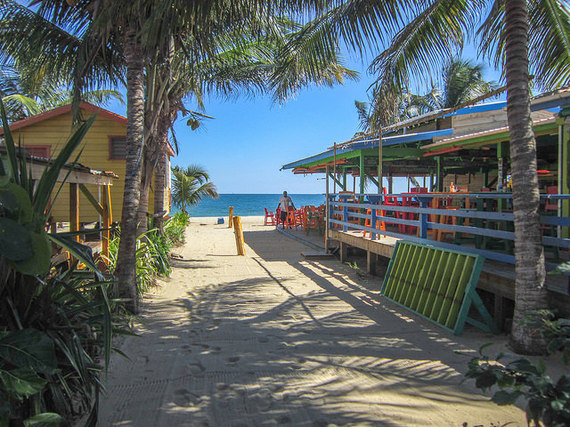 Courtesy Ann Kuffner, InternationalLiving.com
Lynn Ann now has time to enjoy reading and practicing yoga. She can access almost any book in minutes on her Kindle. And, fortunately, there's a yoga studio close to her home. Lynn Ann has also joined the Placencia Rotary Club. She enjoys "giving back" to her new community and notes, "Since the club membership includes native Belizeans, the projects are ones that have true value for the community."
The couple has settled in and enjoys the local camaraderie in Placencia. "There is a small-town atmosphere here. We socialize with both expats and native Belizeans. We have many more acquaintances than we did in the States. In Belize it is easy for neighbors to become friends, as there is a 'pioneer' mindset. In Belize, we don't hesitate to stop by strangers' homes to find out more about a feature or plant we admire -- and we are typically warmly welcomed."
Related Articles:
Belize's Beautiful Placencia Peninsula
Healthier and Happier In Caribbean Belize
I Found My Ideal Water View in Belize
Earlier on Huff/Post50:
PHOTO GALLERY
Awesome Dads