By Jason Holland, InternationalLiving.com
This article comes to us courtesy of InternationalLiving.com, the world's leading authority on how to live, work, invest, travel, and retire better overseas.
Most people visiting Costa Rica fly into the capital, San José, site of the main international airport, but head out as soon as possible for Pacific or Caribbean coast beaches. And the majority of expats live on the coast or in more rural areas of the Central Valley.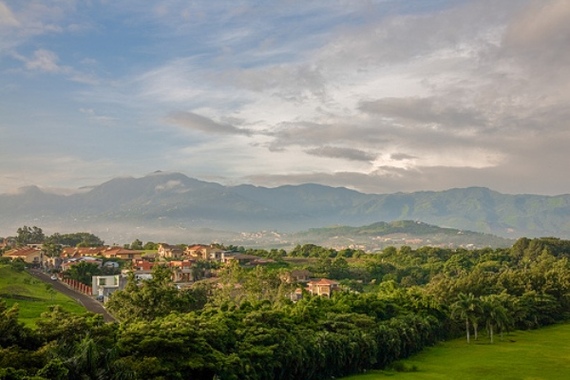 Photo by Hugo Ghiara, InternationalLiving.com
San José (population: 300,000-plus, with more than a million in the metro area) has traffic, tall buildings, and noise. But if you live in Escazú, a suburb just a 10 minute drive from downtown, you'll discover another side to the city.
It has the best shopping and dining in the country, including imported items found nowhere else and international cuisine. There are also North American-style amenities like health clubs and movie theaters, as well as cultural activities like jazz clubs, art festivals, museums, and more.
As far as weather, San José benefits from altitude -- starting at 3,000 feet on the valley floor and going up from there in the hills that surround the city proper. That means despite its location in the tropics, this area has a very temperate climate -- never hot, never cold.
Dom Porto, 71, and his wife Alisa, 62, have made their home in Escazú for more than three years. "We live in a neighborhood of working class Tico families," says Dom. "The adult children are well-educated young professionals, which helps with communication because most of them speak English. Our Spanish is not very good, but kind gestures go a long way. We do prefer this to a gated community," says Dom. "We chose our property because we consider it a diamond in the rough. We have beautiful views of the surrounding mountains and a running river below us that supports the habitat of many species of birds to our feeder. And we're minutes from malls, supermarkets, restaurants, Walmart, and downtown San José."
"Also," says Alisa. "We're close to the highway that takes us to the beaches within an hour."
Vicki Skinner, 56, has been in Costa Rica for eight years -- most of that in Escazú. She supports herself with house and dog sitting gigs. She also has a variety of websites listing restaurants, local service businesses, and more that have become go-to resources for expats in the area.
"I enjoy the cosmopolitan atmosphere. And it doesn't have to be super-expensive," says Vicki, commenting on a common misperception. "I rented a small cabina for $350 a month...and a 6,000-square-foot home for $1,500 a month in the heart of town. You can live here on a truly limited budget. But I don't feel like I'm depriving myself. You find the little spots that make it more affordable."
While gourmet restaurants offering Italian, Asian, and French fine dining can be pricey--at least at U.S. prices -- there are many local restaurants that offer tasty meals of more traditional fare like rice and beans based dishes, ceviche, and more. La Casona de Laly in the heart of Escazú (a few blocks north of the church), is a local hangout specializing in Costa Rican dishes, and La Esquina Argentina is an affordable stand down the street with outdoor tables specializing in empanadas.
Escazú is just one of many areas popular with expats, others include the neighborhoods of Pavas (site of the American Embassy), Rohrmoser, and San Pedro (where you'll find the University of Costa Rica). The towns of Santa Ana, Heredia, and Alajuela are hotspots, too.
Pockets of village life, as well as rural areas, can still be found throughout the metro area. You'll find the traditional church and central park, complete with soccer field with kids playing and park benches filled with seniors, young couples, and families. The weekly "feria," or farmers' market, is held on the adjacent street every Saturday morning. But a few blocks away are gleaming high-rise condos, smart boutiques, and gourmet grocery stores.
Sharon Wallace, 67, and her husband Richard Maehl, 79, have seen big changes in their more than 42 years on a farm outside Ciudad Colon, about 30 minutes from San José.
"It used to be puro campo ("deep country"). We were very isolated from San José. Now we're a suburb," says Sharon. "But the way we live, you wouldn't know there is a large city nearby."
These Boston natives raise pigs and chickens and grow coffee, carrots, spinach, mangos, cucumbers, beans, herbs, and many other fruits and vegetables. Everything is organic. They yield enough that they're pretty self-sufficient as far as produce goes. Although they've seen prices go up over the years, Sharon says they still live on half of what they would in the States.
Another huge plus to living in San José is that it's centrally located and the transportation hub for this West Virginia-sized country. All the major highways run through the area. In less than a couple hours' drive, you can be on a beautiful tropical Pacific beach enjoying an ice-cold Imperial; or in a dense jungle with no sound but the cry of howler monkeys in less than an hour; or swimming in a waterfall pool after a careful hike downhill through the forest.
Related Articles:
Five Reasons Why You'll Love Costa Rica
A Booming Business on the Beach in Costa Rica
How the Seymours Retired at 41 and 44 in Costa Rica
PHOTO GALLERY
Top 5 Places to Enjoy the Best Climates in the World
Earlier on Huff/Post50:
PHOTO GALLERY
Fantasy Retirements