By Edd Staton, InternationalLiving.com
Three-and-a-half years ago my wife Cynthia and I shocked our family and friends by announcing we were going to relocate to Cuenca, Ecuador. We'd once dreamed of a jet-set retirement, complete with fractional properties in places like the California wine country, Italy and New Zealand...
But when the economy crashed, we put that dream aside. It surprised us, though, by taking on a new shape. We had successful careers in Las Vegas, a beautiful home and investments that were propelling us toward our retirement goals.
Then the global economic tsunami struck, and the following summer I found myself unceremoniously downsized. This happened a few short months after the luxury real estate development my wife was representing went kaput.
Because of our skill sets neither of us had ever really needed to look for a job. It didn't take long for us to discover that lucrative employment opportunities for folks in their 50s were virtually nonexistent.
After months of searching we secured unrewarding jobs. But when Cynthia was downsized again we decided enough was enough.
Rather than endure years of mediocre work for substandard wages while we tried to rebuild our finances, we chose to explore options that would allow us to start living the retirement life we had dreamed about now.
Latin America appeared to offer the most possibilities. Our research turned up a location we'd never heard of: Cuenca in the highlands of Ecuador, a country we knew next to nothing about.
We booked a "look-see" trip and found ourselves wandering around the city, trying to imagine what life would be like living in this faraway place. Cuenca's cobblestone streets and colonial architecture reminded us of Charleston, South Carolina, an historic gem of similar population where we had lived happily for six years. And we saw the chance to abandon vehicle ownership and return to the pedestrian lifestyle we enjoyed there.
We searched for red flags that would be deal breakers. Finding none, we decided to take the plunge. So, three years ago, we landed in Cuenca as new residents. We had no plan other than to have fun and keep our eyes open for interesting opportunities.
While waiting for our container of household goods to arrive, we lived in a furnished efficiency owned by a local named Juan Heredia. Juan became our first Ecuadorian friend. As our relationship blossomed, we learned that he was seeking a partner for a local tour company and travel agency he'd owned for 10 years called TerraDiversa. Our experience in sales and marketing was exactly what TerraDiversa needed.
We hadn't planned on jumping back into business when we moved to Cuenca. But then again we hadn't planned not to. So we followed our instincts and became enthusiastic partners. As the director of marketing, I get to use my talents in fun and creative ways.
Cynthia is helping our sales associates learn how to better advise clients. Best of all, our involvement doesn't require clock-punching J-O-Bs.
Sure, I don't make as much money as I did in the U.S. But in many ways our standard of living exceeds the lifestyle we enjoyed in the States. We have a lovely home; eat fresh and healthy food; and enjoy things we once considered luxuries like fresh flowers, massages, and mani/pedis. We go to free symphony performances and film festivals.
In exchange for leaving behind a culture with impressive efficiency and virtually unlimited choice, we have relaxed into an unhurried flow of life with no clock to watch or rigid schedule to maintain.
We enjoy wonderful relationships with people we have really gotten to know. And with the time once devoured by work, commutes, chores, and errands we now pursue hobbies and interests that nourish our minds, bodies and spirits.
At a point in life when many are easing toward a quiet retirement, I feel like I'm just getting started. Forty-one years ago I graduated with a degree in journalism and promptly began a career path that had nothing to do with writing. Today, I maintain a blog for TerraDiversa and a personal blog read by people in over 35 countries. I've taken up painting. Next challenge: sculpture. And with fellow expats I'm forming a band.
I think where you end up is less important than the intention to end up somewhere. So if you have an old, overseas dream sitting on a shelf, dust it off... You never know where it'll take you.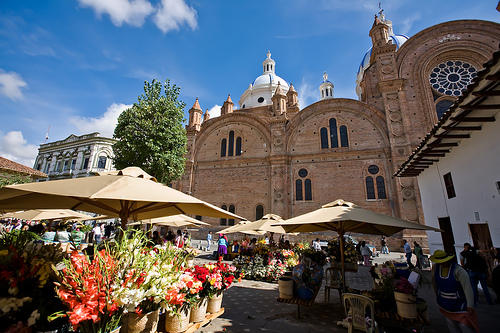 The flower market, Cuenca, Ecuador
Photo by Hugo Ghiara, Courtesy of InternationalLiving.com
Read more on InternationalLiving.com:
A Guide to Cuenca's Best Neighborhoods
The Problem with Retiring Overseas is Deciding Where to Live
Can You Fail at Being an Expat?
Earlier on Huff/Post50:
PHOTO GALLERY
12 Great Places To Retire Abroad
This article comes to us courtesy of InternationalLiving.com, the world's leading authority on how to live, work, invest, travel, and retire better overseas.