By Barbara Diggs, InternationalLiving.com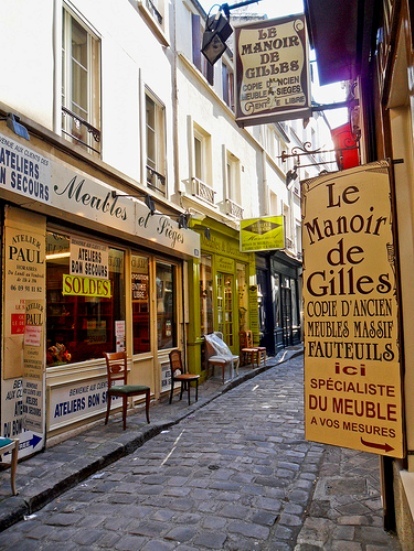 Photo courtesy of Steenie Harvey, InternationalLiving.com
This article comes to us courtesy of InternationalLiving.com, the world's leading authority on how to live, work, invest, travel, and retire better overseas.
You think being in Paris is a heady experience? Try shopping in Paris. Almost every street has some irresistible shop, boutique, or market brimming with objects or edibles that practically howl your name. Deciding where to focus your search -- and your dollars -- can be a challenge. To help you, here's a list of don't-miss stores and districts.
Clothes: Unsurprisingly, Paris offers fashion mavens a clothes-shopping adventure like no other. Just passing the glitzy fashion houses like Chanel, Prada, and Dior on the Avenue Montaigne or Faubourg Saint-Honoré will make you feel as if you've tumbled inside the pages of Vogue. But if you don't have $400 to blow on a napkin-sized scarf, you're better off heading to the Marais neighborhood, where you can find classic Parisian chic at more affordable prices.
Amid the Marais's wine bars, cafés, and galleries there are dozens of intriguing boutiques, such as Sandro, Zadig & Voltaire, Gérard Darel, and Antik Batik, which offer styles from sophisticated to funky. The typical cost of a dress in these shops will run about $150 to $175, but if you visit during the January/February or June/July countrywide Soldes (sales) period, you can nab the same threads for as much as 70% off the original price.
For one-stop clothes shopping, most people swear by the famous Galeries Lafayette (40, boulevard Haussmann, 9e), an immense, 200-year-old department store with a dizzying selection of clothes, shoes, jewelry, accessories, and just about everything else. But while the store's gorgeous art nouveau interior is worth a look, I find its vastness and variety exhausting.
For a more manageable department-store experience, try the upscale Bon Marché (24, rue du Sèvres, 7e) on the Left Bank or the down-to-earth BHV (52, rue Rivoli, 4e) on the Right.
Prints/Posters: Nothing conjures up the romance of vintage France more than brightly-colored art-nouveau and art-deco posters from the late 19th and early 20th centuries. The most renowned place to buy them is Estampe Moderne & Sportive (16, rue Choron, 9e). The shop has hundreds of vintage posters, as well as rare prints and lithographs, and even has an on-site framing studio. But because these posters are originals, they often cost several hundred dollars.
The best place to find reproductions of classic prints is at les bouquinists--the used-booksellers manning the green wooden stalls lining the Seine in central Paris. The selection may not be as varied as in a shop and, as reproductions, they're a fraction of the size, but they'll cost you no more than $10. Bouquinists also sell fascinating (and inexpensive) vintage books, magazines, newspapers, and even old menus from famous Parisian restaurants.
Cookware: There's no Paris guidebook that doesn't list E. Dehillerin (18 & 20 rue Coquillière, 1e) in Les Halles as the place to buy cookware in Paris. After all, it was the favored shop of Julia Child--no higher recommendation is possible. The store, founded in 1820, is a throwback to another time. Its interior is dim and gloomy; every inch is crammed with cooking utensils, from giant copper stewpots to minuscule stainless-steel whisks.
Poking around there is fun, if you have the time and patience. But because E. Dehillerin is listed and so well-known, it's invariably mobbed. Thankfully, several cookware shops nearby also provide excellent professional-grade goods. I favor La Bovida (36 rue Montmartre, 1e) for basic cookware such as mixing bowls and baking forms. When looking for specialty items, I check out the well-stocked A. Simon (48 rue Montmartre, 1e).
Books: No lover of literature should miss the legendary English-language bookstore, Shakespeare & Company, opposite the Notre Dame Cathedral (37, rue de la Bûcherie, 5e). This cozy, cluttered bookshop was founded by the late American expat George Whitman in 1951. It's been a beacon for thousands of writers and artists. For a quieter book-buying experience, head to the San Francisco Book Company (17, rue Monsieur-le-Prince, 6e).
It's smaller and less well-known, but it still has a fantastic jumble of second-hand English-language books in every category, from hard-boiled detective stories to "chick lit" to philosophy and art. Even better, you can easily sell or exchange your used books here.
Toys/Children's Gifts: If left to their own devices, kids visiting Paris would undoubtedly raid the Disney store on the Champs-Elysées. But there are far more charming places in Paris to buy toys and gifts. I love L'Épée du Bois (12, rue l'Épée du Bois), near Jardin de Luxembourg, which offers a wonderful assortment of wooden toys, games, and puppets. Another favorite is le ciel est tout le monde (99 rue Rivoli, 1e), an adorable shop that has attractive and durable dishware for kids, knapsacks, umbrellas, games and toys.
Food: Everyone wants to take home a sampling of the delicacies they've tasted in Paris. And you can. La Grande Épicerie at Le Bon Marché department store is a wonderful place to pick up those beautifully-crafted confections and specialties that France is famous for.
Pick up a box of macaroons, which come in luscious flavors such as rose, green apple, or coffee. Or give Fallot's legendary stone-ground, blackcurrant mustard a try. Or have a couple of your favorite French cheeses--Comté, Cantal, Valbrie au poivre-vacuum-packed for safe traveling. But skip buying fois gras there. Instead, head to Foie Gras Luxe (26, rue Montmartre, 1e) behind Les Halles. Despite the name, there's nothing luxurious about this tiny place: just high-quality fois gras, and pâtés without premium prices.
Related Articles:
Paris: Europe's Greatest Retirement Haven
Own a Money-Making Property Rental in Paris
Paris Real Estate: Tips for Buying in the City of Light
Earlier on Huff/Post50:
PHOTO GALLERY
10 Trips You NEED To Take In Your 50s