By Gigi Griffis, InternationalLiving.com
This article comes to us courtesy of InternationalLiving.com, the world's leading authority on how to live, work, invest, travel, and retire better overseas.
It was my second week traveling alone in Mexico and I was staying in a tiny, vibrant surf town called Sayulita. I'd already spent my day sitting in a beach café writing, watching surfers slice through the water, and listening to waves break on the shore.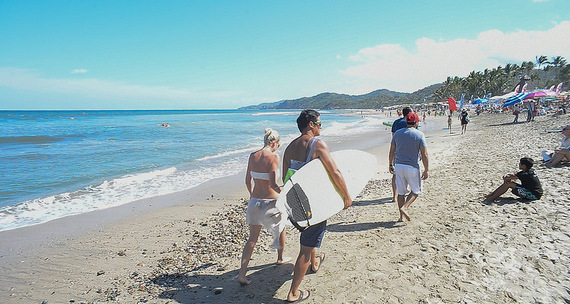 Now the sun was setting and I was slipping into my red dress -- one of a few less-than-practical items in my backpack -- strapping on my dance shoes, and curling my hair, getting ready for a night of sipping strawberry daiquiris, meeting new people, and learning to salsa dance in an open-air bar on the beach.
That night a broad-shouldered, wide-smiling Cuban man -- the lead singer in the boisterous salsa band -- took me under his wing. In between sets, he taught me to dance, told me about his life in Cuba and now in Mexico, and helped me practice my less-than-perfect Spanish.
It was a wonderful night -- the kind I'd imagined when I started planning my round-the-world adventures -- and at the end of it I went home feeling perfectly happy, and perfectly safe.
That's right: safe. I walked home at two in the morning, through the cobbled town center, across the quiet residential streets, past the rowdy cantina full of day laborers, and into my breezy open-air studio.
The town's police cruiser passed by, but otherwise the streets were quiet. No one bothered me, catcalled me, or even noticed me, and I arrived at home glad for the fresh air and the joyful, musical, magical night.
Before setting off on a solo adventure as a woman, one of the biggest concerns -- for both the solo traveler herself and her family and friends -- is often safety.
We worry about pickpockets and scam artists. We wonder if it's safe to walk home alone. We want to see the world, to shop in Paris, France, to ride a tuk-tuk through the streets of an Asian city, to learn to salsa dance in Mexico...but we also want to be wise.
The mythology of solo female travel is that it isn't safe, that we are the targets for those wily criminals that traveling exposes us to, and that we would be safer staying at home.
The truth is much less exciting -- and much safer.
After almost two years of traveling the world alone full-time, supporting myself with my writing, I have never once been scammed, targeted, stolen from, or hurt by another person.
In fact, in over 15 years of travel experiences spanning every continent except Antarctica and traveling both alone and in groups, I have only been pickpocketed once -- and that was when I was traveling with a friend.
In part, this is simply because bad things don't happen as often as we think. Yes, there are bad people in the world, but they aren't the majority of people and they aren't limited to foreign countries.
And in those very few moments when I have felt uncertain traveling alone? I spend the night in, drinking a nice glass of red wine and reading by lamplight, instead of exploring that neighborhood that felt "off" to me. Or I ask my new friends if I can sleep on their couch instead of walking home alone.
In other words, I use my common sense and prioritize my well-being, just as I would at home.
And so I make my way through the world, a solo female traveler, having the time of my life, meeting new people, taking chances, following adventure -- and feeling both adventurous and, at the same time, safe.
In fact, statistically, we're actually often safer traveling abroad than staying in the U.S. For example, according to Stanford University, the murder rate in Orlando, Florida is more than three times as high as in Cancún, Mexico. Assault rates are also often lower abroad than in major U.S. cities.
It's also false that women traveling abroad are less safe than men. Of the relatively few travelers who do run into trouble abroad, according to the Centers for Disease Control and Prevention, men are more likely to find themselves in trouble.
For me, this has been the truth of solo female travel: Instead of fear, uncertainty, or danger, I've found freedom, joy, and empowerment. I've found myself wedged into 1940s'-style cafés in Ghent, Belgium, swing dancing with the locals. I've been paragliding over the Swiss Alps with a friend I made only hours earlier. I've learned to trust myself, to face my fears, and to seize every moment.
I've also learned that it's easy to make friends and meet people on the road, that there are a thousand wonderful ways to spend my time alone or with new friends, and that there's a special kind of magnetism to traveling alone, because alone I am more approachable and more free to follow opportunity wherever it leads.
And I'm not the only one whose solo travel experiences have been rich and unexpectedly joyful. Holly Burton, a flight attendant out of Colorado, has found herself invited onto yachts in the Caribbean and escorted around Porto, Portugal, by the owner of a local port bar. The adventures of another solo traveler, Janice Waugh -- author of the Solo Traveler's Handbook and the popular blog Solotravelerblog.com -- have included rock climbing in Austria, digging for clams in the Bay of Fundy, and dining with strangers (who quickly became friends) on a long-distance train.
Related Articles:
Roving Retirees Enjoy Unique Travel Adventures Overseas
The Top 5 Cultural Experiences In Ecuador
Earn A Living As An English Teacher In Latin America