By Keith Hockton, InternationalLiving.com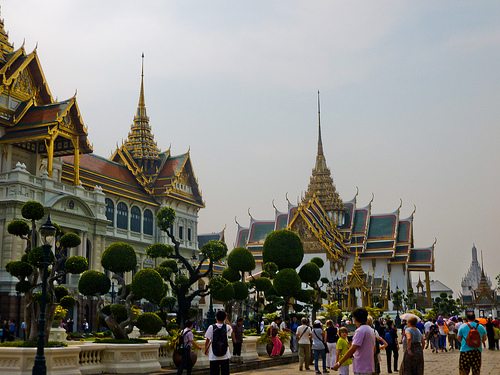 Photo from InternationalLiving.com
This article comes to us courtesy of InternationalLiving.com, the world's leading authority on how to live, work, invest, travel, and retire better overseas.
I've always been attracted to the madness and energy of Bangkok. There's something in the air in Thailand's capital. Crammed with exotic sights, bustling markets, old temples, art-deco hotels and fast-food stalls on every corner, its rivers packed with boat traffic, and people everywhere... If you love cities, you'll love Bangkok.
Despite an increase in prices since I first visited in 1988, it's still one of the cheapest cities in Asia. You'll find a good, clean place to stay for as little as $20, you can sit down to a three-course meal for less than $10, or grab a trademark Thai snack like sticky rice mixed with coconut milk, fruit shavings, and red beans from a street stall for 20 cents.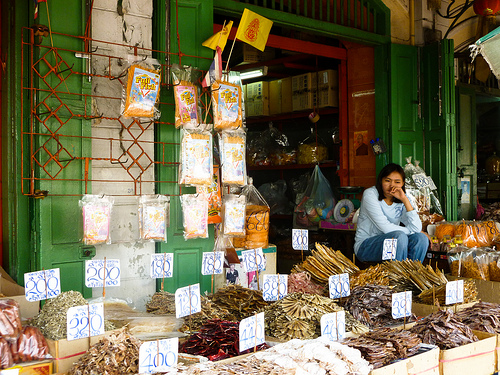 Bangkok Fish Market
Photo from InternationalLiving.com
Introduced a few years back, the Sky-train monorail and the metro system have made the city easier to negotiate. And the new air-conditioned rail link from the airport to the center of town, with free Wi-Fi, is an additional bonus. (Costs 50 cents round-trip.)
Here--for my money--are the best things you can do in Bangkok.
Bangkok by Day
If it's your first time in the city, head down to the banks of the Chao Phraya River and be wowed by the Grand Palace and Wat Pra Kaew (Temple of the Emerald Buddha).
This royal complex is still home to the king of Thailand and the temple is the most important in the country. The palace complex is roughly rectangular and has a combined area of 54 acres, surrounded by four walls. It's at the heart of Rattanakosin Island in the Phra Nakhon District.
Nearby, you'll find the former house of Thailand's most famous U.S. expat, Jim Thompson. It's now a museum and restaurant; the perfect, air-conditioned retreat serving probably the coldest beer I've ever had and good, authentic Thai food.
Originally from Delaware, Thompson fought in WWII and spent time in France, Italy and Asia. When the war ended, he saw a travel boom coming and helped reorganize the Orient Hotel (famous guests include Noel Coward and Charlie Chaplin). He pioneered the country's silk industry and became wealthy. Then, one day in 1967, on a jungle walk in the country's Cameron Highlands, he disappeared.
The house is a complex of six traditional Thai-style houses, teak structures brought here from various parts of Thailand. Although Thompson's house is a major draw, I think it's the mystery of Jim Thompson's disappearance over 40 years ago that still attracts tourists to this tranquil place. You'll find it at Rama 1 Road in Thanon.
Snaking its way through the city, the Chao Phraya River is best appreciated by boat. Catch the Chao Phraya Express boat that travels up and down the river stopping at strategic locations. It costs just 43 cents.
Long-tail boats, smaller, stream-lined versions of the Express, with their engine mounted on an inboard turret-like pole are zippy and designed to carry passengers on a river quickly. They're also available for charter along the murky canals, or klongs, that flow into the main river.
Totally chaotic, these canals are filled with small, flat boats jockeying for position, expertly paddled by mature ladies ready to stop and bargain at a moment's notice. It's colorful, noisy, totally touristy, but great fun. Keep in mind that you have to get up at 6 a.m. to really appreciate it.
Bangkok by Night
Bangkok never sleeps, so you can cram in a lot during a short visit. Beer costs just 90 cents a bottle in Bangkok and you're spoiled for choice of drinking venues.
The Patpong District is as popular as ever, and a few of the old favorite bars and bistros, like the tiny, French Le Bouchon Bistro, on Soi 2, are great value. While it's still home to dubious go-go bars, it's a safe area to wander around and great entertainment.
The night markets in Patpong are lively, exciting places to be and there also where you'll find an increasing number of fashionable bars and restaurants. Try Mizu's Kitchen on Soi 1, a Japanese eatery open since 1954. The steaks are to-die-for and at $7, they're great value.
Several swanky sky bars have opened recently too, including the French-themed D'Sens Bar & Restaurant in Dusit Thani, the Moroccan-themed rooftop Gazebo in Khao San Road, and my favorite, The Nest, an airy alfresco hangout in downtown Sukhumvit, where you can mix with the locals and have a Cuban cigar.
There's also the Vertigo & Moon Bar at the Banyan Tree hotel. It's a stylish sophisticated bar and their signature Vertigo Sunset cocktail alone warrants a visit (costs $6).
Bangkok is home to Thai Boxing, or Muay Thai, a martial art that uses all of the body's natural weapons to create a devastating fighting style. When combined with traditional Thai music, played throughout the bout, it makes for exciting entertainment.
You can see a match in either of the two main venues. Ratchadamnoen Stadium on Ratchadamnoen Nok Road has bouts every Monday and Wednesday starting at 6 p.m., Thursday at 5 p.m. and 9 p.m., and Sunday at 4 p.m. and 8 p.m. Lumpini Stadium, on Rama IV Road, has events on Tuesday and Friday starting at 4 p.m. and 8 p.m. and Saturday starting at 5 p.m.
Bangkok Dining
Street food is cheap, tasty and delicious and you shouldn't shy away from it. Half-a-dozen chicken sate kebabs cost 50 cents and you'll be wondering why you didn't order more. If you get locked into the Bangkok shopping-mall circuit, food courts in most serve delicious local and popular international dishes, with many using a pre-paid voucher system. Siam Paragon Shopping Center has numerous enticing restaurants and an upmarket food court that wouldn't be out of place in New York. The MBK building located on the other side of the street has a cheaper selection of local dishes.
One of Bangkok's best-kept secrets is called River Tree House, and it's a lovely adventure just getting there. It's in Nonthaburi. Catch an express boat there, it's the last stop on the line. It takes around 40 minutes and it's worth doing just to witness the Thai people going about their daily lives on the river.
Once at Nonthaburi take a taxi and finally a rickshaw to River Tree House. (The rickshaw is for fun and covers only the last 200 feet up a tree-lined lane.)
The restaurant is nestled on the banks of the river with the sun setting in front of you. You'll know you are in the right place... it's packed with locals.
Bangkok Hotels
There's no shortage of hotel rooms in Bangkok, especially after the recent political upheaval, and most have prices to entice visitors back. The Grande Centre Point Hotel & Residence in Ratchadamri offers exceptional value with its executive rooms reduced from $300 a night to $80. It's central to everything, and there are two sky-train stations within 200 feet of the hotel and four impressive shopping malls within walking distance.
The Leuba at State Tower Hotel, a five-star hotel in a great mid-town river location, is offering a river-view suite, which normally costs $554 a night, for just $167. It's within walking distance of six major shopping centers and just two minutes' walk to the Chao Phraya River.
Bangkok Shopping
Like all big cities Bangkok has plenty of shopping, but there's a difference...here it's cheap. And even if you're not buying, the city's markets are like treasure troves.
I recommend Chatuchak Market, also known as the weekend market or JJ Market. Young designers operate outlets among the 8,000 or so stalls, and it's worth seeking them out. If the heat gets to you, take time out to rest in the hawker stalls and trendy cafés.
One word of advice: if you see something that you like, buy it there and then, because the odds on you finding that stall again are small!
Back in the city you can shop in a dizzying selection of modern malls. The best bargains to be had are in MBK Building the Siam Ratchaprasong area. Gayson Plaza just across the road is home to many of the world's premier fashion labels.

Read More:
Four Days on the Eastern and Oriental Express, Out of Bangkok
Thailand, Cambodia and Malaysia: Three Great Destinations to Live in Southeast Asia
Who'd Want to Visit Noisy Bangkok?