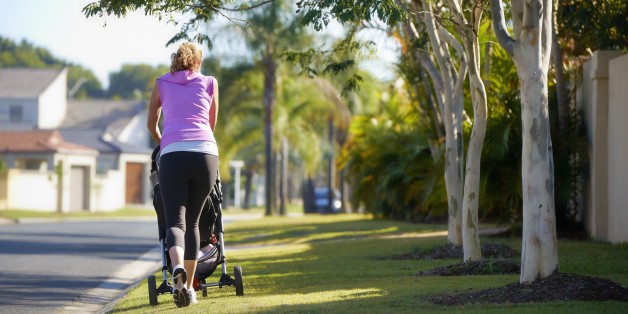 "You must walk like a camel, which is said to be the only beast which ruminates when walking." -- Henry David Thoreau, "Walking"
Before my daughter was born, I had no idea what parenting an infant would be like, but I had a pretty good feeling I would enjoy stroller walks. And not just for the prospect of a moving cup holder for my iced coffee, though that is a perk.
I like the forward motion of a walk, and a stroller adds utility - -I'm entertaining my daughter, exposing her to new sights; we're co-witnesses to all we see along our journey; we share in that journey, and life is so dull without a sense of journey; without the struggle to arrive somewhere new and important, to move and be moved.
But best is what walking does to the mind. Or to mine, at least. As the writing-teaching-waitressing mom of a 1-year old, my mind is often a butter-churn of worries and questions (though whose isn't?): How should I begin my magazine article this month? Who should I pitch for more freelance work? What reading can I assign that my students will care about, that will challenge them? Do I need to find Joni a playgroup? What can I cook for dinner that is easy, cheap and healthy?
There's a kind a violence in this search for answers; an aggressive need to solve and complete and know -- now! -- and this is both toxic and counterproductive.
Lately, though, I've started taking more walks -- on wooded trails, by the beach, in the city, or if it's raining, even in the mall (which breeds a separate strand of anxiety, but that's for another dispatch). I'm paying more deliberate attention to the effects of these walks on my life and mind, reading what others have said on the subject, and learning how walking can slow and ease this maniacal demand for immediate results and resolution. As a writer and teacher, walking provides me with the added benefit of fueling creativity, of tapping me into a realm beyond the intellect and even emotion -- into a meditative space where I can, in the words of poet Rainer Maria Rilke, "live [my] way into the answer[s]." It does this in countless ways, but here are a few:
Walking helps dislodge notions.
Walking gives us distance and perspective. When we walk, as Virginia Woolf wrote in "Street Haunting: A London Adventure," "We shed the self our friends know us by." The "shell-like covering" of our soul breaks apart, and what's left is a "central oyster of perceptiveness, an enormous eye."
While walking, our senses are engaged -- perhaps most of all, our sight. Our vision. We see, and the scene moves past us, slowly. Our mind lingers, without being able to dwell. The eye Woolf describes allows us to transcend our ordinary judgments. "Gliding smoothly on the surface," she writes, the eye "floats us smoothly down a stream; resting, pausing, the brain sleeps perhaps as it looks." In its sleep, it dreams, and in dreams, we imagine, without any conscious effort or force. We let go of our notions, our fixed ideas of truth and reality. In the waking dream of a walk, we merge the conscious and subconscious, discovering new, sometimes wild ideas that we can actually use and remember. Our ideas have a chance to settle, then rise -- to surface from the depths of our core understanding, the deep layer of awareness in which we know so much more than we think.
Walking helps us test ideas.
In a TED talk, Eat, Pray, Love author Elizabeth Gilbert recounts a story told by the poet Ruth Stone who, as a child working the fields of rural Virginia, could "feel and hear a poem coming at her from over the landscape." She would "run like hell" to her house in order to trap the poem, like a creature, on paper.
I often experience a similar urge, when I'm walking; I discover what feels like a brilliant idea and want to "run like hell" to my car to jot it down. But I've found that the harder I try to hold on, the more likely it is to squirm away from my grasp. In this 21st century world, I could just stop and email myself the sentence, plot twist, or assignment concept, as my smartphone is always with me. But lately, I try to resist this urge. I try to trust that the best ideas will remain intact until I reach my laptop or notebook; they'll continue to grow and develop for the remainder of my walk, or they'll crawl back into the incubator of my subconscious and emerge again when they're ready. Instead of running like hell, I let my "enormous eye" graze over the treetops in the wind; I observe how their swaying branches sound like the waves on the shore beside me; I notice the pale sunlight on the water, smile casually at a fellow pedestrian, listen with delight as my daughter squeals, "Doh! Doh!" at the Golden Retriever approaching. And then suddenly, I think, "Martin Luther King's 'The World House." "Make a veggie chili."
Walking is an art and a process.

In his essay "Walking," Thoreau says he met "but one or two persons in the course of [his] life who understood the art of Walking." My own standards aren't nearly as high, but maybe that's because, in the art of walking, I'm not seeking mastery. Process means more.
In so many creative endeavors, the trick is to trust the process; to love and embrace it, to practically lose oneself in it, without knowing whether or not it will bear fruit. By abandoning care for the product, paradoxically, a better--more natural, authentic, original--product results.
It's the same with a walk.
Thoreau confesses that he thinks he "cannot preserve [his] health and spirits" unless he spends at least four hours a day walking. For most of us, I assume, four hours is out of the question. But even ten minutes might do the trick.