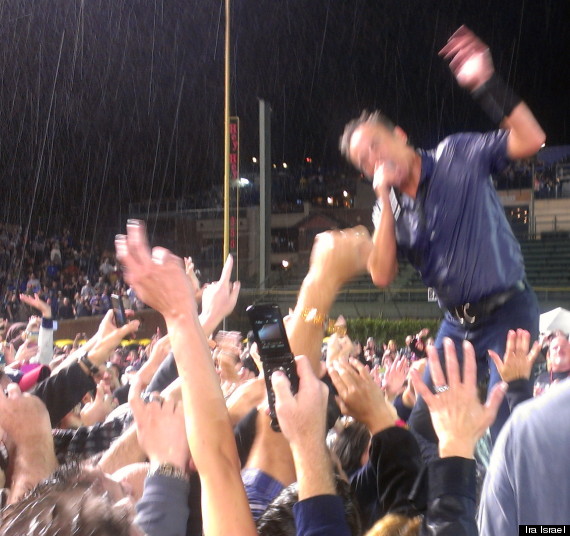 "Because the Night" is one of the greatest paeans to romantic love ever written, but I had always attributed its genius and poetry to Patti Smith rather than Bruce Springsteen. I have no rationale for this and won't hazard to guess; I simply have watched poetry rise up through the earth and flow through Patti Smith's legs, torso, arms and face so many times that I feel the core of her incarnation in "Because the Night," not Bruce's. In my world, if the divine had a tuning fork, it would be Patti Smith.
However, to give credit where credit is due, the line "I've got a bottle of rose, so let's try it" in Bruce's "Spirit of the Night," as well as the alliteration in "Blinded by the Light," and the imagery in "Lost in the Flood" have always caused my spine to shudder. Springsteen constructs narratives about other people's journeys -- I don't know if they're real people or fictional characters, and it doesn't matter. When I imagine a young man in the back seat of a car incorrectly reading the label on a bottle of Rosé wine as "rose," and hear how "Hazy Davy got really hurt, He ran into the lake in just his socks and his shirt, Me and Crazy Janey was makin' love in the dirt, Singin' our birthday songs" I recall the voices in Eliot's "Wasteland," I taste the flavor of the words in Yeats' "Lake Isle of Innisfree." And listening to Clarence Clemons' solo in "Born to Run" is like watching the Lone Ranger chase after villains -- it's a synesthetic rollercoaster.
But Clarence is no longer with us, and if I had my druthers -- at my age -- I'd much prefer to watch John Adams conduct John Adams (which I did earlier this year) or Gustavo Dudamel conduct Mahler's 3rd than sit with 50,000 drunk people chanting "Born in the U.S.A." Yeah, I'm a fuddy-duddy. I'm an old geezer. I'm a stick in the mud.
About an hour into the show Bruce broke into "Because the Night," and I knew that everything I had assumed about the writing of that song was wrong. Springsteen owned that song. It was written in his blood. He slept with that song. He ate that song. He drank that song. He ran with that song. He made love with that song. "Because the Night" sprung from his DNA and flooded every molecule in his body. And singing the words along with 50,000 drunk people was amongst the most glorious five minutes I ever spent on planet earth.
And then the 30 percent chance of rain for that Saturday evening suddenly became 100 percent. And it started to fucking pour. Within minutes we were drenched and the temperature rapidly declined from 65 to 50 degrees.
"Because the Night. He killed it," I said to my friend and his wife, meaning that I had gotten my fill, was ready to leave, and beat the throngs of sopping people out of the the stadium. Seeing as my buddy was in a T-shirt and flip flops I imagined that we'd jump in a taxi and be warm and dry by 10 p.m.
And then something I can only call unfathomable happened.
Instead of terminating the show, Springsteen did the exact opposite. He came out into the audience and played most of the next two hours in the rain with us. He chugged an entire 24-ounce beer of one audience member, pulled a young girl onto the stage, danced with her, then safely returned her to her beaming parents, rolled around on the wet ground, and sang every note of the next 20 songs perfectly. In the pouring rain. With a dripping wet telecaster strung over his shoulder.
Bruce Springsteen is a wealthy person. At any time could have said, "Thank you, good night, we love you," gone back to his five-star hotel, gotten a massage, and ordered anything he wanted from room service.
And he chose to be with us. In the rain. He chose to share his songs with us and sing them ferociously, as if he had proudly wrestled them down from the jukebox in the sky that afternoon. He took joy in listening to his dear friend's nephew play his deceased uncle's solos. He ran like a child though the audience and created a communal experience for 50,000 strangers. And he also passed the torch to the next generation by inviting Tom Morello and Eddy Vedder on stage for several songs. It was nothing short of magical.
As it started to rain and I was ready to call it a night, I felt Bruce Springsteen lean over the heads of the three people in front of me, shake my hand, and say, "I'm Bruce Springsteen. And I'm here to rock your world!"