If you think diamond jewelry is the greatest Valentine's Day gift out there, you've been duped. We are living in a post-diamond era when diamonds are no longer the end-all and be-all of fine jewelry. Of course, you could go the safe route of chocolates and roses, but if you are considering jewelry for your sweetheart this Valentine's Day, here's why I think you'd be better off not buying diamonds.
First, let's think about what Valentine's Day really is. Long before it became a Hallmark holiday, Valentine's Day commemorated Saint Valentine, a third century Roman saint. The story goes that Valentine was imprisoned for performing secret weddings of soldiers who were forbidden to marry by order of the Roman Empire. Valentine, according to legend, also healed the daughter of his jailer Asterius. Centuries later a rumor was started that the night before his execution, he sent this woman a note signed "from your Valentine."
While various Christian denominations celebrated February 14th as a feast day, it was not until the High Middle Ages that V-Day became associated with courtly love. By the 1400s, Valentine's Day took on the more modern trappings of professions of love amongst lovers, exchange of "valentine" cards, and gifts of flowers and confections. Mass-produced greeting cards became commonplace in the 1800s, and by the next century, standard gifts included red roses and chocolates packed in red satin, heart-shaped boxes. But it was only in the 1980s that the diamond industry jumped on the bandwagon, using V-Day as a reason to push diamond jewelry.
Let's contrast this organic evolution of what Valentine's Day has become to what the diamond industry is. As you may know already from reading my post "7 Reasons Why Diamonds are a Waste of Your Money," demand for diamonds is distinctly inorganic -- contrived as the brainchild of 1940s real life Madison Avenue "Mad Men." Essentially De Beers created the illusion that a diamond ring was a requirement for getting engaged out of thin air. In order to understand this better, have a look at this short excerpt from Edward Jay Epstein's groundbreaking investigative article about De Beers:
[De Beers' marketing agency] had organized, in 1946, a weekly service called "Hollywood Personalities," which provided 125 leading newspapers with descriptions of the diamonds worn by movie stars. And it continued its efforts to encourage news coverage of celebrities displaying diamond rings as symbols of romantic involvement. In 1947, the agency commissioned a series of portraits of "engaged socialites." The idea was to create prestigious "role models" for the poorer middle-class wage-earners. The advertising agency explained, in its 1948 strategy paper, "We spread the word of diamonds worn by stars of screen and stage, by wives and daughters of political leaders, by any woman who can make the grocer's wife and the mechanic's sweetheart say 'I wish I had what she has.'"
In other words, American women swallowed the bait, yearning for their very own diamond rings, just like the rich and famous.
De Beers also wants you to believe that "A Diamond is Forever." The slogan's double entendre is perfect for connecting diamonds with love. Diamonds themselves last forever (not true, diamonds can chip, shatter, and be incinerated), and your love -- symbolized by your diamond purchase -- will last forever.
Why should I buy diamonds that are neither "forever," nor traditionally romantic to express my true, genuine love on this very real and meaningfully traditional lovers' day?
The other reason to not buy diamonds this Valentine's Day -- one of the most popular proposal dates -- is because I believe we are now finally in the post-diamond era. It used to be true, and unfortunately still is to a large extent, that men would have no alternative but to buy diamond engagement rings for their soon-to-be fiancees. Many couples feel serious social pressure to buy the "traditional" diamond trappings. But that is changing. People are learning about the myth of the diamond engagement ring "tradition," and making their own choices based on their own personal tastes, budgets, and lifestyles.
Consequently, we are seeing more and more people buying colored gemstones instead of diamonds to set as center stones in their rings. In addition to the bridal bling, colored gemstones are making serious inroads in the fashion jewelry market, like anniversary rings, stud earrings, pendants, bracelets, etc. I welcome this addition of color to every jewelry box.
And if love is appreciating what's unique about your partner and your relationship together, then why not choose jewelry that expresses that uniqueness? One HuffPost reader, Evanique Lindsey, commented on my article about Mark Zuckerberg proposing to Priscilla Chan with a ruby ring:
Well I personally think that diamonds are overrated. Thousands of dollars on a ring is just crazy. Just get me my birthstone and his birthstone together and I am a happy girl.
This is a fabulous idea! You can save money, for sure, have a truly special look that symbolizes your relationship, and enjoy the two vibrant colors together in your ring. But you are not limited to your birthstones, especially if your girlfriend doesn't care for hers. Think of what her favorite color is, what colors she wears most often, and what you know will match her sense of style and culture.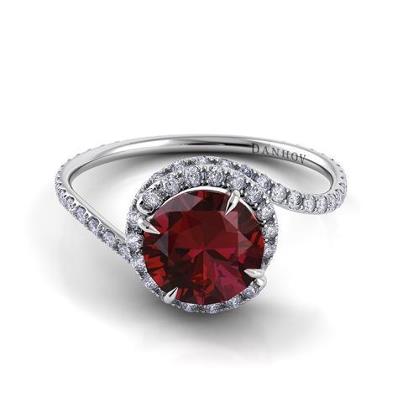 If you want to stick with the theme of Valentine's Day, why not go for rubies? Since red is the color of the roses, chocolate boxes, and Valentine's Day, it would only follow that buying the fiery red gemstone would make sense as well. Rubies are becoming more and more popular as alternatives to diamonds since they are also rare, precious, and sparkly -- but bursting with vivid color and character, and significantly more affordable than diamonds. Rubies have long been known as the "king of gems," the gem of the heart, and the symbol of romance, devotion, and passion. They are also the birthstone for July and the traditional gemstone for the 15th and 40th anniversary gifts.
So if you are one of the four million people expecting to get engaged this Valentine's Day -- or just looking for the perfect gift for your partner -- consider opting for a different look than the colorless, commonplace white diamond. Surprise your loved one with a colored sparkler that keeps the V-Day tradition alive, as opposed to a diamond that we've been fooled to believe epitomizes "forever" more than any other gemstone.