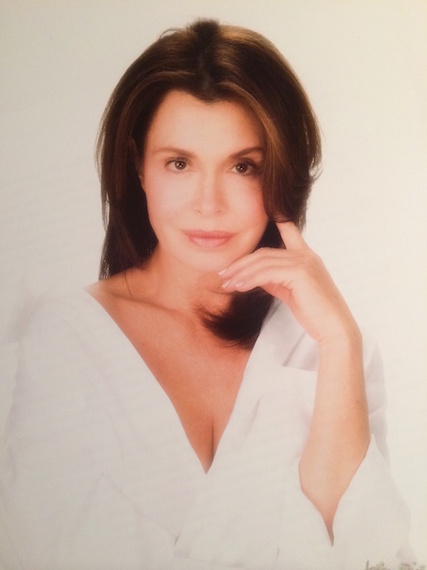 Photo from the collection of Irene Michaels.
While we may not yet be able to bathe in the Fountain of Youth, science is getting much closer to keeping us ageless... at least when it comes to our skin. Advancements in dermatological care have produced remarkable results for those seeking to defy age a little longer without going under the knife. Here I present what I believe to be the six most significant breakthroughs of recent years.
Fractional CO2 Laser Skin Resurfacing
This procedure has a drastically shorter recovery time compared to earlier types of laser treatments or deep chemical peels. The fractional CO2 laser essentially bores out "columns" of skin, leaving healthy tissue untouched around them to aid in the healing process. After healing is complete, patients see a significant reduction in discoloration and wrinkles. The new skin cells that emerge are free of sun damage and contain more collagen than those they have replaced. Overall, skin has a more even tone and greater firmness.
The process is quick, but not entirely painless. An invasive treatment, the resurfacing requires numbing creams and, usually, injections of local anesthetics. It is not uncommon for pain medication to be prescribed afterward. Immediately following the procedure, the skin feels as though it has been badly sunburned and tightens so as to make facial expressions and even speaking uncomfortable. Side and stomach sleepers must also take care to sleep on their backs so that the copious amounts of moisturizer they are required to wear at night does not rub off on bed linens, leaving their skin unprotected. Once dead skin begins to slough off, the face will be itchy and irritated. New pink skin will reveal itself under the flaking skin, and this pinkness can take several additional days to fade. During the entire recovery time, but especially during the first three to four days, sunlight should be completely avoided. For deep scaring or serious discoloration, multiple treatments may be required. At nearly $5000 per treatment, this procedure is best for those willing to take sufficient time off for full recovery, but it does yield some of the most drastic effects, and is thought to last for several years.
Vitamin A
Those who want to forego laser treatment for the time being still have many options when it comes to taking advantage of dermatological science to achieve younger looking skin. A University of Michigan study published in 2007 showed that over the counter retinol (ingredients chemically related to Vitamin A) could improve skin firmness when applied three times weekly over a period of 24 weeks. Retinol and its prescription-strength counterparts, retinoids, are believed to inhibit collagen breakdown in cells of mature skin. Additionally, they may increase and regulate collagen production. This means firmer skin for you.
Before starting a prescription retinoid regimen with Retin A or Renova, many dermatologists will suggest first using retinol products for a period of time so that the skin can adjust to the mild irritation that sometimes manifests in the form of dryness and redness. While it is a misnomer that retinol and retinoids lead to photosensitivity of the skin, it is true that the Vitamin A compounds themselves break down in the presence of sunlight. For this reason, you tend to see these ingredients used in night creams, where they will be most effective.
Neutrogena Healthy Skin Anti-Wrinkle Intensives with retinol and antioxidants (which also work to fight the signs of aging in their own way) is an inexpensive way to add retinol to your routine, and it comes in both an eye cream and serum, each $16.99. Clinique's Zero Gravity Repairwear Lift with retinol retails for $52 per ounce, and for an even more luxurious option, try RèVive Intensite Creme Lustre with richly hydrating jojoba and shea butter for $385 for two ounces.
Helioplex and Mexoryl SX
Created by Neutrogena and L'Oreal, respectively, these two ingredients have changed the game of antiaging sunscreens. While sunscreens containing the active ingredients avobenzone and oxybenzone have made the claim that they protect against both UVA and UVB rays, protection from UVA rays is in fact limited because these ingredients break down in sunlight. Essentially, after a period of sun exposure, the UVA protection factor in many sunscreens has disintegrated, allowing long UVA rays to penetrate to deeper layers of the skin and break down collagen and elastin. UVA rays are also now known to contribute to the development of skin cancer. Helioplex and Mexoryl SX stabilize these ingredients so that they resist breaking down, thus increasing the effectiveness of antiaging sunscreens and reducing exposure to cancer-causing rays.
Both Neutrogena Healthy Defense SPF 45 Daily Moisturizer and Ulta Sheer Dry-Touch SunBlock SPF 70 contain Helioplex and are available at drugstores for around $10. Mexoryl SX can be found in L'Oreal products such as Vichy Capital Soleil SPF 15 Sunscreen Cream, $30 for 3.4 ounces, and LaRoche-Posay Anthelios SX, $29 for 3.4 ounces.
Check back next month for Part II
Follow Irene on Facebook, Twitter, and IOnTheScene.com!