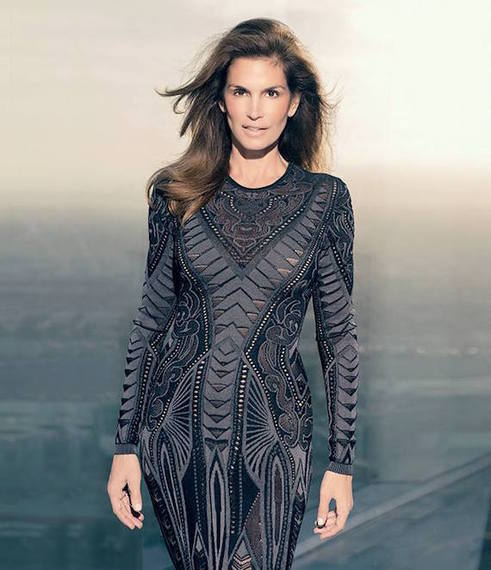 Photography by Andrew Macpherson
At 49 this month, Cindy Crawford is not only strikingly beautiful but a strikingly savvy businesswoman. And though great genes may have won her a place in front of the cameras as a teenager, it has been her work ethic and sense of discipline that has kept her there for the past three decades. Unlike many of her peers, Cindy never took up a party-girl lifestyle. Even throughout the height of her fame she remained focused on her health and career, selling five million copies of her home fitness routine in 1992 and releasing a cosmetics workbook four years later, snatching up endorsement deal after deal along the way. Since leaving the world of full-time modeling sometime around 2000, she hasn't slowed down, instead delving deeper into the world of business by creating a skincare line and furniture line and also acting as spokeswoman for several important charitable causes.
There isn't really any doubt that the former supermodel is a sharp cookie. She graduated valedictorian of her high school and attended Northwestern University, until her modeling career was launched by renowned Chicago photographer, Victor Skrebneski. It was a smart move. In 1995, Forbes reported that Cindy was the world's highest paid model. But beyond the financial motivation behind her modeling, Cindy was able to travel the world and meet many fascinating people, learning from them as she went. This life experience has shaped her into the strong, independent woman she is today, and many have found that she has valuable words of wisdom to share.
Last November, Cindy's new role as Art Van Furniture's Charity Challenge Ambassador was announced at "A Shining Star Event" in Chicago. I was fortunate to be able to sit with Cindy to discuss her partnership with Art Van, inspiration for her line, and her advice for those wanting to get into the business. "If you're passionate about what you do," she said, "and you're true to your own values and your own aesthetic, and you trust that... I think that's the way to have a successful brand in no matter what it is."
The Art Van Charity Challenge will generate millions of dollars for various local nonprofits throughout the Midwest, and Cindy is pleased to participate. Her history of giving-back began long before her partnership with the furniture retailer. She has been a highly visible spokesperson for valued charities and causes through much of her career. Particularly close to Cindy's heart are research and treatment centers for leukemia. She participates in fundraising for DKMS, an organization that registers bone marrow donors to be matched with the patients in need of them, and supports St. Jude Children's Research Hospital, the Dream Foundation, and many more. As much as she has worked for herself and her family, through her philanthropic endeavors she has also touched the lives of many others.
Overall, it is Cindy's sense of priorities and work-life balance that makes her an example of truly exceptional living. The happily married mother of two has stated that if she must choose between her family and career, she chooses family--without hesitation. But she's thankful that she can have it all. In the end, it seems that her opinion of furniture design is not entirely unlike her advice for designing one's life:
"It's really about creating a comfortable sanctuary for your family."
Follow Irene on Facebook, Twitter, and IOnTheScene.com!