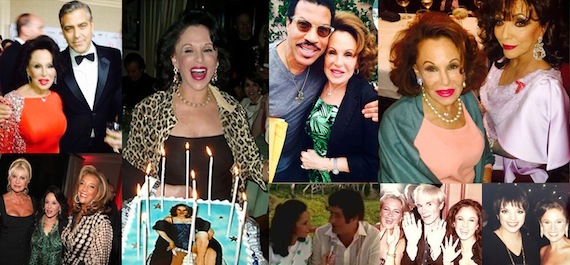 Photos from the collection of Nikki Haskell.
Last December, I re-introduced you to the fabulous Nikki Haskell. You may remember her as the host and producer of The Nikki Haskell Show, which aired more than 300 episodes on celebrity and fashion entertainment during the 1980s. Nikki was the first to produce television of this kind, allowing her audience a glimpse at the behind-the-scenes lives of silver screen stars, television favorites, politicians, diplomats, and dictators. She traveled the world to bring foreign lands, parties, and personalities into our living rooms, and we loved it. Nikki paved the way for shows like Entertainment Tonight and Lifestyles of the Rich and Famous. And now, she's bringing it all back.
Many see the 80s as the good ol' days, and we all long for the nostalgia of those years. This decade's great influence is seen in fashion, music, movies, and more. The Nikki Haskell Show is an extensive archive of priceless footage - the only of its kind - that captures not only an essence but actual scenes and moments from a golden era.
Nikki's newest project, Flashback To The Future, will incorporate classic footage with new interviews, parties, and fabulous fun. She's on a mission to make old things new and take us all along for the journey. How will she do it? The same way she does everything else: in sky-high heels. Nikki has a firecracker personality, and the new interviews will revisit many of our favorite stars. We can be sure that she's going to get personal in a way that only Nikki can.
"We're going to make the good old days the good new days," says Nikki.
Fasten your jet-set seatbelts: It's time for Flashback to the Future!
__________
Check back for more on exceptional living and for information on the all new I On Youth Roll-On Serum, coming soon to Amazon.
Follow Irene on Facebook, Twitter, and IOnTheScene.com!
To get email alerts regarding Irene and I On The Scene, please register here:
http://ionthescene.com/subscribe