I found Marc Bouwer's fashion by chance one day when I was surfing the internet and was blown away by how beautiful the clothes were. I had never seen an online fashion show before and thought it was a brilliant way to present a new couture collection. I could clearly see the front, the back, the variations of the same dress and in the comfort of my own home. Marc continues to lead the fashion industry with his use of the media to present his collections.
Marc and I sat down for a little Q&A. Here is our conversation:
Q: You are cutting edge at using the internet to premiere your latest collections. Has that been a good thing for you?
A: I feel that social media like blogs, Facebook, Twitter, Instagram etc are playing an increasingly important part in the world of fashion presentation.
The beauty of presenting a collection this way is that everyone can have a front row seat!
Of course I love the excitement of a live show, but they are very cost prohibitive in these financially lean times. We feel this is a very affective, low cost alternative, to showing a collection live, especially during Fashion week where there are so many presentations it can easily get buried in the avalanche of fashion shows.
Q: What was your inspiration for this current collection?
The inspiration for this collection is a combination of some of my favorite elements of things that I love: Hollywood glamour, Sci Fi, Grecian draping and Art Deco, with a particular nod to Fritz Lang's timeless film Metropolis.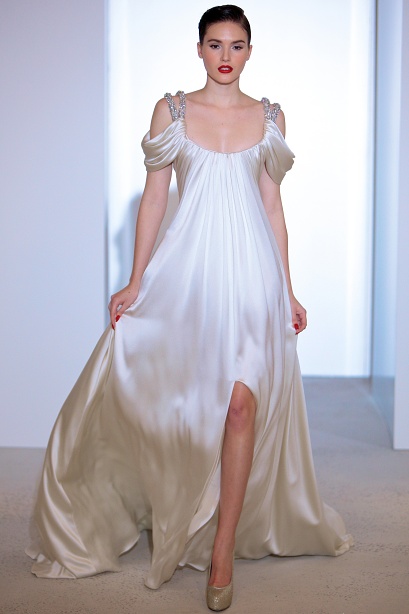 My love of construction and draping is combined to create sharp silhouettes and architectural shoulders and sleeve treatments.
I have always wanted to do an all white collection, so that was my starting point, however there are so many shades of white, from stark white to creamy ivory, that I decided to encompass most of them. Then I chose to offset those shades with touches of silver and pale gold.
I decided to forgo accessories for bold intricate crystal headpieces that I handcrafted myself.
The makeup by Albee Freeson for Mally Beauty was all about the mouth being the central focus painted a rich bright red.
The hair by Ted Gibson is a tight shiny side path updo that has a slightly masculine feel about it.
The nails are long and sharp also lacquered red to match the mouth.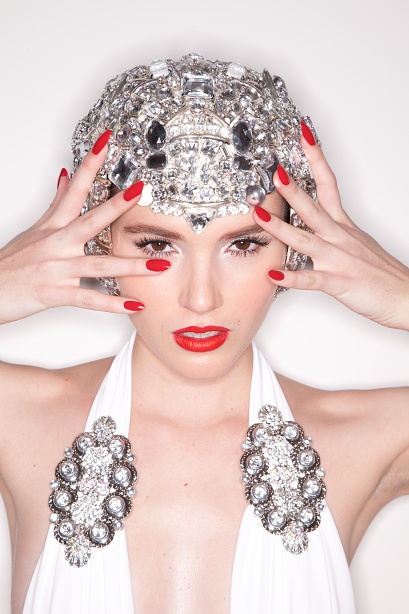 Q: This looks like a live show. Was it, or did you film it to look that way? If you filmed it to look live, why not just do a live show?
A: I once again chose to shoot my show as a virtual show. We shoot the show with photographer Tom Concordia on a set we built in a vacant space using only two models who repeatedly change into the next dress. We then combine still footage and projected graphics into the final cut.
The short film looks like it could be a live show except it is much faster and there are close up details that you might miss if you were in the audience at a live show. I love how quickly you can appreciate the entire collection. This is a time saver for everyone reviewing a collection. You can also stop and rewind if you want to see something again.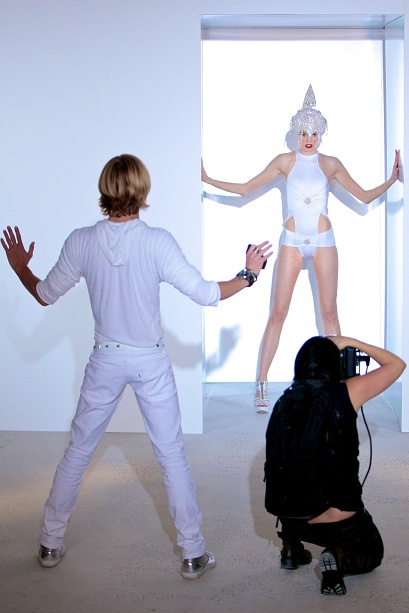 Q: Who do you imagine will wear these clothes? We all remember Angelina Jolie in your white satin halter gown at the Academy Awards. Who can we expect to see in these beautiful creations? Can women with curves wear your clothes and still look good?
A: This is my American couture collection aimed at celebrities, entertainers and socialites.
I try to create things for the various types of people we dress. For example, I will create something with Beyonce in mind as well as Angelina Jolie or perhaps Nicole Kidman or Emily Blunt. Then there's the side of me that likes Gaga and Rihanna also Niki Minaj!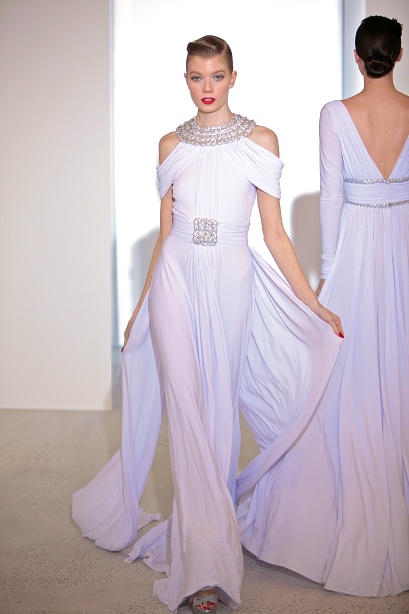 So the couture is the starting point, the idea and image laboratory for all my other lines that I do.
Whether it is the couture collection or other extensions of my brand, I design them all with specific types of women in mind. They are my inspiration...be they real women of today or megastars! Fashion is for everyone!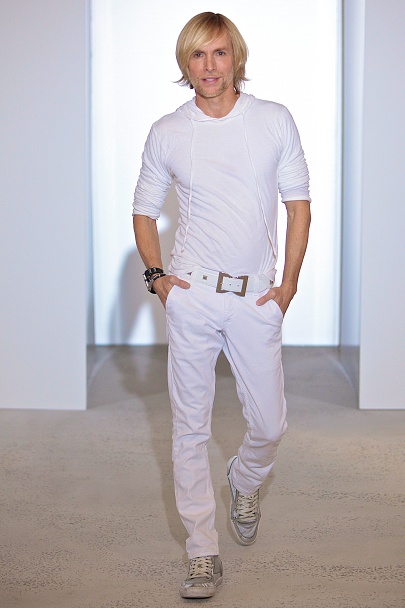 Marc Bouwer
So relax in your exclusive front row seat and enjoy the show!