We're zooming across the aquamarine water off Los Cabos, Mexico in a 15-passenger inflatable boat. Although they're easily spotted from shore, we're told that if we want a glimpse of the whales migrating along the coast, our best bet is a fast boat and a trained guide.

Powered by two Yamaha outboard motors, our Zodiac has enough thrust, maneuverability and visibility to pursue whales whenever they surface. Looking tanned and seaworthy in a white pique shirt, navy Bermuda shorts and mirrored sunglasses, our bilingual guide Augusto talks to those of us seated on the rear half of the tube. A company photographer commandeers the prime seat at the front of the boat.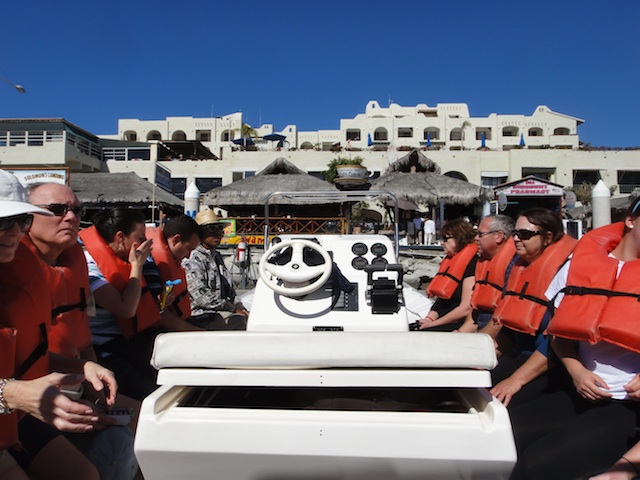 Our Group on the Zodiac- Credit: Jerome Levine

"Why are there so many whales in Los Cabos?" one young woman asks Augusto.

"This is where they are born so they return here every year," he replies.

"How fast can they travel?" asks someone else.

"Usually six or seven miles an hour but they can swim as fast as 20 if they have to, but only for short distances," he responds.

The eye-catching covers of most whale-watching trip-brochures invariably show close-ups of huge whales breaching head first out of the water. In reality, whale watching is more akin to going fishing. You stare at the water patiently and come to accept you may not make a single catch that day. The unpredictability of the sport is what makes it exciting.

We pass Lover's Beach, Land's End, and Los Arcos, where we stop briefly to take photos as we travel north on the Pacific. Bouncing on the waves, we soak up views of striking rock formations along the shore. Augusto instructs us to call out when we spot a whale, using the positions of a clock to pinpoint location. Like a schoolteacher, he orients us to 12, 3, 6, and 9 o'clock. Our entire crew of 15 whale hunters crook our necks in every direction to see who will be first to spot the big one.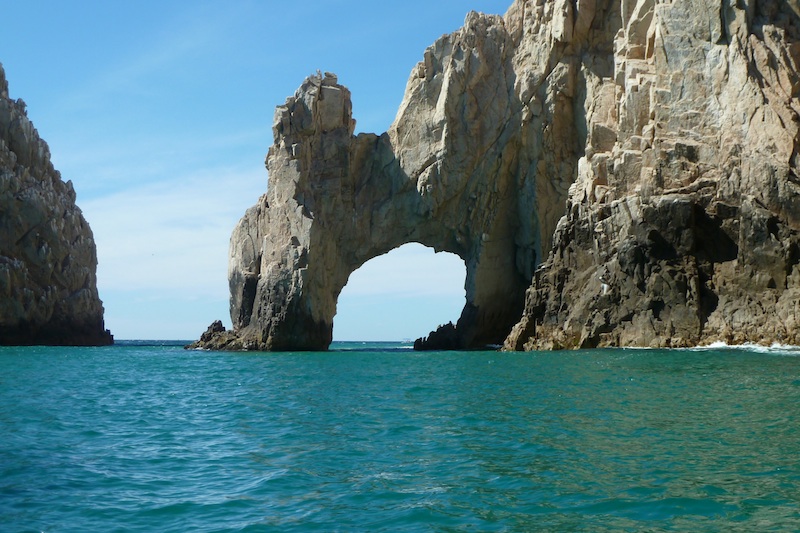 Los Arcos - Credit: Jerome Levine
"Four o'clock," yells a passenger on the starboard side. By the time I click my camera shutter, the whales are submerged beneath the water again. I realize that getting a good view, let alone a photograph, is going to be tough.

Whales breathe through blowholes on the top of their heads so when they exhale, it pushes up an explosive spout of water. Augusto explains that the spout offers a visual clue that the warm-blooded mammals are nearby. As promised, we see some spouts followed by glimpses of barnacle-covered gray whales.

"Let's go east," says Augusto as he changes course looking for richer waters. We head to the Sea of Cortez and travel the equivalent of five land miles on a path that parallels the highway called "The Corridor," which links the anchoring cities of Cabo San Lucas and San Jose del Cabo. Remarkably, desert vegetation meets the aquamarine waters almost at the shoreline.

At Augusto's beckoning, we sight a few more whales a distance away but they are nothing to write home about. Then he slows down the boat and turns off the engine. Everyone remains silent as he turns on a special listening device that amplifies sounds under water so we can hear the whales singing to each other. We know we're getting closer.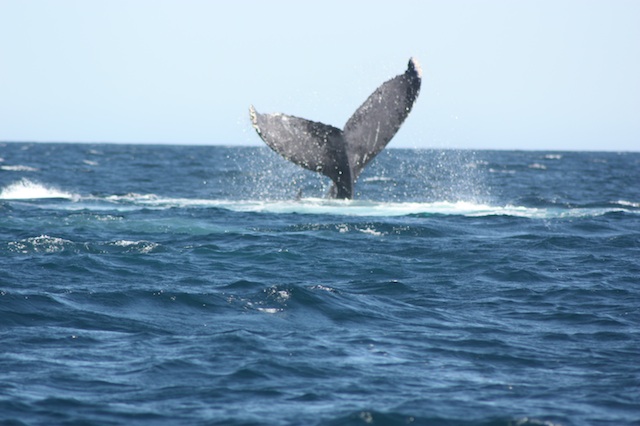 Tail of a Whale - Credit: Cabo Expeditions

Then came the grand finale. Two enormous whales breach and slam down on their sides. I thought the boat might capsize when we all got up from our seats angling to get unobstructed views. They "skyhop" seconds later, raising their heads above the water. The action creates a huge splash that looks like a tidal wave. Cameras click and we all ooh and aah as our lenses fog up with spray.

We'd already spent two hours on the boat, but everyone is disappointed when Augusto signals it is time to head back to the marina. He revs the motor but we remain vigilant in case the whales perform again. No such luck.

It takes a few minutes to regain our sea legs after we get off the boat and return to the expedition office on the marina. Before stopping at a nearby cantina for margaritas, we wait for the company photographer to download his shots from the voyage. They're projected onto a large overhead TV screen set up for viewing by customers. He was either more practiced at whale photography or had a far better telephoto lens than any of ours.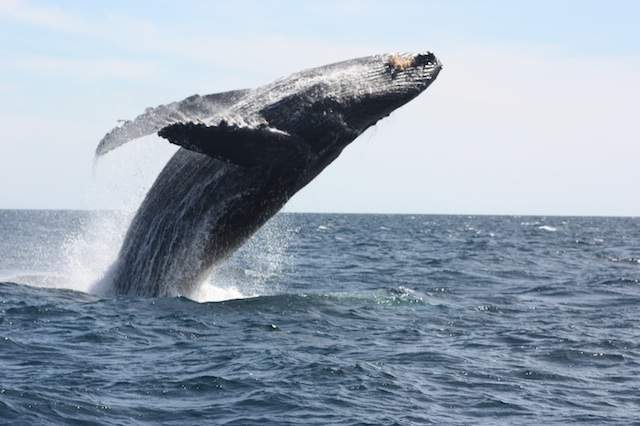 The Big One - Credit: Cabo Expeditions

For an additional $35, we cave in and purchase a CD with copies of the several dozen whale shots he took, along with a print photograph. I'm still not sure whether it was the same whales we saw or stock photography. It really doesn't matter.


IF YOU GO:

Cabo Expeditions
On the Cabo San Lucas Marina
624-143-2700
Cost $85 per passenger for a 2½ hour guided tour, including bus transportation from and to your hotel. Boats leave about every two hours between 8AM and 3:30PM. Check for exact times; reservations are recommended.