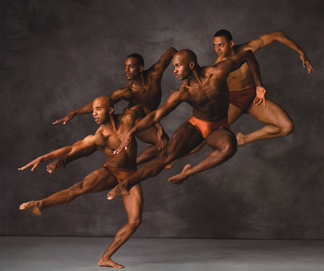 REVIEW:
Alvin Ailey American Dance Theater has some of the greatest modern dancers in the United States, with choreography by masters coming from a rich source of creativity and exacting expertise. Its well never runs dry.
Thursday, the Ailey ensemble opened the evening with Chroma at Lincoln Center; an award winning piece, which premiered in 2006 with the Royal Ballet and was devised by Wayne McGregor with striking music, composed by Jack White and Joby Talbot. The dance reflects the divergence between the body and emotions wedded to thought and explored through modern ballet. With its stark white background and simple costumes in muted colors of lavender, coral and brown, dancers spliced the air and splayed through the space like hands cutting paper.
Takademe, choreographed by Robert Battle who was influenced by Indian physical gesturing and form, was danced by remarkable Jamar Roberts, who lent some humorous facial expressions to his excellent jumps, asserting himself over the stage in nearly stationary lavations. It was a delightfully engaging piece.
Ron Browns, Grace was a magical, perfectly cohesive, tour de force of great music and dance; included were Duke Ellington's classic "Come Sunday," Roy Davis' hit "Gabriel," and the potent rhythms of Fela Kuti's Afro-Pop. Breezy light costuming by Omatayo Wununmi Olaiya, made it a joy to watch, as elegant, enormously talented Linda Celeste Sims and Dementia Hopkins-Greene commanded the stage with their impressive fluidity, albeit each respectively different to watch, but equally amazing. I cannot sing enough praises for all the dancers, but for this review I am limited by circumstances.
As the audience entered the consciousness of Alvin Ailey's Revelations, created in 1960, I believe that most people, if they had heard the heartbreaking news of the shooting of 9 innocent people at a Charleston church, whose parishioners were predominantly African American, were more than commonly moved by the heavenly spiritual scores, set in motion by the inspiring ensemble. I turned to my friend and whispered, "This makes me think of of Charleston. I wonder if they are thinking about it." " I bet they are thinking of it right now." She whispered back.
I have no criticism for Revelations revealed over and over again. The work is as perfectly formed by the late Mr. Ailey and presented by his impressive inheritor Robert Battle. Still as heavily ponderous and pertinent as it was in 1960. The dance and music are inherently sad and hopeful, fully realized in the ability to rise above the shadows; escaping from the fray, embodying the indomitable life-force of an incredible culture, rich in feeling, soul and body.