Co-authored Joshua Diamond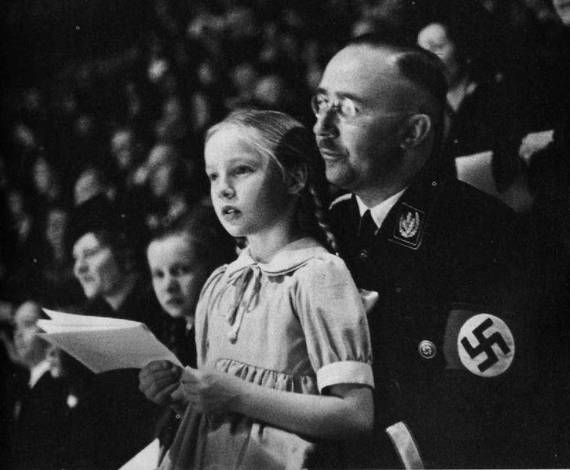 This is the story of Henrich Himmler told by himself and his family through their letters and personal diaries, which were not burned as he requested. They were secreted away by an American until the '60s, then given to the Israeli archivists.
Ms. Lapa applied tenacity laced with the patience of an archeologist picking away the dirt-encrusted bones of a Neanderthal and placing the remains back on its feet, neatly arranging the puzzle over a seven-year period. The challenge of putting together well over 300 letters and documents was painstaking, not to mention deeply intimate. Though some may say that Himmler was humanized by these letters, I only see a small man's rise to power that overwhelmed his diminutive ego while creating an inferno that sent millions to their untimely deaths.
He was not well liked in school, he had been sickly and a below average student which might explain his need to be important at any cost. Ms. Lapa uses voice-over and a substantial amount of archival footage, as well as home movies belonging to Himmler to tell his story in extensive detail.
While a wide-range of players were integral to the making of The Decent One, the most enticing is Katrin Himmler, the great-niece of the not-so-decent one who consulted with Ms. Lapa behind the scenes. Interestingly enough, while she chose to retain her family name, Katrin was until-recently married to a Jewish-Israeli. Lapa noted that she was a great source of information.
Lapa and her team did not embark on a nearly decade-long journey in an attempt to carve a niche in the plethora of Holocaust films that have been made to date. The Decent One is not the standard narrative, and her camera is not a mere projector for redundant footage of the Nazi atrocities. Rather, it shines light between the lines of what is thought to be a fully-known story.
Ms. Lapa's ability to gently weave between the various -- and often contradicting -- traits of the horrifying man is the defining attribute of the film. There is the Himmler, who addresses his wife as "my darling" to the accompaniment of soft piano tones in the background. Venturing further into the "human" side of Himmler, there is the workaholic who forgets his own wedding anniversary. In seconds' notice, however, the viewer is reacquainted with the hideous face behind the mask: As Hitler's henchman describes the demanding nature of his job, we see footage of a young man being beaten by Nazis. This trend continues, with one scene displaying a love for his daughter "Pupee" and "darling" wife, only to be followed by a letter to his mistress, Hedwig Potthast. Later on, we see the same unconventional "family man" writing from a concentration camp.
This is not just another Holocaust story about one human being-turned-monster, but it is about the potential for many to become that. As co-producer Felix Breisach explains, "This is happening right now and could be anywhere. Look around the world." Mr. Breisach, an Austrian and also a director in his own right, is the son of a Nazi and feels that these stories should never be ignored, that though they were not spoken of in his native Austria or even in Germany till the '80s, perhaps it is best that we keep on talking about it and making our children aware. The Decent One serves as a specter which many human beings see in the shadows.
Now playing at New York's Film Forum and internationally.