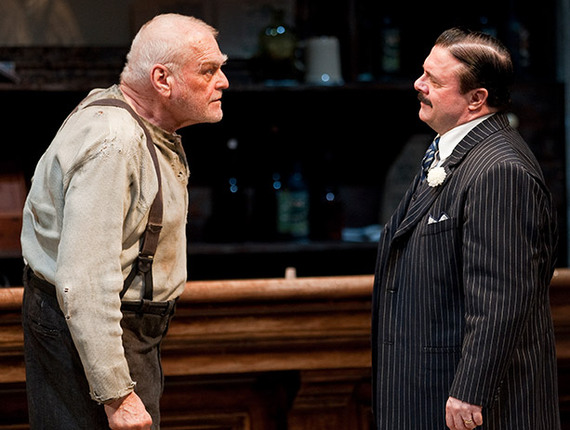 What a stupendous night of bleakness was had by all at BAM's Harvey Theatre! Ironically I saw it on Friday the 13th, which shall remain a lucky day for me from now on. Eugene O'Neill's gargantuan 4 hour play is truly realized in this masterpiece production of brilliant actors and directed by uncommonly distinctive Robert Falls. The house was packed, and after the performance concluded everyone stood on their feet to applaud passionately; the cast deserved no less than claps of thunder, the electricity permeated the room. Everything from Kevin Depinet's sepia rich set design, (inspired by John Conklin) to the perfect golden hues of dusky light designed by Natasha Katz, and timely costuming by Merrily Murray-Wash swept the audience into Harry Hopes bar of hopeless souls in 1912.
Brian Dennehy's timeworn anarchist, Larry Slade opens the play and sets the scene for the unraveling of his fellow lost souls who hang about, living out their suffering while they drink themselves into reveries, passing their days in mocking and hazy ritual. They eagerly wait for Hickey, a slick salesman who comes once a year to blow off steam and joke about his wife having an affair with the Iceman (the ancient practice of delivering ice to people's homes in lieu of modern refrigeration).
As they wait, each character presents their mythological stories, giving hints of the truth and sometimes -- honestly, irreverently vomiting it all up, as the Harvard educated, booze soaked Willie Oban does. John Hoogenakker was rich in the role; I hung on his nuanced every word. What an amazing performance he gave as the fallen Harvard graduate who traded opportunity for the bottle. John Douglas Thompson splendidly gives his character Joe Mott voice with such charm, grace, and magnetic poise we are moved by his overt predicament of being black in a white man's world, but occupied by the person he is. Then there is Harry Hope, played by the outstanding Stephen Ouimette, ragged and comic; an edgy splinter made to stay under the skin.
I cannot tell you in full about all 18 actors in the cast, nonetheless, I can tell you that every single actor and actress were gem's on the stage, shining brightly, in their own unique light.
The cherry on the cake is Brian Dennehy; he is boundless and it seems impossible, but unbelievably he tops himself in this role, and how is it possible to get better than best?! He grabbed the audience as a champion only can. Lumbering heavily with his crooked gait, sparingly he rose to speak, but even as he sat still, he was all over the stage with his enormous presence.
Then finally there is Nathan Lane, who surprised me, I have to say it, however cynical it sounds, I apologize for my ignorant presumptions. I expected flamboyant Bialystok and got an incredibly powerful and moving Theodore Hickman, who took me and everyone else in that room... away...to another place, another time. He reeled in this great whale of a role!
Lane wore Hickey's suit as though he put the salesman's garb on every day. A virtuoso performance!
BRAVO BAM!