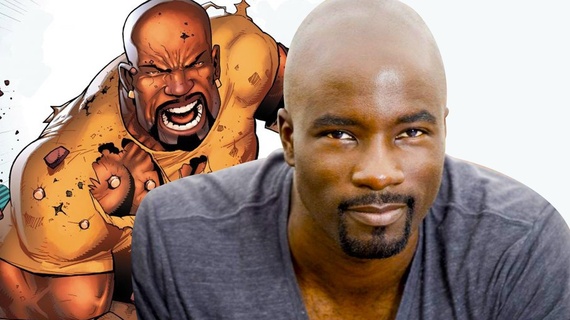 Luke Cage is a 13-episode Marvel Netflix series releasing late September. The show is based off Marvel Comics' African American superhero Power Man (played by Mike Colter), marking the first black superhero film or series to date from Marvel Studios. Luke Cage is a hero with the abilities of superhuman strength and impenetrable skin. Although introduced in comics during the 70's, the Netflix series takes place in present day. Trailers feature Colter taking bullets head-on, bouncing off his frame with every shot and remaining unscathed. His ethnicity and his ability is a somber reflection of our time, and why he may be the hero the African American community needs.
Luke Cage is a bulletproof, African American superhero.
Recently, America has seen a number slayings by police officials of non-violent black men. Charles Kinsey of Miami, Florida was shot by police in the leg, despite Kinsey being unarmed, with his hands in the air. Another incident involves Philando Castile of Falcon Heights, Minnesota, shot three times fatally in the chest. He was stopped over a busted tail light and is survived by his girlfriend and young daughter, both of whom were in the car with him. The incident was streamed live on Facebook by his girlfriend. A day before Castile was killed, Alton Sterling, father of five, was shot down by Baton Rouge police. His eldest son cried beside his mother as she spoke live on television at a press conference about his late father.
Personally, being a man and being black during these times is daunting. Waking up to tragic news involving a non violent black man being gunned down by supposed law bringers is soul sucking. But when incidents come in rapid succession, when there's no app or television show to escape from reality and you're forced to stare-down the ugliness for what it is--it's terrifying. Not to mention the equally as terrifying statements made from hateful and ignorant people on the Internet. It's difficult to feel safe, as compliance seemingly means nothing anymore to police. While the uncivilized tweets of the masses on these topics reveal some, even your closest friends, perpetuate the same misguided validations made for these type of killings.
What Luke Cage represents in his ethnicity, his stature, and his strength is subconsciously everything that makes him a hero and a target in today's racially fueled society. He's black, big, and strong. His representation as a hero means a great deal to the African American community, especially being the first to break mainstream, next to Black Panther who recently appeared in Captain America: Civil War. For all the respectability Black Panther brings to the table, being a regal king of a nation, Luke Cage is a more relatable reflection of the common black man. Cage deals with the same profiling and negative connotations of being a black man in America, the same any African American has the misgivings to deal with, and yet he still does good. He's still a hero.
He can't be silenced or threatened by guns. He uses his power to protect and serve justice to wrongdoers, sometimes better than those who are paid to do so. He's invested in his neighborhood and knows the people who reside in it. They're not just statistics or quotas, they're human beings, and as a result, are treated as such.

Most of all, in the way national tragedies invoke comic fans to yearn for a superhero who could save the day, to help those individuals feel safe and empowered, Luke Cage can be that symbolic hero for young black men and women during these scary times in the African American community.