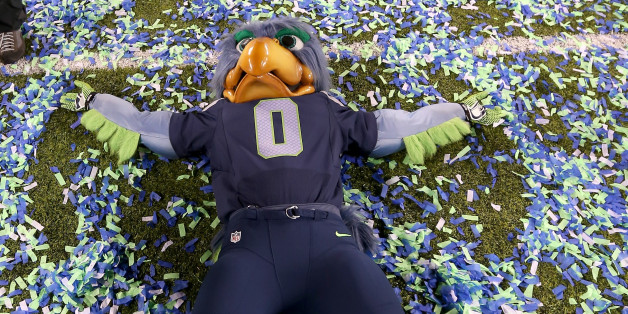 The name "Super Bowl" was inspired by the Rose Bowl, a college football playoff game that went down in a stadium shaped like -- wait for it -- a bowl.
But super is supposed to mean "very good" or "excellent." And while there was some of that on Sunday, most of this year's special game fell into other categories of super.
Super; an extra.

As you probably know, the game started like no Super Bowl ever has. It was the fastest score in Super Bowl history (12 seconds into the game) and certainly must have shaken things up in Vegas. But what caught my eye was Mark Cuban's tweet about winning 20 million dollars on a one to 1,000,000 odd bet that the first play of the game would be a safety.
I HAD SAFETY ON THE FIRST PLAY IN VEGAS !!!!!!!!!! 1mm to 1.. $20mm BABY. #Unbelievable

— Mark Cuban (@mcuban) February 2, 2014
For a guy who is already worth 2.5 billion dollars, I'm not sure this 20 million dollars could be more accurately described than with the word "extra" (perhaps "obnoxious" would suffice). Fortunately for my conscious, it seems like Cuban was just joshing his followers.
Super; especially; particularly.

As in, "super old."
As someone who has always believed in Peyton Manning's comeback, I'd be lying if I said I wasn't pulling for him in the big game. But Manning simply looked old.
Facing a young, loud, fast, neon defense in his third Super Bowl appearance, Manning's arm came off as weak and his cadences sounded gimmicky. That misses the point, of course; Manning's arm is accurate and his brain is what I still believe makes him the greatest quarterback of all time, but man was he tough to watch. From the first snap Manning was annoyed, his offense hopelessly disorganized and his opponent seemed sharper than they had been all year. Youth, on the other hand, simply dominated. The 25-year-old Russell Wilson was flawless, the 28-year-old Bruno Mars out-shined the Red Hot Chili Peppers (sorry guys, it's true), and even the young Wonderful Pistachios company won the commercials.
Super; an extra, unwanted, or unimportant person; a supernumerary.

Like, for instance, this guy:
And also, all of the people who decided to revel in Richard Sherman's injury.

At least Richard Sherman got hurt... Best thing to come out of the Super Bowl! #karma #SuperBowI

— Alyssa Sherman-Ordaz (@AlyssaSordaz55) February 3, 2014
Richard Sherman's a douche and maybe the only player I won't mind seeing get hurt

— Austin Kester (@Froshtehh) February 3, 2014
If Richard Sherman was the best in the league he wouldn't have gotten hurt.

— Adam Henley (@A_MUNAYY) February 3, 2014
Super; as in, the supernatural.

Russell Wilson didn't waste anytime proclaiming the goodness of God in his post game interview. Apparently, he wasn't the only person that had their prayers answered...
can Richard Sherman get hurt pLEASE LORD

— Melissa Manning (@melissamanningx) February 2, 2014
Super; as a prefix, above, over, beyond.

Well, just about everything in the Super Bowl is "above, over and beyond." The money involved in the halftime show is beyond middle-class conception, the game was over-hyped to be the best of all-time and most of the ads were so ridiculously irrelevant to the product they were selling that the message flew right above my head (Maserati comes to mind).
Of course, there were also just way too many people coming in and out of East Rutheford, New Jersey (you know, that town across the river from New York where the game actually was). Enough, in fact, that fans were simply collapsing in overcrowded, overheated train stations in North Jersey.
But, I must concede, there was some excellence to be had.
For one, the Seahawks looked phenomenal. Not only are their jerseys on point, but their fans seemed utterly involved in the first play that changed the game and their team was almost entirely mistake free. Pete Carrol -- who admittedly has his own questionable history -- should be the poster-child for positive, enthusiastic, laid back coaching everywhere. Hopefully, some of the coaching insanity we've heard about in the last few years will dwindle away.
On the field, Malcolm Smith was superb. He has to be one of the least well-known Super Bowl MVPs in the history of the game, and boy did he deserve it.
Malcolm Smith is the first player in Super Bowl history with an interception return TD and a fumble recovery in the same game. #SB48

— ESPN Stats & Info (@ESPNStatsInfo) February 3, 2014
Malcolm Smith is the first linebacker to win Super Bowl MVP since Ray Lewis for the Ravens in XXXV. Check it out: pic.twitter.com/f4xxFzI3QL

— ESPN Stats & Info (@ESPNStatsInfo) February 3, 2014
Off the field, I was glad to see the spectacle of the Super Bowl used as a magnifying glass for some bigger-than-sports related issues.
Even though it was a bit misguided, the Super Bowl link to sex trafficking got some people talking about an important and horrifying issue that has no place in our world. Coca-Cola took the time to remind us our country is still the world's melting pot, even though some people hate it.
And, of course, this little game gave many of us a chance to press pause on the real world and bond with family and friends over one super sport.