This is Part Two of a two-part series on Library For All's launch in Haiti. Part One can be found here.
Jessica's story was the start of a new chapter in our Library For All story. The first chapter of Library For All really began three years ago, when my teammate Rebecca and her husband Barry selflessly relocated to Haiti. Armed with a background in development, the two left their lives in Australia behind to travel to the devastated Caribbean island after the earthquake and partake in the reconstruction of the ruins.
The focus of their efforts quickly shifted when Rebecca began visiting the schools in her neighborhood. She was disheartened to see that the surviving schools, though still standing, suffered tremendously from a lack of resources. Many of the schools she visited had absolutely no books to speak of, and others had so few that those they did have were guarded under lock and key. Access to knowledge in schools throughout Haiti was not just limited; it was completely stifled.
As Rebecca came to understand, this was not simply a consequence of the earthquake but had been the case for time immemorial. I saw this with my own eyes as I knelt on the concrete classroom floor beside Jessica that day. As a 14-year-old girl in a 6th grade class, Jessica had never before read a story in her native language of Haitian Creole.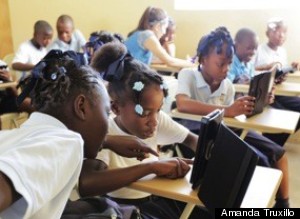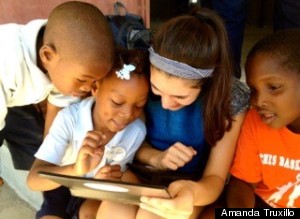 While Rebecca was dumbfounded by the lack of books and educational content in Haitian schools, she was also cognizant of the widespread availability of mobile phone networks throughout Haiti. Digicel and Natcom, the two major providers, covered practically the entire nation. The disparity between the lack of books and the fast-growing telecommunication networks was an anomaly. Surely, if used intelligently, the phone networks could serve as a means to disseminate information. Convinced that someone must already be working on a solution of this nature, Rebecca spent months and months investigating what was available. Nothing she found was satisfactory. There was no model, let alone a cloud-based model, that both worked over mobile phone networks and catered specifically to the Haitian population.
Realizing the need, Rebecca committed to building a solution of her own. A few years later, I found myself on the ground in Haiti with Rebecca and our Library For All team, piloting the first digital library of its kind. Our library is built to deliver e-book files through the mobile phone networks, delivering content that is culturally relevant and meaningful for the students -- content that we have aggregated from the top U.S. publishers, smaller local publishers, and a range of resources available to us online. The first iteration of the digital library contained stories in Creole and French, as well as workbooks, textbooks and the English classics, but we will continue to build upon this content as we expand to new countries and reach new populations.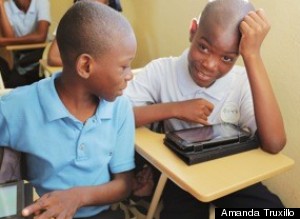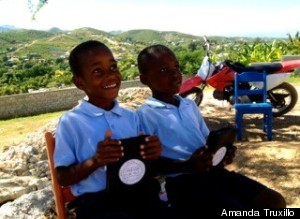 We launched our pilot program at Respire Haiti, a school at which Jessica is one of 530 students. We built a local router at the school to enable a connection to the mobile phone networks and we brought with us 25 low-cost tablets for students to try. We began our pilot by holding informal training sessions for a few of the teachers to ensure that they felt comfortable using the digital library. Many of the teachers understood the concept straight away and required little help with the technology. These teachers quickly began putting in requests for books they wanted to read themselves. Other teachers took a bit of time to adjust to the novel technology.
The following day we began to pilot our Library with classrooms of 1st and 6th graders, which is when I had the good fortune of meeting Jessica. Neither words nor pictures can begin to describe the students' response. The first graders were giggling over picture books and running from tablet to tablet afraid they would miss out on what their classmates were reading. The moment the 6th graders received their own tablets, the rowdy class quickly fell into a beautiful silence as the students scanned the Library to find what interested them most. Some went straight to the math textbooks, others to the Creole and French. The highlight of the day came when one of Jessica's 6th grade classmates raised his hand in the middle of class, stood from his seat and thanked us for the gift of the Library.
During our stay in Haiti, we were fortunate enough to forge a relationship with the Ministry of Education, which will allow us to scale to 60 new schools during the coming year alone. The word is out, and we are receiving new requests for our Library in different countries every single day. It seems we are not alone in realizing that education is a tool, and in our case, a low-cost, extremely high-impact way to assist people in raising themselves out of poverty and the dire circumstances in which so many people find themselves.