Last summer, I was relatively tucked safely away in western Colorado as I watched news of the Waldo Canyon Wildfire like a mother hen. Now, I live in the very city that was threatened by that same fire. This year, I'm watching the smoke from the fires across southern Colorado from my home. All I have to do is go out the door to see the Black Forest Fire, and if it wasn't for the mini-structure in front of my window, I could watch it all from my room.
I have to admit the entire thing is surreal. It's one thing to be fire hours away from it, but it's a completely different experience wondering if your friends' homes have been one of the unfortunate. I could drive and be in Black Forest within minutes. A fairly large portion of my school's student body lives in Black Forest, and the pre-evacuation area is startlingly close to my school and the other handful of schools around the area (there are at least 10-plus schools or academies in a four-mile radius from my house). They also say that people to the south and east of the evacuation areas should be wary of possible pre-evacuation; that's my cue.
Anyways, the fire has me thinking about a few different things, including what to do in the event of an evacuation and my family's failure of never having made any safety plans. Cue the mocking laughter. However, I'm more focused on worrying for the people who live right in those danger areas, and I cannot say how grateful I am or show the extent of my gratitude for the brave people who are fighting the fire or engaged in evacuations.
Here are some stats and figures about the fire. No injuries have yet been reported. Depending on what news source you get information from, 9,500 people have been evacuated and "92 homes have been destroyed," according to the Denver Post. Random tidbit: a number of the homes in Black Forest are worth over $1 million. According to the latest press conference, about 155 firefighters are currently fighting the Black Forest Fire, and about 130 law enforcement officials are engaged in evacuations. It was also announced in that conference that while it's hard to know for sure, they estimate that over 8,000 acres have been consumed by the fire.
On that note, I hope that containment will be above 0 percent soon, and I hope that all of our firefighters and officials out there are safe. Thank you for everything you're doing for us.
Here are a couple pictures that I took around 6-7 p.m. as I was headed south and away from the fire to run some errands:
Photo credit: Isabel Song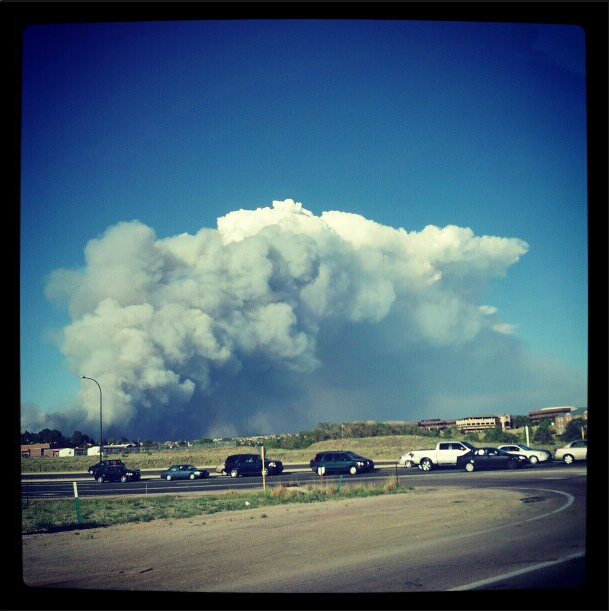 Photo credit: Isabel Song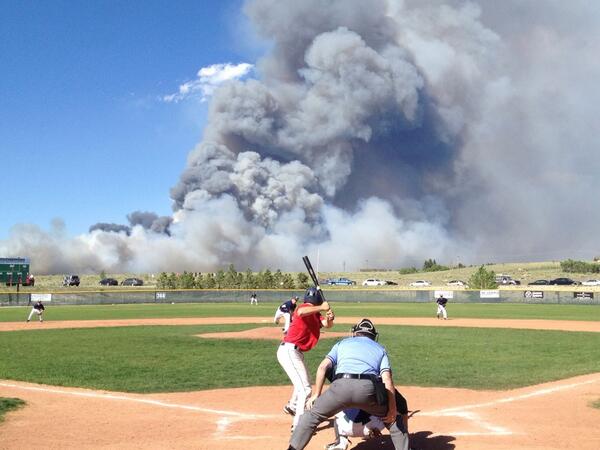 Photo credit: Peter McEvoy