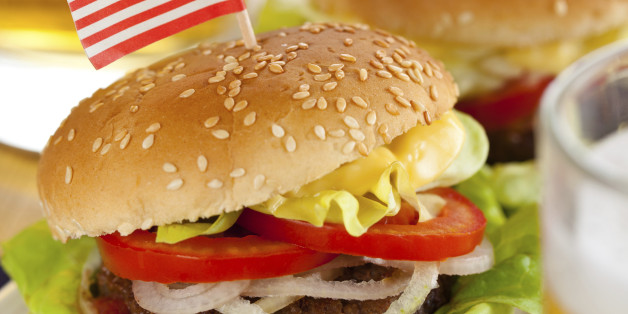 Being a vegetarian in DC is usually pretty easy. Most restaurants offer lots of good vegetarian options, and I rarely feel as though I am "missing out" on something. However, there're a few occasions when I get a little nostalgic for those times when I would unabashedly chow down on the nearest chicken leg within reach. Thanksgiving is one of those occasions. Like nearly half of all consumers, I can't imagine Thanksgiving dinner without turkey. And another big occasion is the 4th of July.
A recent survey conducted by the Georgetown Institute for Consumer Research asked consumers what they considered to be the quintessential July 4th barbecue food. The answer? Burgers. Yep, about half the respondents picked the sizzling patties sandwiched between layers of carefully selected produce, dairy, and condiments as THE July 4th barbecue dish. If you add that to the ~25 percent who picked some other dish that involved meat, it's clear that the July 4th barbecue is all about the meat. As American as apple pie? I think not. Try as American as an Angus Burger.
Nevertheless, there also seems to be a segment of the population who are all about taking the 4th for the vegetarians. Everyone seems to have a recipe for veggie burgers. And I keep tripping over posts for all kinds of salads. Oh, and then there're flag cakes. The survey also found some evidence that vegetarians will not be put out to pasture completely. Almost 60 percent of consumers plan to serve vegetarian-friendly dishes (salad, corn on the cob, watermelon, pie., etc.) along with meat options at the barbecue. Moreover, about 55 percent of consumers who are hosting a barbecue plan to buy food specifically to accommodate their guests' dietary restrictions.
So even though I'm a vegetarian, this July 4th I'll be watching fireworks and unabashedly chowing down on the nearest veggie burger within reach. I'm gonna have a blast! Happy 4th everyone!
Check out the complete report here.
Have a question about consumer behavior that you'd like answered? Click here to submit your question.
The Georgetown Institute for Consumer Research receives funding from KPMG. However, research activities are determined by the interests of the Institute's researchers and trending topics.