Late last month, #AdobeSummit, The Digital Marketing Conference, has been dropping knowledge in Salt Lake City, Utah. There have been 7000 people in attendance from digital marketers, partners, Sephora and Kickstarter CEO to Robert Redford.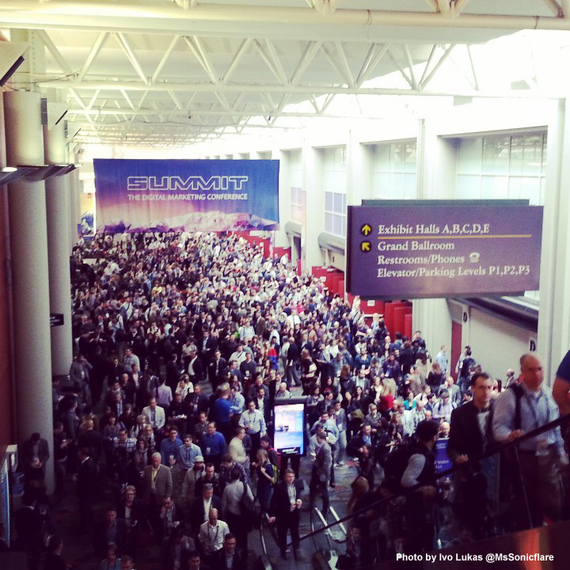 What golden nuggets of knowledge have we gathered over the last 72 hours? Here's the scoop!
The combination of evolution and revolution will increasingly drive the marketing industry in the future. In fact, it's happening right now. As quickly as social media messages are posted, tweeted, Instagramed, etc. marketing tactics and strategies must move with them in order to ever even think about being ahead of consumers. Today, 40 percent of all marketers want and need to reinvent themselves, but only 14 percent actually know how to do this. Nearly a third of marketers feel that their companies aren't adapting to change quickly enough and 30 percent say they need more skills in digital marketing, says John Mellor, VP of strategy and digital marketing. Besides some great stats, Adobe also unveiled its latest digital marketing solution, the Adobe Marketing Cloud.
Digital marketing is not just about tech tools, though. Reinvention requires risk. Being passionate and authentic -- even if this means being vulnerable -- is intimidating, but also rewarding according to Robert Redford, who said, "Not taking a risk is a risk."
Being authentic also plays a huge role in digital marketing. It's the "Age of the Customer" which means interaction and engagement are more critical than ever. Being a customer-centric organization will pay off, especially if you regularly make personalized interactions. In our digital age, this means catering to customers' convenience -- on social media, mobile apps, and online TV. Adobe's future will focus on innovation and rely on video content, mobile interaction and targeted ads/locations, said Aseem Chandra, VP of AEM ADOBE.
With this shift in thinking and need for being one step ahead of customers, marketers are coming up on a serious crossroad: will your marketing reinvention be a revolution or evolution?