There has been an alarming rise in the incidence of train accidents in the last two years involving the derailment of tanker cars carrying crude oil, spilling large volumes of toxic crude oil into waterways, and, in the most extreme incident, exploding and literally blowing the middle of a Canadian town off the map.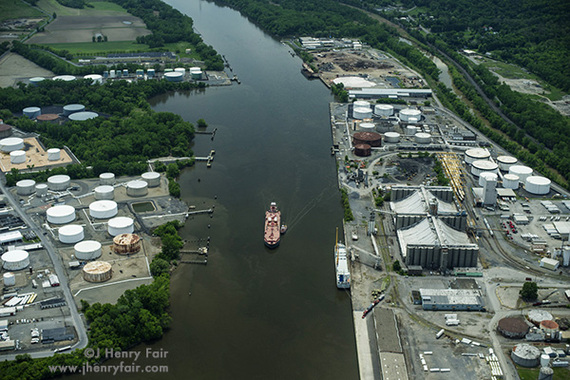 Tug boats and oil barge approaching terminal in port of Albany
The source of the oil being transported is the Bakken Shale Layer near the Canadian border in North Dakota, the site of America's new oil boom.
Estimates on the total potential of the play differ, but there is no doubt that a lot of oil is there. As it is trapped in a rock layer, it must be "hydro-fracked," one of a long list of problems with the process.
Due to the remote location, trains are used to expedite the oil to refineries. As the amount of oil is so great, many trains are needed for transport. More trains than the railroads have. Except for a bunch of mothballed tanker cars with no safety features, but they can carry oil.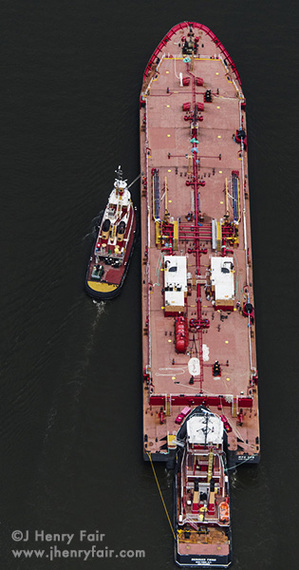 Tug boats and oil barge approaching terminal in port of Albany
So they are running these long trains of very heavily loaded old tanker cars on tracks that are in bad repair, with rotted ties and missing spikes, across the continent to refineries that can handle the crude oil.
To make a bad situation even more incendiary, this crude seems to be unusually volatile, and is often transported from frigid Canadian cold to Southern heat in the period of a day.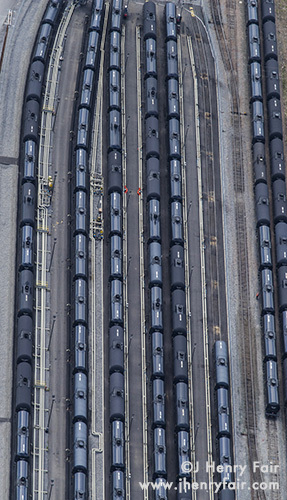 Railroad tank cars at terminal for off-loading oil
A big portion of this crude comes across the continent to Albany, where it is loaded onto barges for transit south to refineries in Pennsylvania and New Jersey and north to a large refinery in St Johns, New Brunswick.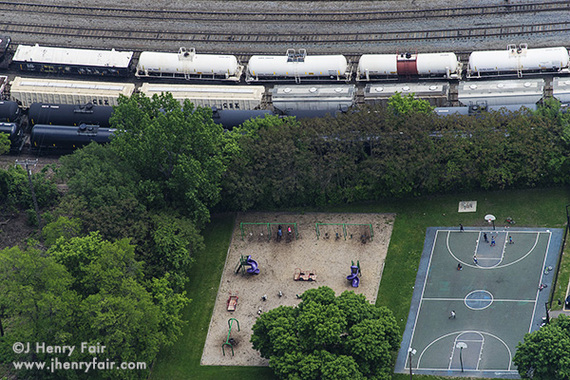 Children on playground next to railroad tank cars
Aside from larger policy, economy, and peak-oil questions, the trains themselves are a significant threat to the ecosystems along the entire route they travel. Half of those into Albany come down tracks that run along Lake Champlain, and one can read almost weekly about a new crash, spill, or explosion.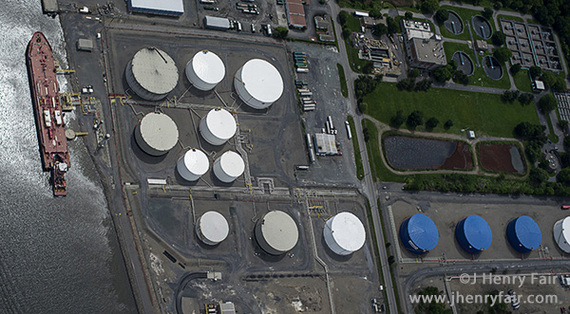 Barge at terminal dock loading oil
With the help of
LightHawk
pilot Bob Keller, I flew and photographed that nexus in the network that is ironically quite close to New York City and routing its dirty commodity through the heart of the city. One wonders when we will hear about one of those barges running aground and spilling its guts in the Hudson River, or a half dozen of those DOT-111 tanker cars tumbling off the precipitous tracks along Storm King into the River.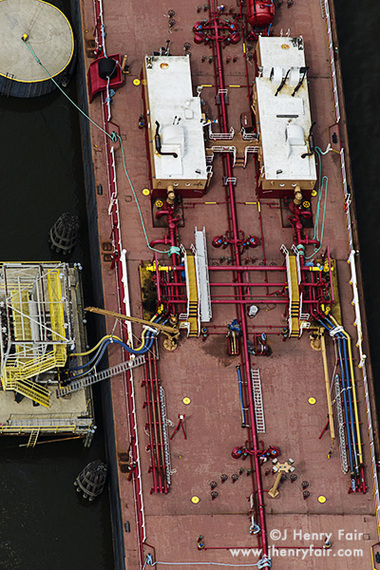 Oil barge at terminal dock loading oil